How to Make an App like Practo or Book My Doc?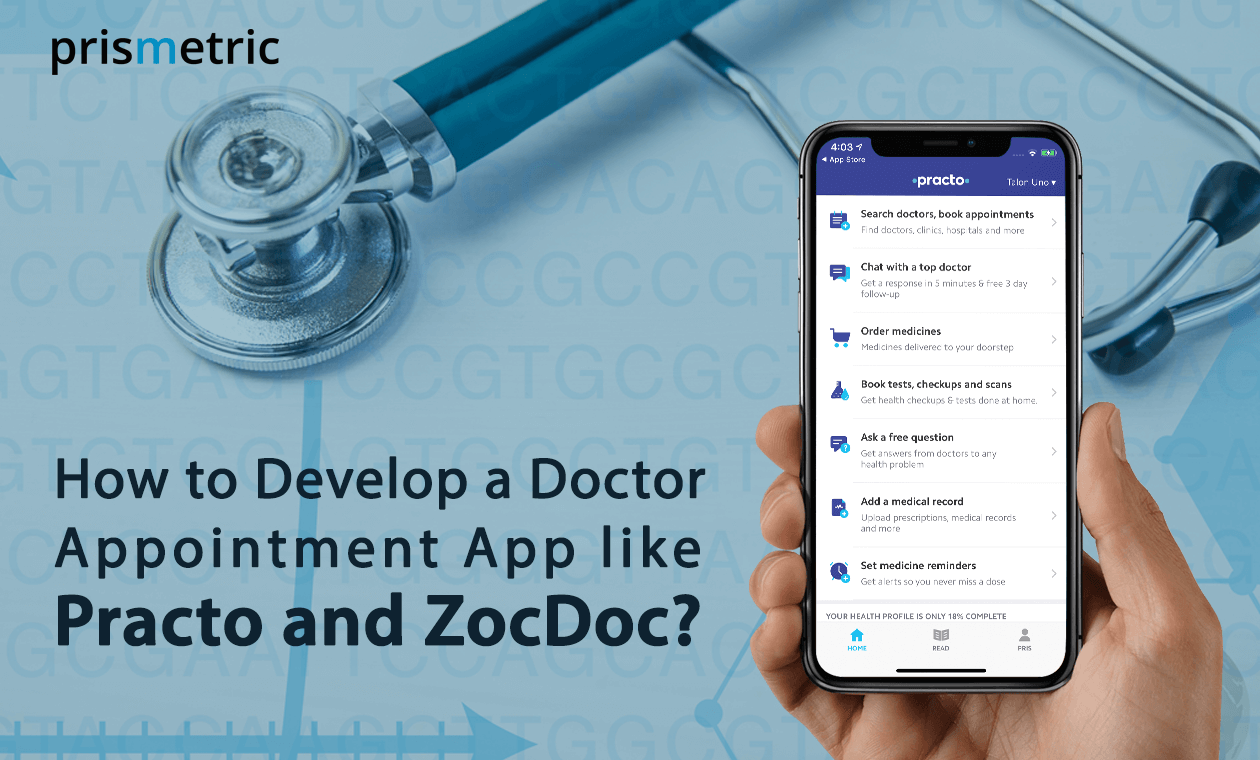 Across the globe, people have become more health-conscious than before, and it is heartwarming news. You cannot enjoy the beauties of life if you are not healthy. With the introduction of wearables and artificial intelligence technology, the healthcare scene has reached an entirely new level. However, some fundamental issues need attention.
Youngsters, also called Millennials, embrace anything that brings comfort and ease to their lives. Whether it is a food delivery service or online shopping or online ticket booking, they adopt time-saving and superior technology over traditional, time-consuming and uncomfortable procedures.
An online doctor appointment booking app is an answer to those interminable queues outside the doctors' clinics. The popularity of healthcare apps such as Practo, Doctor on Demand and ZocDoc depicts that those long waiting queues will become history soon.
What is the need for such an app?
A patient must get immediate treatment and medical attention. However, long queues and huge rush at clinics and hospitals sometimes lead to unwanted situations. Even for doctors, it is practically impossible to prioritize the patients. A patient in a severe medical condition requires immediate medical attention, and somewhere between this chaos, there is a possibility of casualty too.
How about an app that allows you to take a doctor's appointment online? Not just that, you can choose from a list of specialized doctors by going through their experience, reviews, and ratings. It is a way more convenient option for patients who want quick consultation.
An online doctor appointment app offers much more than just appointment booking. Patients can find specialized doctors near to their locations, book a lab test, order medicines online and consult with doctors via chat or video call too.
Working professionals, who have hectic lives, can book an appointment at their convenient time and visit the doctor.
It is also convenient for doctors as they will likely to witness more patients to their clinic through such medical apps.
Business Scope:
As per the survey conducted by Patientpop, 42% of users admitted that they would prefer online appointment booking rather than booking via phone.
There are many such apps available in the market such as Practo, BookmyDoc and ZocDoc and Doctor on Demand. However, when we discuss the business potential of an online medical appointment app, it is superior.
Even today, when it comes to the healthcare sector, we find people using traditional methods of visiting specialists. A medical appointment booking app can minimize the efforts of the patients by enabling them to book an appointment at their own convenient time.
For doctors too, it is a suitable way to avoid long queues outside their clinics.
Let's visualize two scenarios, and it will help to understand how the app can be useful for patients and doctors.
Scenario 1:
A patient visits the clinic, waits in a queue for hours, goes to a nearby laboratory, waits for test results, again visits the doctor and buys medicines from the store.
Scenario 2:
A patient will download the app and find a specialized doctor first. If he is suffering from digestion problem, he will check reviews, ratings, medical degree and other features of all gastroenterologists listed in the app and select one to book an appointment.
When the patient visits the doctor, the doctor will examine the patient, and further may ask for some lab tests to diagnose the problem. The patient can even book a lab test online. As per the facility, a technician can also come to collect the samples at your doorstep, perform the suggested tests and upload the report to the app. The doctor can see the report and based on the diagnosis prescribe medicines to the patients. Patients can book medicines, and a delivery boy will deliver medicines to their doorsteps.
Which scenario is more convenient and hassle-free? Apparently, the 2nd scenario is more feasible and effortless, don't you agree?
Popular doctor appointment booking apps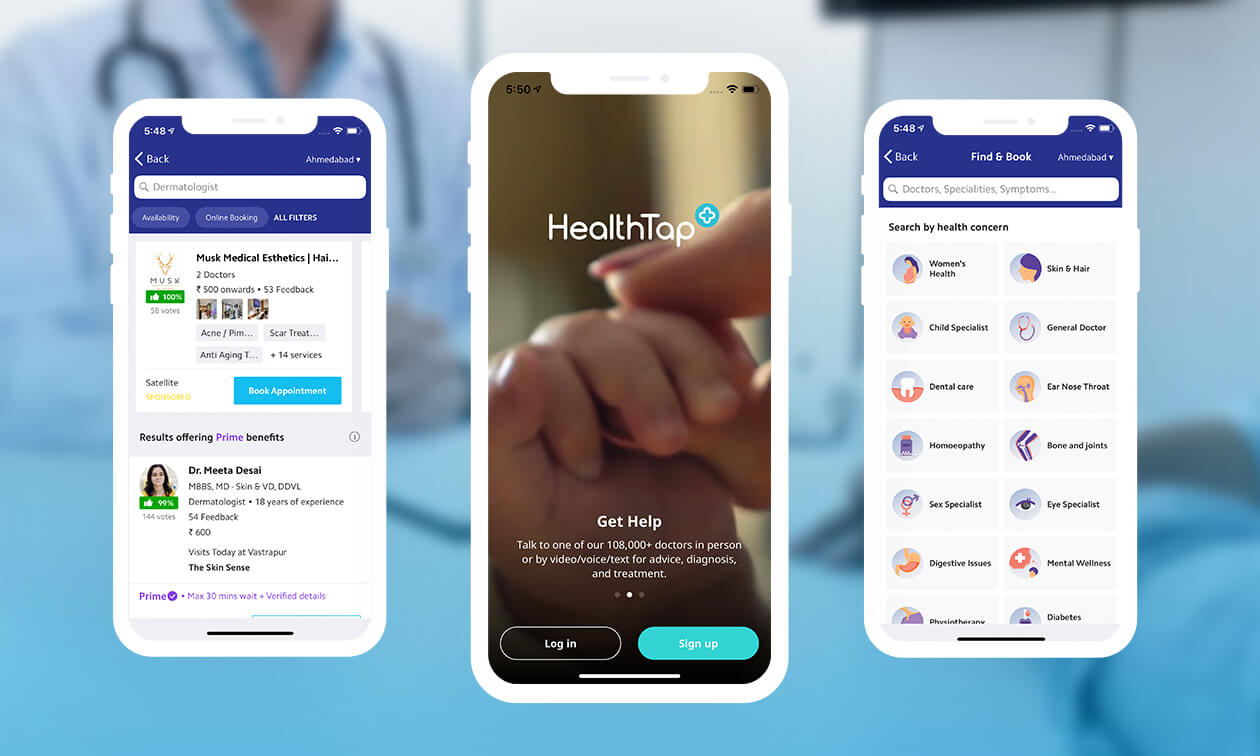 ZocDoc:
ZocDoc is one of the renowned doctor booking applications in the United States with more than six million users. Founded in 2007, ZocDoc has carved a niche for itself by offering an easy-to-use medical app for doctors and patients.
Features:
 A patient can book an appointment online.
 It offers in-app reminders.
It enables users to use the map to find doctors and the insurance network.
A patient-powered search especially created for patients who are not aware of healthcare jargons.
 Patients can review in the app about services
Doctor on Demand:
Doctor on Demand is another medical app that offers patients a real-time video consultation service with the US healthcare service providers. It has more than 1500 doctors associated with it.
Features:
Online video consultation with doctors 24/7/365
Online doctor search and appointment booking
Doctors' insightful information including academic qualification, certifications, and ratings
Drug stores tracking with inbuilt map facility
Online payment facility
HealthTap:
HealthTap is a premium healthcare app that was founded in 2010 and lets patients ask health-related questions to US certified doctors. The app has more than 11,000 physicians and specialists. Also, it enables patients to consult a doctor through video call, text-based chat or phone call.
Features:
Online consultation with doctors
Text-based chat and phone call facility
In-app messages
5.5 billion health-related answers
Enterprise programs
Practo:
Practo is a popular healthcare app in Asia with more than 2, 00,000 healthcare providers to help patients who need consultation. It has set a benchmark by offering a wide array of healthcare services to the patients.
Features:
Doctor appointment booking online
High-end search to find best doctors, clinics and hospitals
Online medicine ordering facility
Medicine delivery facility
A storage facility for medical records
Health-related blog directory
Related: How Can Mobile App Revolutionize in Automation of Healthcare Industry?
Monetization possibility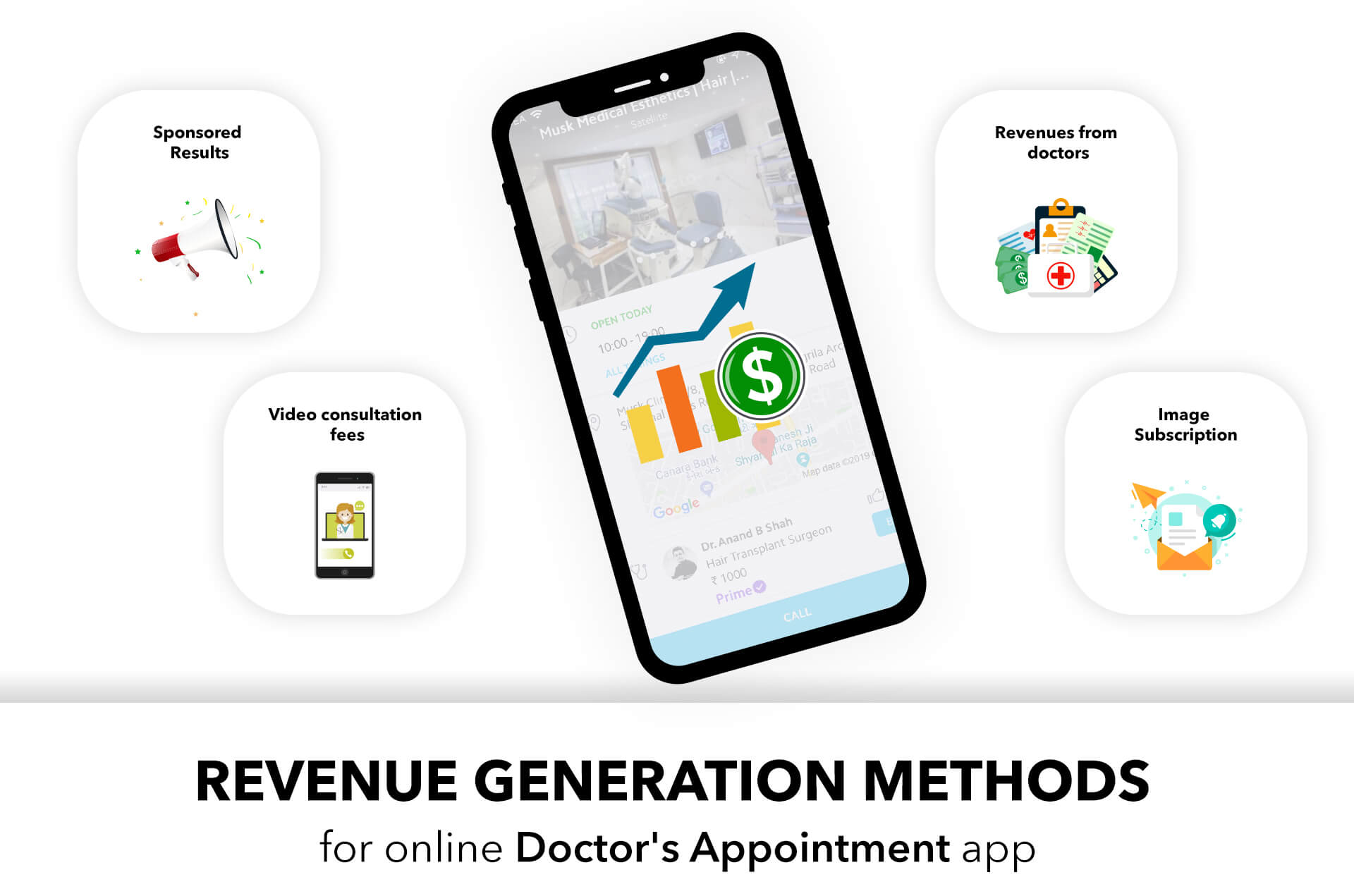 There are various ways an online appointment app can earn revenues.
Subscription:
Users can subscribe to avail certain premium benefits of the app. For example, HealthTap charges $99 per month to get unlimited access to medical answers or to consult doctors via live video call or text-based chat.
Sponsored Results:
Here, doctors pay a certain amount monthly or annually to highlight their profiles on the list displayed when a user searches for the doctors' list in the app.
Video consultation fees:
Doctor on Demand app offers patients a real-time video consultation feature with the doctors. For one 15- minute video appointment, a patient pays $40.
Revenues from doctors:
Patient-centric apps such as ZocDoc charge from doctors and not from the patients. A doctor pays $3000 annually to the app to connect him with the patients.
Benefits for Patients
A medical appointment booking app is a goldmine for patients as it offers some exceptional benefits to them.
Choose the right doctor:
These apps have doctor profiles for each medical category, and it helps patients to find the right doctor, clinics, and hospitals for them. Each doctor's profile covers basic information, reviews by verified patients, and cost of an appointment, academic qualification details, total years of experience and other information. Such details help users to choose the right doctor for them.
Online appointment booking:
Forget those long queues outside the doctor's clinic. You can make an appointment with the app. Also, you can select the time and date of the doctor's appointment too.
Book a lab test:
If the doctor asks a patient for some lab tests, he can order tests online too. A lab technician will visit the patient's home and collect blood samples. Patients don't have to go to the laboratory.
Medicine delivery:
An additional feature you can add to the app through which patients can buy medicines online. All they need to do is search for drugs or medication prescribed by name and place an order, and get it delivered timely.
Online doctor consultation:
Here, patients will be able to consult a doctor through a live chat or video chat. Patients share their symptoms, and other details and doctors diagnose the problem and offer consultation. This feature can be free or paid one.
Also Read: How to Build an On-Demand Delivery App that Perfectly Caters to the Customers' Needs?
Benefits for Doctors:
Online Consultation
Doctors can maximize their earnings by offering fruitful responses to the patients who ask health-related queries. Doctors can sign up with the app for paid How to build an On-Demand delivery app that perfectly caters to the customers' needs? Consultation and get a certain amount for each answer.
Online Profile
Patients look for highly expert doctors with excellent academic qualifications and superior experience. Customers nowadays search for some information before finalizing a doctor and such online profile will help you to gain more attention from patients.
Factors to consider while developing an app
Keep in the mind target audience:
For developers, it is crucial to remember the geographical area for which they are developing an app. They need to consider local traditions and other geographic traits in the mind while developing an app. For example, in some countries, a multilingual app will get more response as local users prefer to interact in their native language.
Build a simple yet impressive app
Complexity is not allowed when you build an app. People lose interest instantly if there are complex navigation and a complicated layout. Develop a simple yet impressive app that has smooth user navigation and user-friendly interface.
Data privacy:
While developing an app, developers need to take an added layer of security to safeguard the vital health information of the patients. Take appropriate security measures to ensure data safety.
Features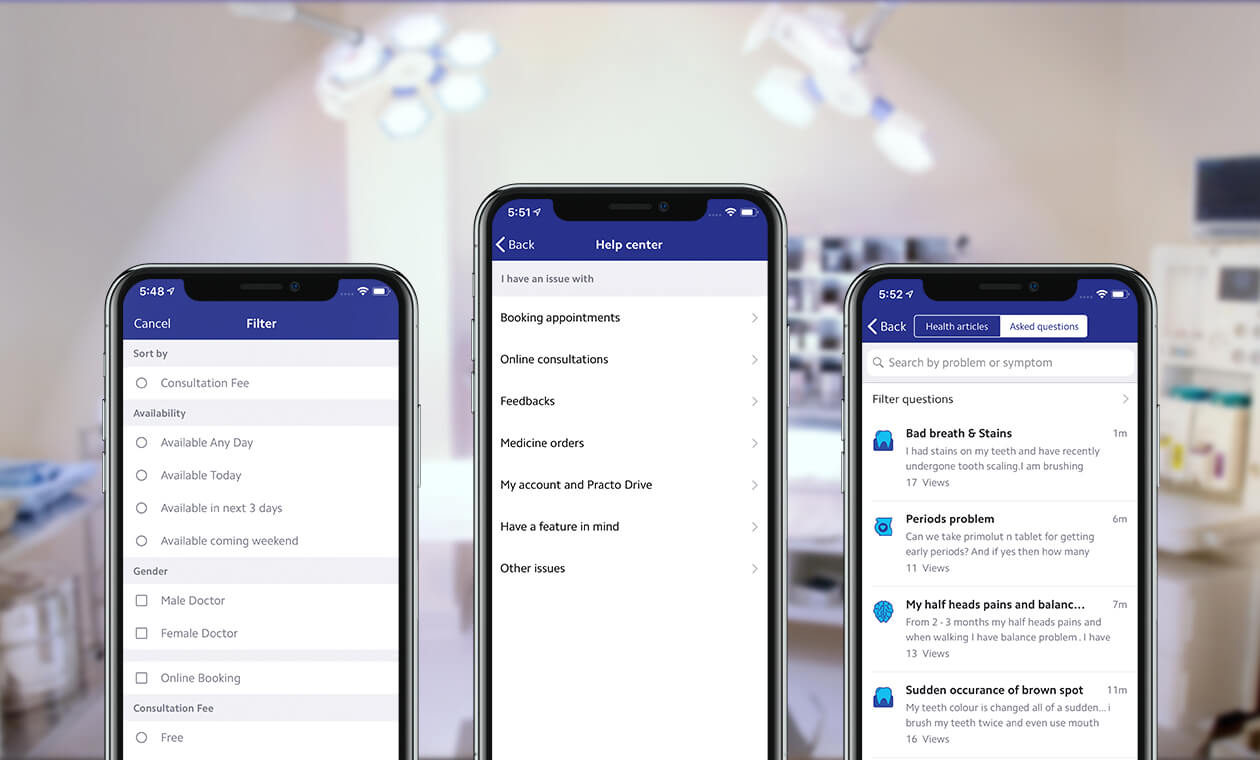 Patient (Users) Mobile App (iOS & Android Application)
Sign up/Sign in: Users can Sign Up/Sign In to the mobile app using their Email id/Phone number and password, or they can use their social media account for quick sign in
Select Location: Users can select a location for which they are in search of doctors.
Book Appointment: View list of all available specialization categories to select and book an appointment with the particular doctor or clinic.
Search & Filter: Search for various doctors, specialists, clinics and hospitals in the selected location
Chat/call with doctors: As an add-on feature users can pay and chat/call with the doctors registered in the application.
Book a lab test: Get a list of various tests to be carried out for diagnostics and view the details of various
Search for medicines: Users see a list of all the drugs available in the mobile application and add them to cart, pay for it and get it delivered at their location.
Payment: Pay for various exclusive services available in the mobile app
Blogs: Users can view blogs regarding various health issues in the current time in the mobile application
Rate & Review: Rate & review the doctors once the user has visited them.
Doctor Mobile App (iOS & Android Application)
Sign up/Sign in: Doctors can Sign Up/Sign In to the mobile app using their Email id/Phone number and password
 Profile Creation: Doctors can create their profile in the mobile app where they can select a city where they are operating, specialization and other educational detail
 Appointment management: Receive request for online doctor appointment from the users, and based on the availability accept it. They can view booked, completed and canceled appointments
Chat/Call: Respond to messages/calls from the users regarding their various problems, and they can revert using this tab option.
Super Admin Panel (Backend Panel)
 Dashboard: Get an overview regarding various details for users and doctors on the application platform
Payments: Payment management for all the aspects or features in the platform
Manage Users: Play an admin role for the users and manage them
Blog Management: Add and manage various blogs related to health on the application platform
Manage Doctors: Approve & Manage multiple aspects of a doctor's profile and their clinic in the application platform
 Push Notification: Send push notification to the users regarding various blogs and system related contents
API & Synchronization
SMS Gateway: Integration of SMS API into the mobile application to send the SMS notification related to the medicines ordered, lab test booked and an appointment scheduled with doctors
Payment Gateway: Integration of payment API for the ease of payment for medicines and lab tests
Email: Integration of email API which will allow the system to send automated email for bookings of appointments and lab tests
Analytics: 3rd Party Analytics API to get the analytics regarding the number of users registered, tests booked by particular users.
Geo Location: Integration of API to get the geolocation of the users & doctor's clinic
Additional Features:-
Laboratory Panel: Like the Doctor's panel Pathology laboratories can create their account and manage appointments
Online Medicine order & delivery: Based on business model medicines order & delivery option can be facilitated.
How much does it cost?
Estimating the exact cost of developing a doctor appointment booking app is not feasible. The mobile app development company will consider the cost of development with respect to the features, functionalities to be included in the platform and give an estimated cost.
Generally, if you want to make an iOS app, it will cost lower than an android app. As per the experts, a simple app with common features will cost up to $30,000. If you want more technical features to be included, the cost might range from $60,000 to $70,000.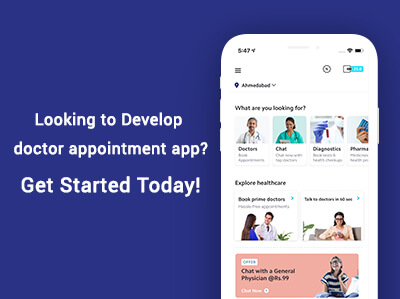 Hire skilled and proficient mobile app developers
When you want to build a doctors' appointment booking app, it cannot be possible if you end up choosing an average team. Rookies might end up developing an app that is not competent enough to function. Hence, it is crucial that you take great care while hiring an expert team. Hire top mobile app developers who are proficient and have a proven track record of developing such on-demand apps.
Experts will understand the project requirements easily and will develop an app that is highly-functional, streamlined, feature-rich and superior.
Conclusion
Online doctor appointment apps are the need of the hour as it facilitates users to get immediate attention for their health problems. Though there are established players already present in the market, a remarkable and feature-rich product will undoubtedly find a place.
A great app requires active collaboration between a client and the app development company. Let our expert mobile app developers help you to give an accurate and meaningful shape to your idea.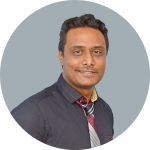 He loves challenges and adept at finding tech-solutions that complement business ideas. He strives to leave no chance for glitches in his implementation. He incorporates his extensive experience in his writings about new gadgets, tech stories, updates and innovations in technology, management tips, and inspiring app technology related information.