11 Must-have Features in your Mobile App for better Success-rate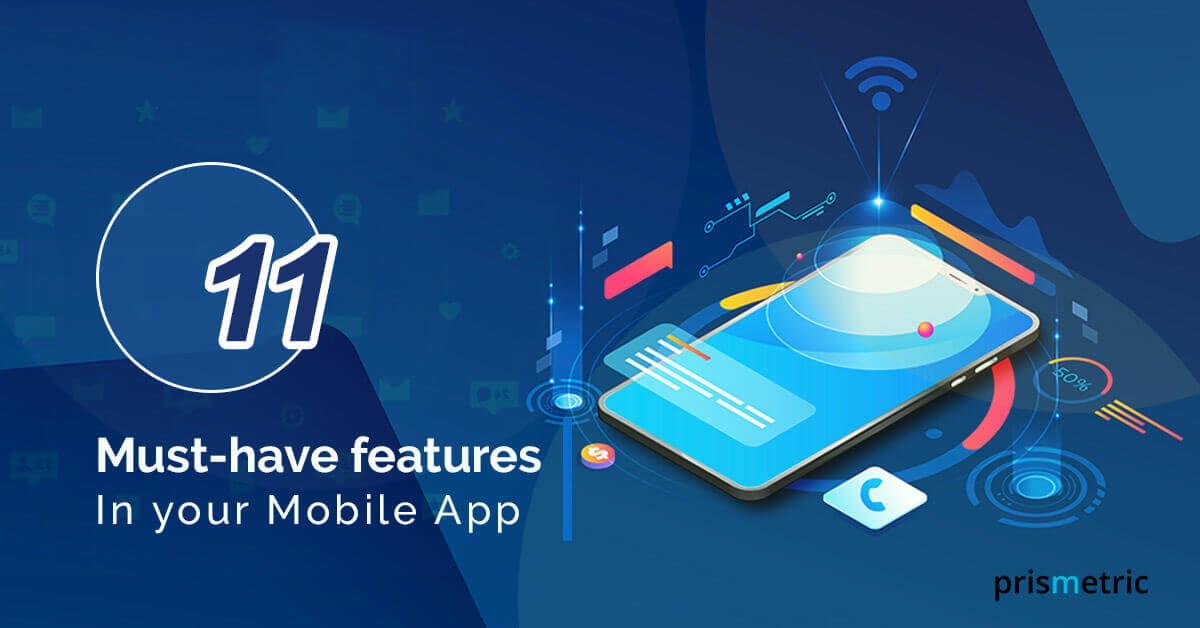 You look around, and you will see people completely engrossed with their smartphones. A girl is checking her emails, a businessman is reading e-paper on his mobile, a restaurant owner is checking out a recipe online, while a traveler is trying to navigate to the next location using a Google map. Are these people really engrossed in their smartphones? Think again, it's the apps which are keeping them hooked to their screens.
A well-designed app will make your phone "smarter". In fact, with the rise of IoT, Augmented Reality, Virtual Reality, and AI technology, some massive changes are coming your way. These trending technologies are put together to provide an enthralling experience to the user.
You might be tempted to think that having a website or even a mobile website is more than enough for your business, but research suggests otherwise.
A recent research by Jmango concludes that users in the digital domain spend 90% of their time on apps and only 10% on using the rest of the internet. A key Insight for e-commerce websites is that users spend around 200 minutes per month shopping on the app while only 11 minutes shopping on the website.
Based on research on conversion rate, mobile apps had 1.5 times more conversions than a desktop website and 3 times better than that of a mobile website. Mobile apps are even overtaking the most preferred consumption medium of users, T.V.
A study conducted by eMarketer suggests that US adults will spend 3 hours 43 minutes on their mobile devices every day out of which 2 hours and 57 minutes will be spent on mobile apps. Thereby, a major chunk of the smartphone usage time consists of using apps.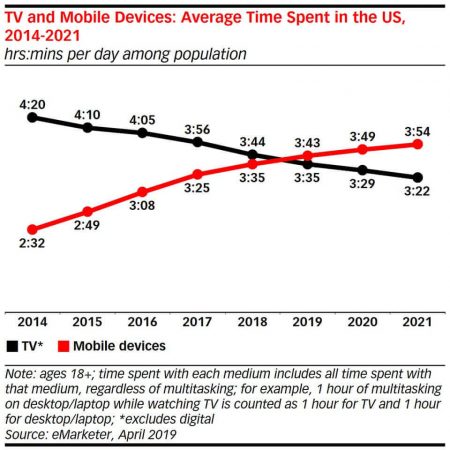 Developing the perfect app with must-have app features for every business
There are various aspects that need to be looked into to design that ideal app. An app which will engage your users, the one on which they would like to spend some time on a regular basis let's find out!
USP and User Interface
During the designing stage, you need to identify the unique selling proposition that you have. What are you offering that others don't? It is something that will decide the user experience. Write it down; if you fail to provide a profoundly enriching experience to the users, you are not going anywhere. Don't go for mobile app development just because everyone is developing one. Identify the need, plan carefully and then develop a mobile app that fulfills your requirements. If these aspects are not looked into you will end up with an app that does not add any value to the users, and such apps don't serve the purpose.
Does your app offer utility in any form to the users? Offer something valuable that a user will not get from your competitors. It might be entertainment, a specific solution to a problem or a streamlined experience. Focus on engineering a mobile app design that lasts.
Intuitive Navigation
"According to a study conducted by eMarketer, 14% of smartphone users have confirmed that they delete apps because they find it difficult to use."
Always remember you are developing an app which solves some basic purpose in your user's life, hence the initial app should be intuitive for the users. They should not feel cognitive load while using your app, while the basic features of the app should be easily accessible. Loading an app with too many features in your first version is not only costly but detrimental to your app's performance as lots of features generally makes the app less responsive and data-heavy which detracts users from using it.
Simple things like encouraging scrolling instead of clicks and using universally accepted conventions (like spur gear icon for settings) should be kept in mind while designing the app. And, any feature which disrupts the intuitiveness of the app should be avoided.
Personalization
In a recent eMarketer survey, it was found that the number one expectation of smartphone app users from their apps was personalization. You can deliver personalized experiences to your users using demographic, contextual and behavioral targeting.
In demographic targeting you target the users according to their age, race, and gender; for example: suppose your app sends news articles to people then you can target your news articles in such a way that a 30-year-old man would get articles about baseball and a 55-year-old woman about health ailments.
In contextual targeting, we target users based on the basis of the context like what device is the user using at which time of the day and at which location. A coffee shop can make an app which targets users who are near to it (using the device's location) by offering them special discounts.
In behavioral targeting the app uses user's previous behavior display related content, Amazon uses this effectively you will find ads related to products you have previously searched on its app. With the advent of technologies like IoT, AI and ML the personalization experience in apps is expected to be more intense and gratifying and helps to build improved customer experience.
Privacy
According to the mobile ecosystem forum, 69% of users have said that they would prefer to know how their personal data is being used. Privacy is of great concern as we are coming across cases wherein the user's personal data (including credit card information) was stolen and sold on the dark web.
European Union has introduced the General Data Protection Regulation (GDPR) which will strengthen the personal data security of its citizens. This shows how serious citizens are regarding the misuse of their personal data. Your app should take privacy and security of the users' otherwise it will be doomed for obscurity.
You need to ensure that your app does not ask for permissions and access to places that will create doubt regarding your intentions in the user's mind.
Even the data you have asked for should be securely stored and the user should be made aware of the level of security you are providing, this will boost their confidence in your app and in your company as well.
Simplicity by all means
The UI of the app should be simple and easy to understand for the intended targeted audience. The two most critical aspects are:
The pain-point of the user should be addressed upfront.
Design your app such that user has to spend minimum cognitive effort.
While adding features to the app, ensure that those features don't affect the simplicity of the app. Do not cram your mobile app with features that doesn't play any significant role in the app's performance. More unwanted elements will make the app navigation more difficult and complicated. Use a simple design with useful features that are needed.
Make a list of purposes you want to serve when a user opens the app and add features that are needed to accomplish these goals should be added first, you can always add additional features in the subsequent updates of your app, if the app is too heavy with lots of features, user might get perplexed and uninstall the app.
Enable reviews and feedback
A research done by Glispa indicates the value of reviews and feedback. According to this research, 93% of respondents said that they were somewhat likely to give feedback if the company explicitly asked for one and a more interesting fact is that 97% of respondents said that they were more likely to become company's loyal customers if they knew that their feedback was implemented. Users love it when companies listen.
If your app jumps from a 1-star to a 5-star rating on the app store then the conversion rate jumps by a whopping 770 %.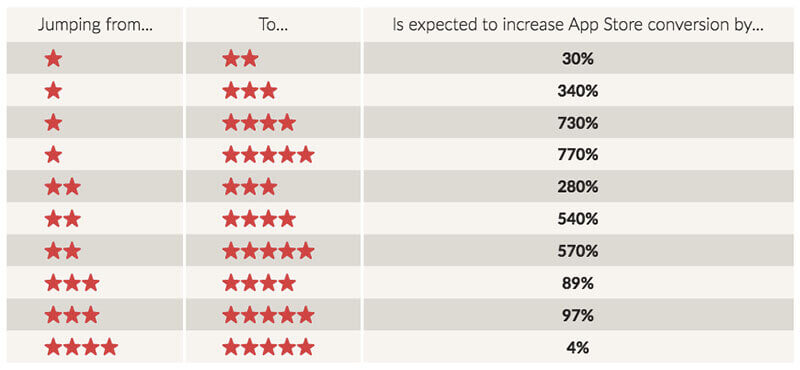 Add a review submission feature that enables users to write reviews and give ratings. You can update the app accordingly. Even bad reviews will add value to future updates.
Include analytics
"If you can't measure it you can't improve it" – Peter Drucker (management guru)
For any business, getting relevant data about the user experience and expectations is important. Just getting your app published on the Apple's App Store or Google's Play Store won't do, you will need to constantly measure app performance in order to find areas of improvement and with analytics, it is possible. Using analytics a more personalized experience can be crafted for your users. It is pretty difficult to analyze the ROI and track the progress of your app without analytics. You can come up with better offers and update the app in a better manner using analytics.
Social integration
"Man is a social animal" – Aristotle
Well, it seems the wise Greek philosopher was right, 2.7 billion social media accounts verify his statement.
Users love to share their favorite things on social media whether it is a discount offer or an article or a quality product.  Integrating a social media sharing feature will undoubtedly leave an everlasting impact.
You can even ask your users to login via their Facebook or Google accounts in this manner you will get access to valuable access to their contacts. It will also help you to connect directly with users active on social media platforms.
Keep the app size small
Do you know the second most compelling reason why people uninstall an app?
It is the Size of the app.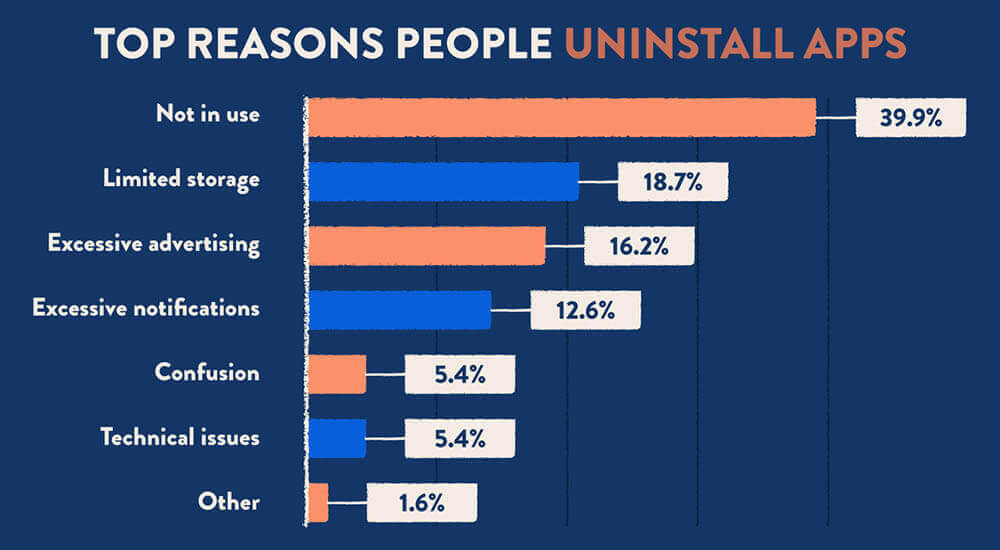 On average a smartphone user will have 35 apps installed on their phone. So keeping that in mind not all the phones come with huge storage space. Thereby, apps that are large might not fit all the android or iOS devices. Hence, it is essential that you keep the app size as small as possible.
Use tools that can break the app size such as APK Analyzer. Generally, while developing an app, developers are too engrossed with the features that they don't work on the application size. Don't do it! Ensure that the app has an optimum size.
Include features according to their type or Genre
Certain features are app-specific, for example:  if you have an eCommerce app where users browse and buy products, you need to have a search feature with advanced filtering and sorting options. The search experience is crucial for eCommerce apps. Buyers will feel instant dissatisfaction if the search feature is not pleasing enough. With an advanced search feature, you can offer a convenient, proficient and smarter experience.
Also read: Mobile Apps – The Hope or Hype for eCommerce Companies
Push Notifications
Push notifications play an important role in keeping the user engaged even when the phone is locked. Let's have a look at some of the stats to understand how exactly it makes things easier;
Push notifications help in getting you 3 times faster response time compared to emails.
70% of people found push notifications to be helpful if they were personalized and relevant.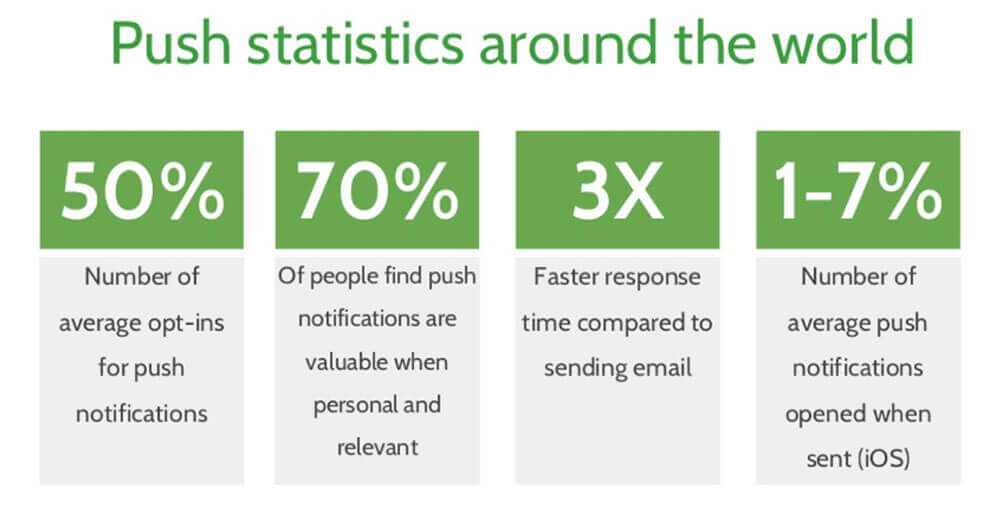 Attracting the customers back to the apps repetitively and regularly is essential and with push notifications, it is possible. It is, in fact, one of the simplest ways to lure customers to visit your app quite often. Update users with new updates, new arrivals and offers and deals frequently to gain their attention.
While compiling with analytics, push notifications can get more responses and actions from the users.
Conclusion:
While developing a mobile app for your business it is necessary to take the same level of care that you have taken to establish your business right up to this point.
An app is the face of your business in the digital world and users will judge your company on the basis of the quality of your app, hence care and effort should be invested in developing your app with a proper insightful strategy.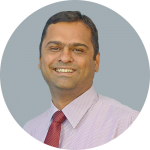 With a deep interest in new technologies, analyzing mobile application trends and impressive technical concoctions keep him inquisitive. He likes to read and write a lot. New app technologies, gadget fascinations, and big technology announcements kindle the writer in him spontaneously. His articles are his passion for innovative technologies.