Mobile Application Development India: Facts Revealed
Today, one cannot deny that the mobile app market in India is expanding at a rapid pace. Fueled by increasing demand and technological advancements, mobile application development India has witnessed exponential growth in the recent years. There is no denying that mobile applications are now an integral part of day-to-day life – from reading newspapers to cooking, from business to games, from Social Media to stay connected, apps are everywhere. In 2013 alone, 24% growth was witnessed in the mobile app market in the first quarter. Since then, the trend is growing at a breakneck pace.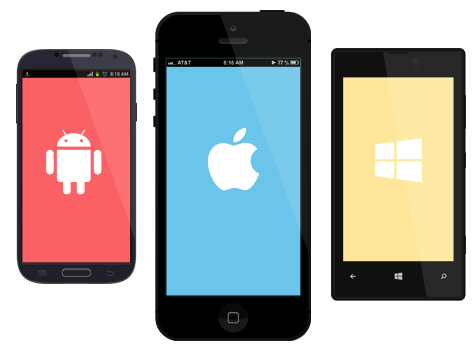 According to a survey, mobile app development company in India is more focused on Social Media and communication apps. Further, the mobile app market is relatively young and still shaping, with growing demand for apps on sports, games, business and communication. Market research also confirms that Google developed Android applications are more popular in India as compared to iOS. Google's applications enjoy an upper hand in almost 5 out of 7 categories, and leads in search, email, video and GPS segments.
On the other hand, music, games and social networking are the most popular app categories. The current trend of the most frequently downloaded apps is Social Networking apps (41%), Music apps (36%), Games (28%), Business apps (21%), and Utilities apps (21%). Angry Birds, Candy Crush and Clash of Clans are the most popular gaming apps in India currently, while WhatsApp is the most downloaded and widely used social networking app today. This can be a lucrative opportunity for unique and innovative mobile application development India.  
Recent trend highlights that mobile users in India have a growing keenness for business apps, utility apps, social media apps, communication apps, banking apps, gaming and sports apps. In a scenario where Smartphones and tablets have successfully replaced desktop computers, users prefer mobile apps that can be accessed anytime, anywhere. Whether it is to see railway booking availability or check bank account details, getting live cricket updates or booking movie tickets, having a list of bet restaurants in your locality or looking for hot property deals, mobile apps have made the experience fast and hassle-free.
For a mobile app development company, it is important to map the right target audience. According to recent trends, 11% of total mobile app users are below the age of 18, 52% in the age group of 18 to 24, 30% in the age group of 25 to 27, and 8% above the age of 35. On the other hand, Android enjoys a giant market share of 90%, while iPhone mobile application development India is only around 2%. This is because most Smartphone devices today feature Android OS owing to its flexibility. These facts would certainly help app developers to focus on something that delivers results.