Cost to Develop an Employee Payroll Management App like PagarBook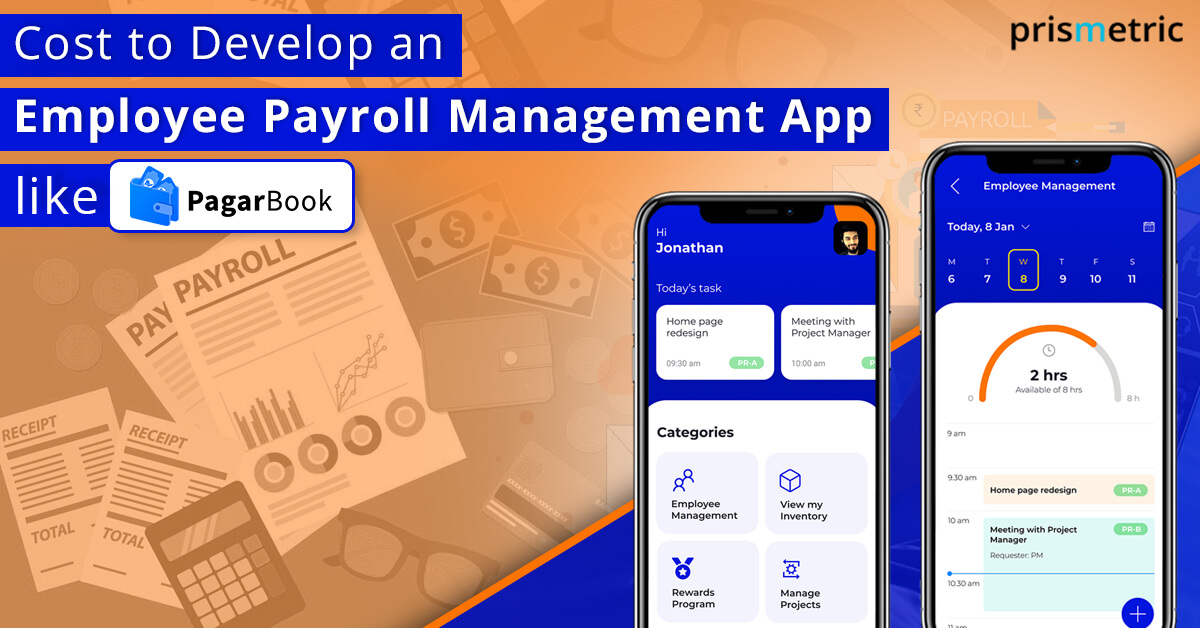 Pagarbook is an employee work time & attendance salary management mobile app that has drawn the attention of small business owners across India. Pagarbook can be broadly categorized as a type of Human Resource Management Software (HRMS) more suited for the small businesses. The app has registered more than 5 million downloads and has already bagged $15 million in series A funding from Sequoia capital.
The eye-popping numbers of Pagarbook have attracted many budding entrepreneurs towards the idea of building their own app like Pagarbook. A question that intrigues most businesspersons willing to develop an app like Pagarbook is the cost of building an app like Pagarbook. This article would address this question and briefly look at other aspects of an online payroll management app like Pagarbook.
Increasing demand for HRMS based Employee Payroll Management System
Before Pagarbook, there was no customized employee attendance and payroll management software for India's estimated 42.5 million small and medium scale enterprises. Managing employee payrolls in the unorganized sector like small-scale industries can prove to be a hefty task, and most of the small business owners are not educated enough to use complicated software.
The need was for a simple solution that was easy to use. According to Siva Prasad, the Senior Vice President of Sales & Marketing for Pagarbook, "We definitely knew that there is a problem with the way people manage their staff and employees and the payroll management system, but we didn't expect that it's such a big problem that people would accept our product this fast and at this scale,"
Benefits of integrating employee time and attendance management software like PagarBook
The following are Businesses need an HRMS to manage all the aspects related to an employee. Employee salary management, employee's time and attendance tracking and management, payroll and payslip management, employee leave application and approval, and reimbursement process management are some of the very common process that can be managed efficiently using employee management app like Pagarbook.
Let's have a look at the significant advantages of an employee management software
Happy Employees
A study found out that around half of U.S. workers would leave their jobs after two paycheck errors. The rate is phenomenal, considering how difficult it is to hire new employees. One of the significant benefits of employee payroll management software is that it helps companies attain a high employee retention rate.
A sound payroll management system allows a business to keep its promise of on-time compensation to its employees. A good payroll management app like Pagarbook helps entrepreneurs eliminate the possibility of payroll errors.
Stress free process
Pagarbook makes payroll tracking pretty easy and eliminates the stress from the process. For small businesses, the task of tracking a basic payroll for even a small number of employees can prove to be a tedious task.
Avoid costly errors
Companies have to consider various factors like the work hours of each employee, overtime, sick leaves, pay rates, advance given, etc. As there are many factors involved in managing the payroll, the possibility of an error in payroll multiplies. Even a simple typo or a misplaced decimal while entering data can wreak havoc on the company's finances. An employee payroll management system can help a business avoid such costly errors and also help them save money.
Save money on taxes
A dedicated salary management system can help entrepreneurs pay their taxes under the prevailing taxation laws. By paying the correct amount of taxes on time, entrepreneurs can avoid costly penalties. Having a HR management software to timely help with such matters, the HR and accounting department won't be wasting time correcting payroll errors. The American Payroll Association estimates that the efficiency provided by payroll processing systems helps in reducing payroll processing costs by up to 80%.
Makes the process fast
A payroll app makes the entire process of payroll management quicker. Preparing various reports like salary register, leave reports of employees, tax reports is very fast with a payroll app and entrepreneurs can scroll through the reports on-the-go on their mobile phones as well. The payroll management app built will help in reducing the efficiency of all the employees and their respective managers .

The best Employee Payroll Management Software in the market
There are a few notable apps that are working in the same domain as Pagarbook. Let's have a look at some apps which are similar to Pagarbook.
QuickBooks Payroll
Paychex Flex
Khatabook
OKCredit
OnPay
Square Payroll
Patriot Payroll
Justworks
SurePayroll
greytHR
BambooHR
Let's now have a look at some of the specific features provided by the leading employee payroll management applications that are providing a stiff competition to Pagarbook.
Khatabook
Khatabook is more of a bookkeeping mobile app than a payroll management system. Khatabook has empowered small business owners by allowing them to maintain their debtor-creditor standings in a hassle-free manner. The owners at Khatabook have made the app available in 11 different languages to eliminate the language barrier. A pretty convenient feature of Khatabook is that it enables the shopkeepers to send updates for every transaction to their customers via free SMS.
Some notable features of Khatabook
Download PDF reports of customers
Set reminder dates for due payments
Security for account books with an app lock feature
Allows shopkeepers to accept payments from their customers through UPI ID
OKCredit
Similar to Khatabook, OkCredit also aims to simplify the process of accounting for small shopkeepers. An exciting thing about OKCredit is that the information about a transaction reaches both parties via free SMS, which accords high transparency to the business process.
The notable features of OKCredit
Simple UI
Allows customers to view the transaction history by clicking on the link sent on Whatsapp/SMS
Secure app with password protection
BambooHR
BambooHR is one of the most popular HR management apps. The company focuses specifically on small and medium-scale businesses. The idea behind BambooHR is to help SMBs make the transition from spreadsheets to software and allow them to free up time to do more meaningful work.
The following are the major features of BambooHR
Centralized employee database
Applicant tracking system
Document storage and management
eSignature
Quickbooks Intuit
Quickbooks is an HR management solution from the house of Intuit. The company has more than 200,000 customers and has established itself as one of the major HR management solution providers in the industry. Quickbooks has a mobile app for payroll management called as the Intuit app.
Features of Intuit app
Pay taxes online
Run payroll anywhere
View paycheck history
Successful Revenue Models for Employee Management Software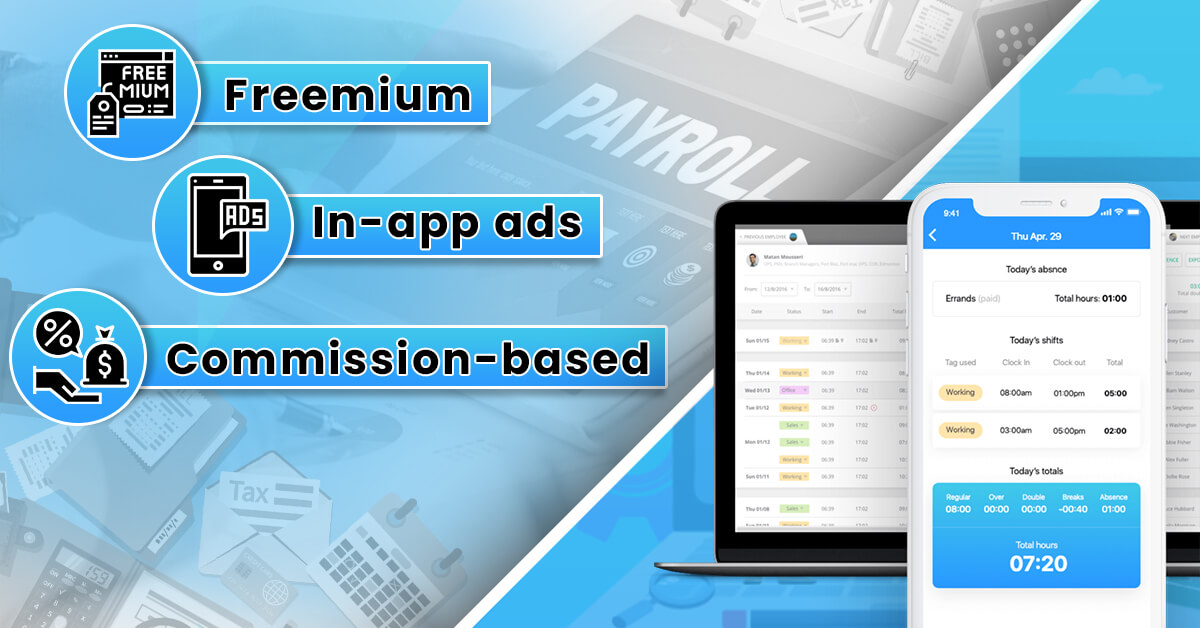 PagarBook as customized HRMS for the Indian market has been a huge hit. It is one of the efficient employee management system designed specifically targeting the small-scale businesses. Thus, if monetization through such employee time & attendance management app is your key goal then here are some of the best revenue models
Freemium
In the freemium model, the app can allow the customers to access all the features for a limited period and then ask them to buy a subscription plan to continue using the app. Another way is to keep the free and paid apps separate. This way, the app can serve the customers who are willing to use the app with fewer features and provide a paid app to the customers ready to use more features. A freemium model offers a win-win situation for both app owners as well as customers. The customers can try the app before paying for features, and the app can gain more customers because of the little risk involved.
In-app ads
Placing in-app ads can prove to be a good source of revenue for a salary management system like Pagarbook. A payroll management system gives business access to a vast customer base, many companies would be interested in placing ads on the app.
Commission-based
A payroll management system web application can earn decent money by charging a small commission on the transactions made on its platform. The app could deduct a fixed percentage of commission for all transactions on its platform. The app could apply the commission-based model on shopkeepers having a heavy volume of transactions.

How much does it cost to develop a Payroll Management System?
The cost to build an employee attendance management software will be $15,000- $65,000 for a basic app with only the important features as required. To build an advanced end-to-end HR management app will cost more than $75,000-  with respect to the type of features, technologies to be integrated and the additional resources to be availed for smooth functioning.
In addition to the features and technologies, there are various other factors that play a vital role in determining the cost of developing an app like PagarBook.
Here are the few factors that will determine the final development cost of an employee payroll management app.
The developers' location: The app development company's location plays a significant role in deciding the cost. An app development firm based in the US will charge around $250-300 per hour for developing an app like Pagarbook, while an Indian app development company would do the job for nearly $50 per hour. Thus, the firms that have their development centers in the USA will prove to be around 5-6 times as expensive as compared to an Indian firm.
The number of features:  As the total number of features increase, so will the app cost. The addition of more advanced features like e-signature live employee location tracking, multiple language support, and facial recognition of employees for attendance management software will cost more.
Also Read: Tips to avoid hidden app development costs
Features to be included in an Employee Management App like PagarBook
We have bifurcated the features into basic and advanced so that it is easier to understand and process for the businesses based on their requirements. Following are the basic features that a payroll and leave management web application must have.
Some basic features of payroll management software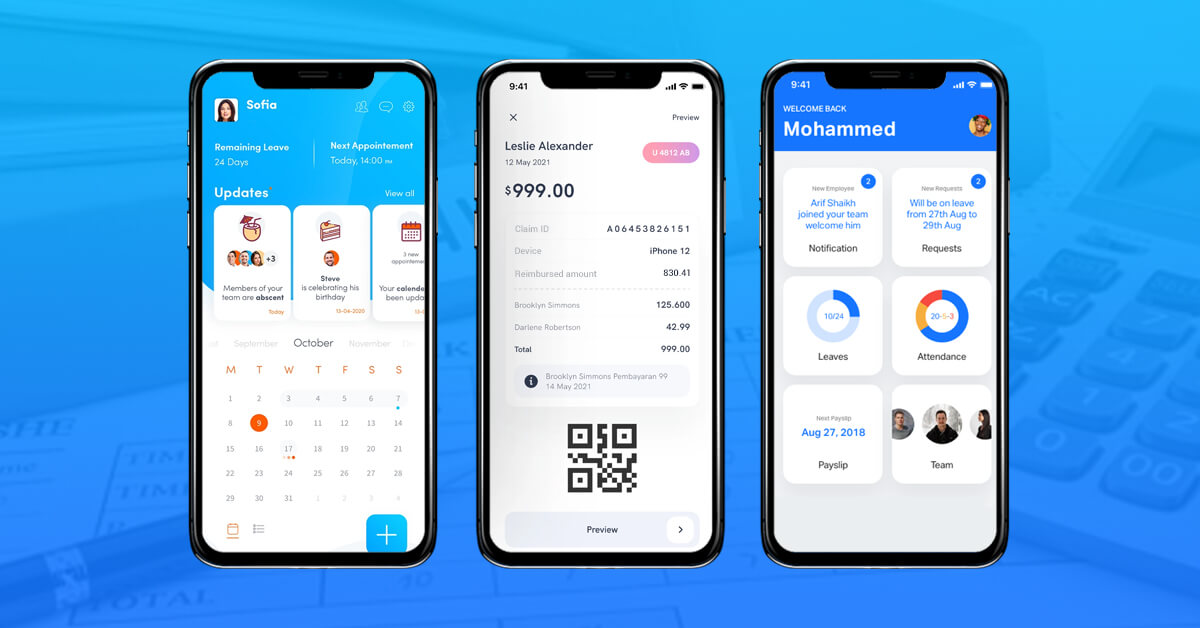 Manage customers to the app.
Manage transactions in general like salary, bonus, taxes, and so on
Attendance of staff
Reminders and Notification
Payroll Management
Salary/ bonus credit
Auto Backup
Employee self-service portal
Advanced features for Time & attendance software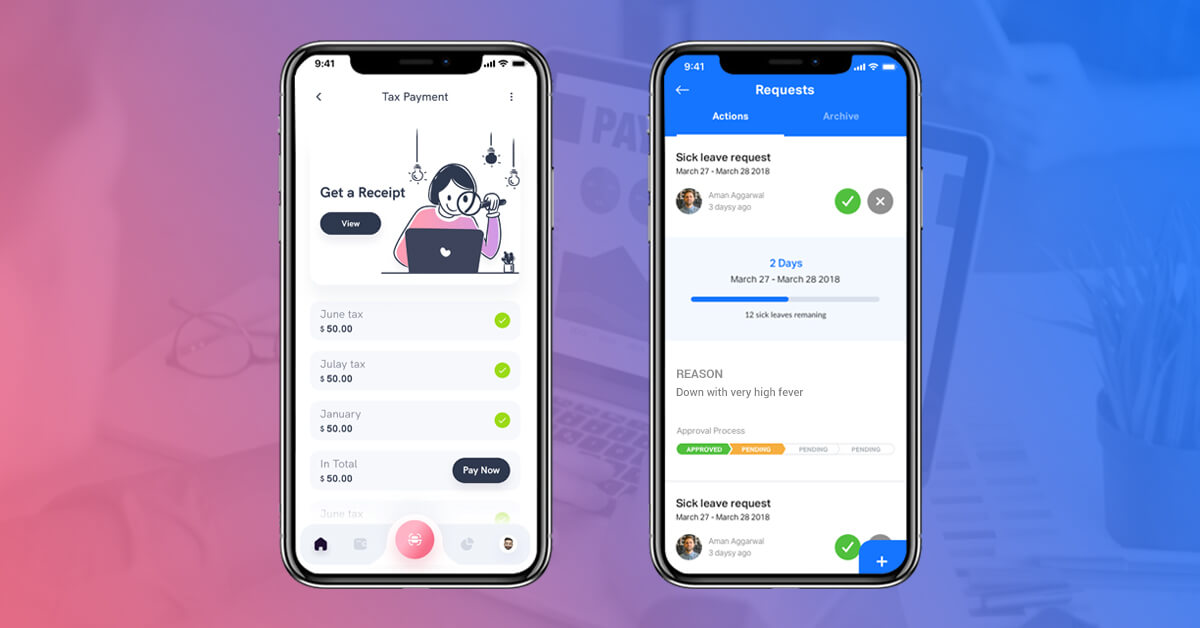 To give the app an extra edge over the competitors, it is a very good idea to integrate some of the additional extended features that will further help you as a business to streamline your processes and manage your employees more efficiently. This will create a win-win situation for the business as well as the employees. Here are some advanced features that you can consider adding to your HRMS.
Advance Payment
Many business owners have to give advance payment to their employees. An app like Pagarbook must have a feature that allows the users to record the advance payments and share the reports with the business owners.
Multiple types of staff
Different types of staff have different payroll management needs. An employee payroll management app should have a feature to distinguish between other workers like monthly wage workers, weekly wage workers and daily wage workers. Users should be able to keep the records of multiple types of staff workers and check the records whenever they want to.
Cloud sync
A cloud-sync feature would allow the users of a salary management system to take the backup of data. The cloud-sync feature would ensure that the data is safe in the cloud, even if the users' device gets lost or stolen.
Share detailed reports
A payroll management software should allow the users to generate detailed reports of every individual and share it with them. The reports should contain the details of attendance, absence, half days, and advance payments. The users should be able to share the information with all the employees through email or social messaging apps.
Multilingual
In a country like India, where people speak multiple languages, using the app in various languages can be a great feature. In other words, the app should support multiple languages, preferably local or regional.
Tackling Taxes
The app owners could integrate a payroll management app with tax and accounting systems to ensure that the users can calculate their tax liabilities from the app itself. The app owners could add a feature wherein the app reminds the users about the due date for filing taxes.
Record additional expenses
The app owners can include features that would allow the users to record additional expenses like a bonus, traveling reimbursement, paid-off days, and employee benefit costs. Such a feature would allow the owners and employees to track the financial data quickly and accurately.
Also Read: 11 Must-have Features in your Mobile App for better Success-rate
The technology required for an Employee Management App
We suggest the following technology stack for building a time & attendance management software
Payment Gateways: The developers can use Braintree and Stripe to integrate various payment gateways like Paypal, Visa, Master Card, wire transfer, and internet banking.
UI/UX: Platforms like CSS, Google Sketch, Photoshop, HTML5, or similar to build beautiful UI/UX of your app.
Data Storage: Services like Microsoft Azure, Google Cloud, and AWS (Amazon web services) can be used to avail cloud storage.
Programming: The developers can code the app in various programming languages like JavaScript, Objective C, Swift, Python, Flutter, or ReactJS.
Social profile verification: The use of social media tools like Facebook SDK to verify the authenticity of the account shouldn't be ignored.
Push notifications: The developers can use Twilio, Firebase, and Apple push notification services to integrate push notifications in the app.
Geolocation: For integrating the geolocation feature in Android, Google location services can be used.  While for the iPhone, one can integrate geolocation features using Apple's Mapkit and Corelocation services.
A team required to develop a payroll management software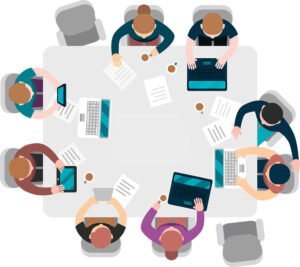 Building a mobile app is teamwork as it takes efforts from many people to build the app and keep it running. Following are the team members required to build a payroll management app.
Project Manager
Back-end developers
Team leaders
UI/UX designers
iOS/Android developers
QA Engineers
Why choose us as your app development company?
Regardless of the business's size or payroll needs, a payroll management app like Pagarbook can prove to be quite handy. The early success of Pagarbook is proof that a substantial demand exists for a payroll management app. To build a robust payroll management app like Pagarbook, one will need to avail a professional app development company's services.  An experienced app development firm would have the necessary skills, experience, and infrastructure required to build a complex app like Pagarbook. At Prismetric, we have 10+ years of experience in providing top-notch IT solutions to our clients located worldwide.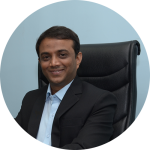 An enthusiastic entrepreneur, interested to discuss new app ideas, rich gadget tricks and trends, and admires signature tech business styles to readily embrace. He enjoys learning most modern app crafting methods, exploring smart technologies and passionate about writing his thoughts too. Inventions related to mobile and software technology inspire Ashish and he likes to inspire the like-minded community through the finesse of his work.