How to Make a Video Streaming App like Netflix?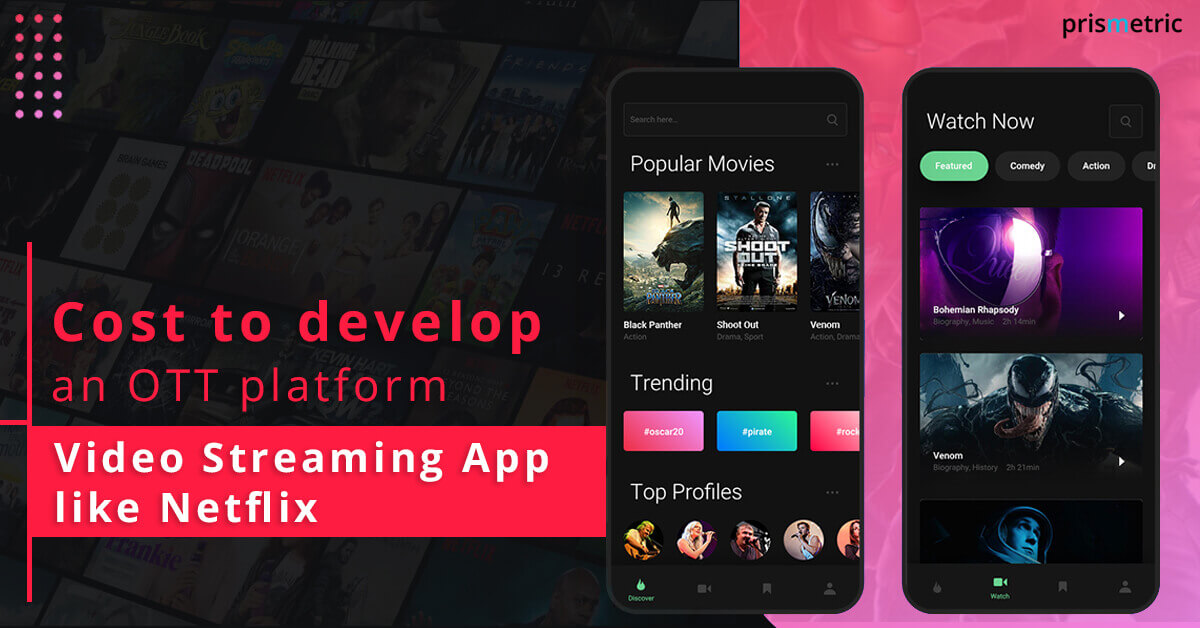 If you love watching movies or video series, you will have a high chance of having a Netflix account.
Netflix is the grand-daddy of video-on-demand services today and has outgrown many traditional media houses.
You can gauge the impact of Netflix on the world by the fact that today Netflix consumes around 15% of the world's total bandwidth.
With the onset of smartphones, Netflix exploded, as users have now got freedom of watching their favorite content anywhere, anytime. The success of Netflix has started a mad dash amongst tech entrepreneurs towards the leprechaun's gold, video on demand (VOD) apps.
Being an expert in mobile app development, we thought we should share our knowledge regarding how you, as an entrepreneur, can build an app like NETFLIX and become the director of your success movie.
So lights, camera, sound, and Action!
History of NETFLIX
Two serial entrepreneurs Marc Randolph and Reed Hastings started the company in Scotts Valley and have grown to become the world's leading internet entertainment platform. Working on the principle of Blockbuster, Netflix first started as a movie-rental service solely focused on providing a web-based movie rental service.
The term Netflix is a combination of the words Net (internet) and flicks(movies). Once the company started online streaming service in 2010, there was no looking back. As its biggest competitor, Blockbuster filed for bankruptcy in 2010; the crown was open for Netflix to take.
With over 150 million subscribers in around 190 countries, Netflix has taken over the world in the video on demand industry.
How Much Does It Cost to Build Video Streaming App Like Netflix?
The cost of building an app like Netflix or any app for that matter depends on the number and the complexity of the features that you decide to inculcate. While a simple video streaming app will cost less, the costs will shoot up as you go on adding features like Multi-language support, Multi-screen compatibility and so on. Hence if you want to keep the costs down start with a bare minimum app and then build the feature list once you get a hang of things.
Usually, a basic to medium complexity app will cost you around $12,000-$25,000. The more complex the app is, the more would be the cost of developing it.
The cost also depends upon the location of your app developers. If your app development company is from the US or Western Europe, it will charge you around 3-4 times more than an Indian App Development Company.
Online video streaming market, and the competitors of Netflix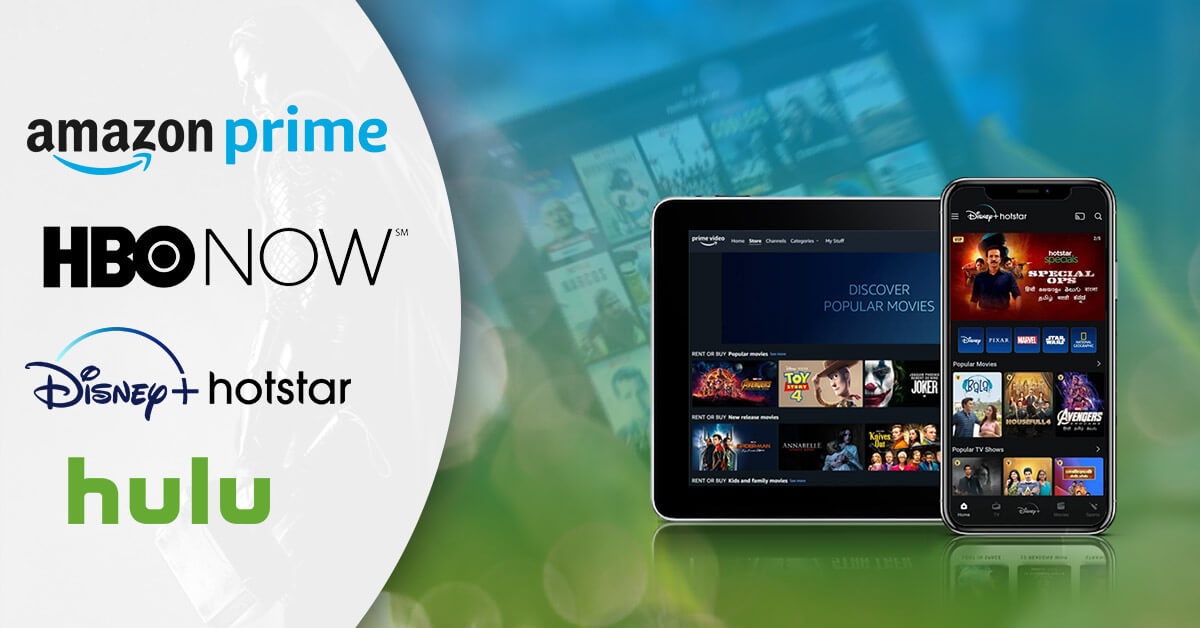 We have just scratched the tip of the iceberg in terms of the online video streaming market. The market potential is enormous. It is expected that by 2021, the digital video penetration will reach around 84% in the US alone, with 236 million digital viewers hooked up to digital content.
With so much potential, competition is bound to be there. In the VOD market, Netflix currently faces competition from the following players.
Amazon Prime
Disney Hotstar
Hulu
HBO Now
The entry barriers to the industry are low, and regions like Asia-Pacific are relatively less explored. It is luring big tech companies like Google, Apple, HBO, Disney, and others to the industry.
There is little differentiation between various players in terms of subscription plans and video quality. Hence the real distinction lies in producing a wide variety of original content. The industry is becoming a media production industry.
Netflix currently enjoys a leadership position in the industry and has a user churn rate of only 9%. It is producing original shows like "House of Cards" and is reducing its dependence on production houses like Disney, who are pulling out their content from Netflix and other VOD apps.
Differentiating factors contributing to the success of Netflix
No Advertisement Model
What is the most annoying thing about TVs? We believe the unanimous answer would be commercials that spoil the fun of watching your favorite content. Netflix has very smartly addressed this issue by providing an advertisement free platform. The no-advertisement policy of Netflix is a significant reason why people subscribe to Netflix in such huge numbers.
Original content
Netflix knew that once the big media companies like Disney get a taste of OTT platforms, they will stop selling content to Netflix. That's why Netflix has invested in producing original content. The decision has proven to be a game-changer for Netflix. The platform has produced successful shows like House of cards and Fractured, The king, and so on. The original content produced by Netflix has attracted many users on to the platform.
Differentiating factors contributing to the success of competitors
Amazon prime video is gaining ground against Netflix by adopting the same strategy as Netflix, original content, and ad-free programs. The advantage that Amazon Prime has is that its parent company, Amazon has deep pockets, and they provide premium features on its e-commerce platform, also along with the Amazon prime subscription.
YouTube is another competitor that is posing a threat to the dominion of Netflix. A pioneer in user-generated content, YouTube has started offering no-ad experience, live streaming, and play in the background features with its YouTube premium subscription.
Hulu is another worthy competitor of Netflix. Hulu's advantage is that it is a platform created by media giants like 21st Century Fox, Time Warner, and Walt Disney. Hence the platform has access to a wide variety of content already.
How does Netflix work?
Netflix follows an OTT(over the top) model in its app that allows people to watch their favorite shows, movies, or events without needing to download them. With ever-increasing reach of high-speed internet networks, the idea of downloading your film or show to watch it later just didn't work. Netflix saw the opportunity and started streaming video in HD quality.
In OTT streaming Netflix sends the whole video in tiny chunks. Thus, ensuring that only little parts of the video are sent to your device at a time. This way, the network does not get clogged with too much data. Also, the user's device does not keep the downloaded data, and the data gets deleted automatically.
Business model to follow for an app like Netflix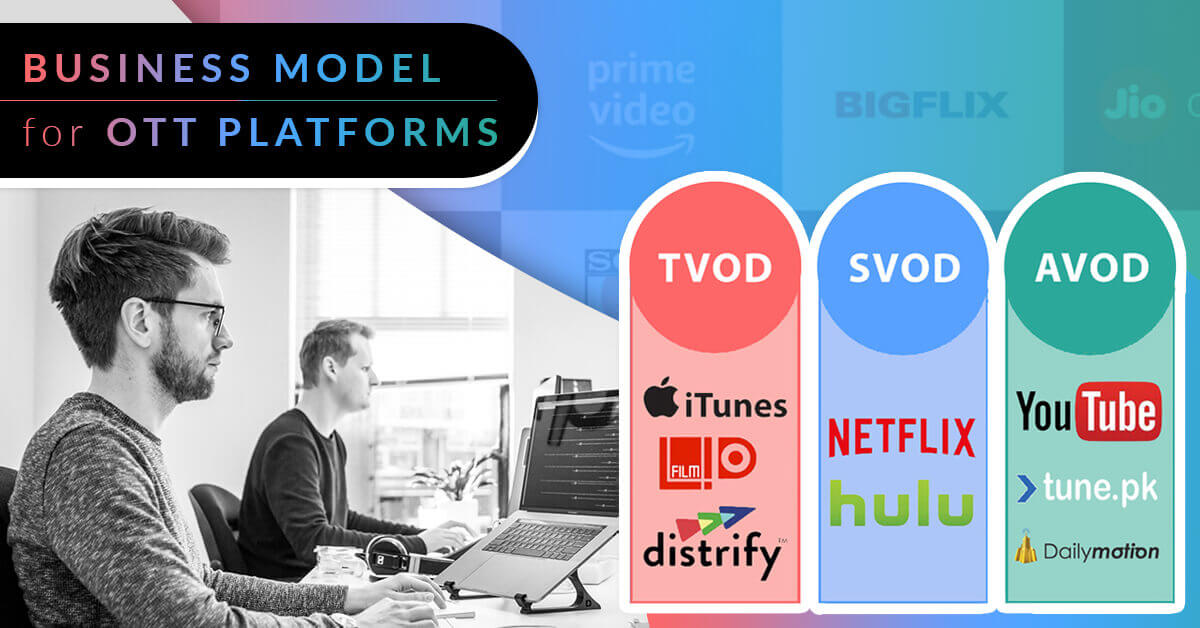 SVOD
It is the subscription video-on-demand business model. In this business model, the app asks users to pay a subscription fee to access the content. You can either allow the users to access some restricted content for the subscription period or access all the content for a particular time frame.
TVOD
In the Transactional Video on Demand model, the users purchase only a particular video or a series that they wish to see. They need not take a subscription if they are interested in viewing only 1 or 2 content.
AVOD
AVOD means, ad-supported video-on-demand service. In this type of business model, you charge nothing from the users and support the business through ads. It is a trendy model to start with, as with free plans, acquiring users won't be a headache.
Monetization options for a Video Streaming OTT Platform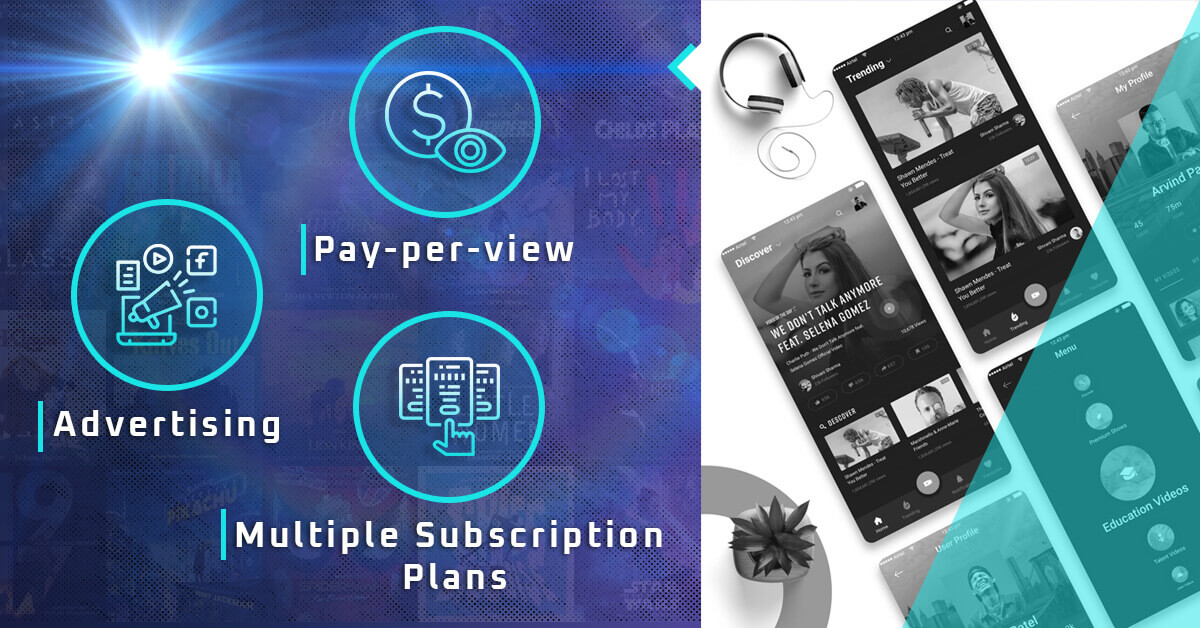 Multiple Subscription Plans
You can sell tiered subscriptions like Gold, Silver, and Platinum memberships, offering different features according to the subscription plans. Think about giving a 30 day trial period to hook users to your content. One way to separate the plans is by limiting the number of devices that a user can access in a particular plan.
For instance, Netflix charges extra according to the number of users allowed to log in from a particular account. If the basic plan is for a single user, the standard plan allows two people or devices to log in simultaneously, and the premium plan allows four people to log in simultaneously.
Pay-per-view
You can charge users for each video separately instead of giving them access to the entire content library. This model works best when your OTT platform is primarily focused on live events like concerts, sports events, and live performances. If the audience wants to watch a football match only on your OTT platform, there is no point in charging them a subscription.
Advertising
Advertising is still one of the most lucrative revenue streams. By placing relevant advertisements, you can earn revenue and also keep the viewers engaged.
Interesting Reads: Trending App Ideas to get started with its development at the earliest
Video Streaming App Features
Our expert developers will build a feature loaded app for your perusal. We have bifurcated the features of the video streaming app into Basic, Advanced and Admin panel features.
Basic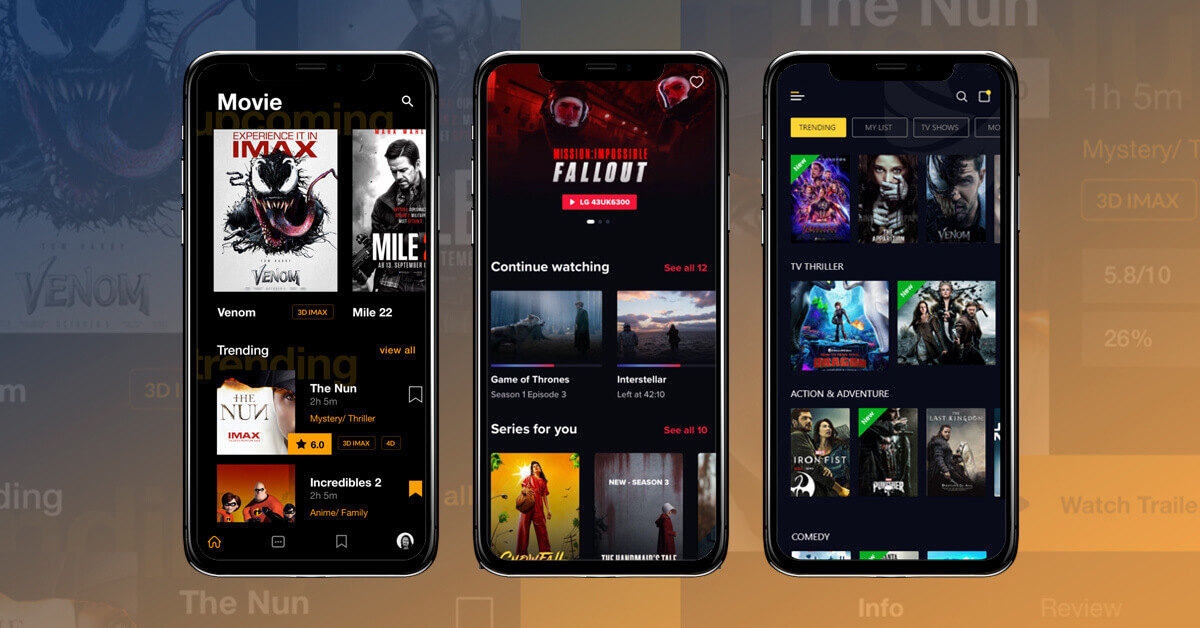 Review and rate of content
Sign in or sign up
Play/pause from where you left
View in HD or SD depending on an internet connection
Payment gateway
User profile creation
Content search
Push notifications
Create multiple profiles
Create a profile for kids to keep out sensitive content
Advanced Features for your own Video Streaming Platform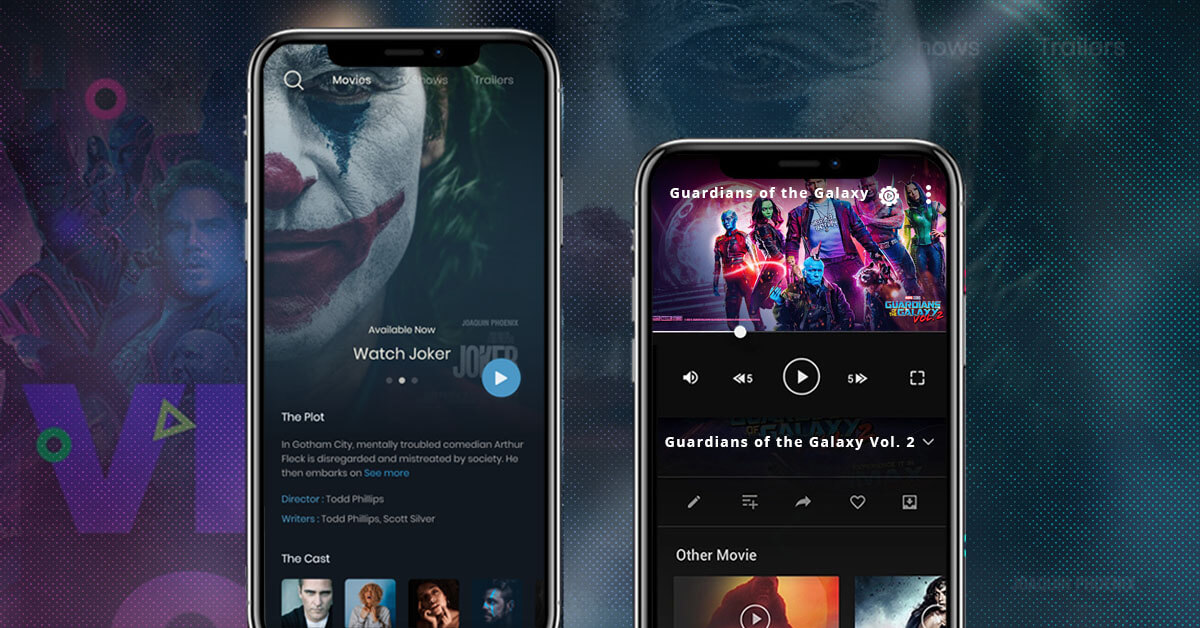 Content recommendation algorithm
How would a user know which shows to watch with thousands of hours of content available? It would be like looking for a needle in a haystack (an enormous haystack for that).
Netflix did what tech companies always do; they found a solution through technology. Netflix has a one of a kind content recommendation algorithm that recommends the viewers their next favorite content. You should consider developing a similar algorithm for your VOD app.
Multi-screen compatibility
Laptops, smart TVs, smartphones, tablets, and so on, humankind is faced with the grave issue of deciding which screen to view their favorite series. Today's digital users use many screens, and the app must adjust itself according to the screen. Your users should be able to switch from one screen to another seamlessly.
Download feature
In many parts of the world, the data connection is not that great. Viewers can't stream the video. But should that stop them from viewing their favorite content on your app? No, so as a solution to this you can provide them with an option to download their favorite shows so that they can watch them later. To protect your content, we add sufficient safeguards so that the user cannot screen record or manipulate the app in any way to share your content without your authorization.
Watchlist
Another cool feature that you can provide to your users is the watchlist feature. In this functionality, the users can add the list of videos that they want to see later. The watchlist feature will also add to your app engagement levels by allowing your team to send push notifications to users to watch the titles that they have watchlisted.
Multi-language support
Netflix currently serves 190 countries. Do you think that all of them know English? Netflix has done the smart thing of making content available in many languages and selling it. The users connect with content instantly if it is in the language they understand.
Chat and comments
We all love to comment while watching our favorite sports. You can activate the chat and comments section during a sports match to up the tempo and boost the engagement levels.
Analytics
The analytics feature will provide you with actionable insights regarding your viewer base. You will be able to know which content do your viewers love and which is the one that is not adding any new eyeballs. You can analyze the user journey, impact of content on various demographics and markets, and the engagement levels of viewers with the content.
Admin features
Adding and removing content with relevant tags like #comedy, #suspense and other related tags to ensure that the videos are bifurcated properly
Advanced data analytics to identify profitable patterns in customer behavior
Manage user profiles
Manage subscriptions
Manage ads
Technology stack
UI/UX: Use tools like Google Sketch to build an engaging UI for your VOD app
Payment Gateways: Services like Braintree and Stripe will help you to integrate various payment gateways like Mastercard, Paypal, Visa, and Net Banking services of multiple banks.
Cloud streaming: Use a cloud streaming service like Wowza and IBM Watson to stream your video content online.
Coding: Use programming languages like Objective C, Java, Python, and Swift to code your app in either iOS or Android or even build a cross-platform app using frameworks like Flutter and React Native. Use platforms like Node.js and ReactJS for Front-End Development.
Subscription management: Use solutions from Zoho, Azure, PayPal, or Stripe to manage your subscriptions.
Data Analytics: Use data analytics solutions from Microsoft, Google, and Amazon to gain an edge over your competitors.
Push notifications: Use services like firebase, Twillo, and Apple push notifications service to push notifications to your viewers.
Team required for developing an OTT Video Streaming platform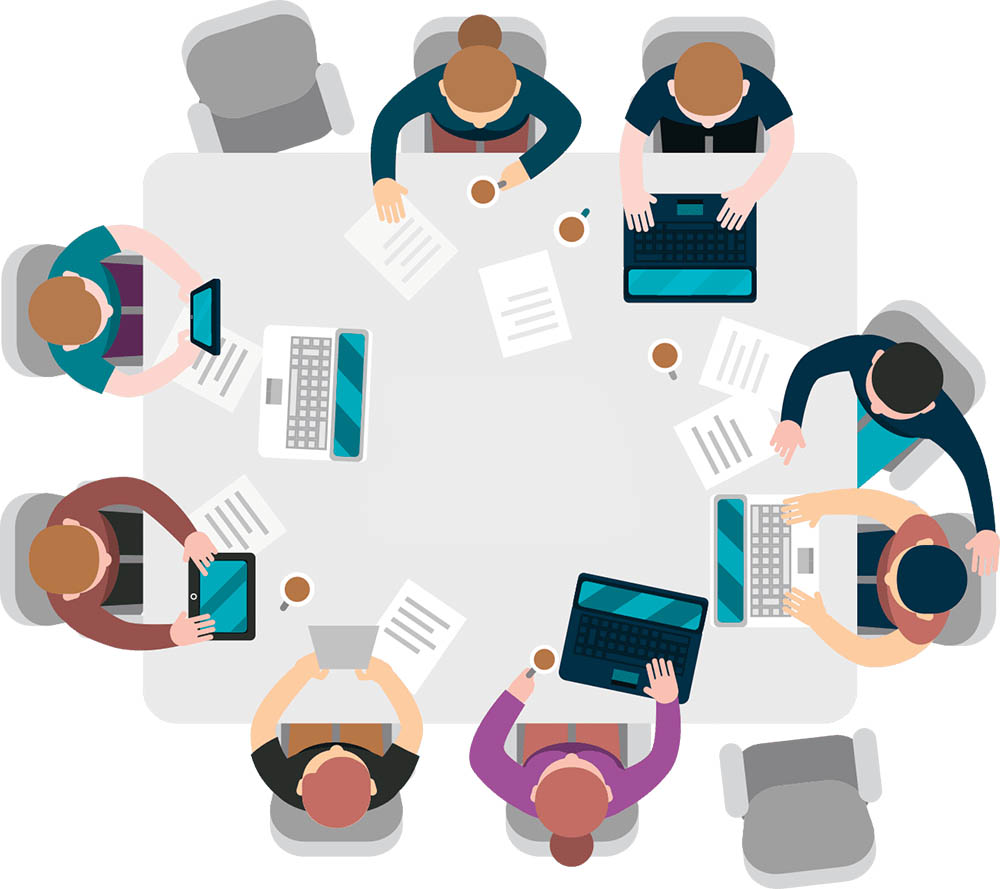 A team of expert professionals is required to develop an fully loaded OTT platform video on demand platform. The number of experts for every aspect would vary based on the additional requirements and For developing a video streaming app, you will require
Project Manager
Technical Lead
Business Analyst
UI and UX designers
Back-end developers
Front-end developers
Quality Assurance Engineer
Why should you give your video streaming app development to professionals?
Developing a video streaming app like Netflix can prove to be a challenging task. Understand that you cannot afford to take risks when millions of people are watching shows streamed on your app. Even a small hiccup and your reputation will go down the drain. Hence it is better to give the task of developing the app to trusted professionals.
By choosing to work with Prismetric -a Top App Development Company, you will tap into their expertise in building great apps. This way, you can be ensure that your project is in the right hands. The app developers will ensure that your project gets completed within the stipulated time.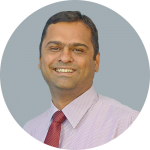 With a deep interest in new technologies, analyzing mobile application trends and impressive technical concoctions keep him inquisitive. He likes to read and write a lot. New app technologies, gadget fascinations, and big technology announcements kindle the writer in him spontaneously. His articles are his passion for innovative technologies.