How Much Does it Cost to Develop a Video Conferencing App like Zoom?
The year 2020 has brought many changes in our lives. The pandemic situation forced the world to think out of the box and adapt to the changes. One of the major after-effects of Covid19 was the rise of video conferencing apps. Previously utilized only by multinational companies having offices all across the world, today, the teleconferencing apps have found widespread adoption from even the small business owners.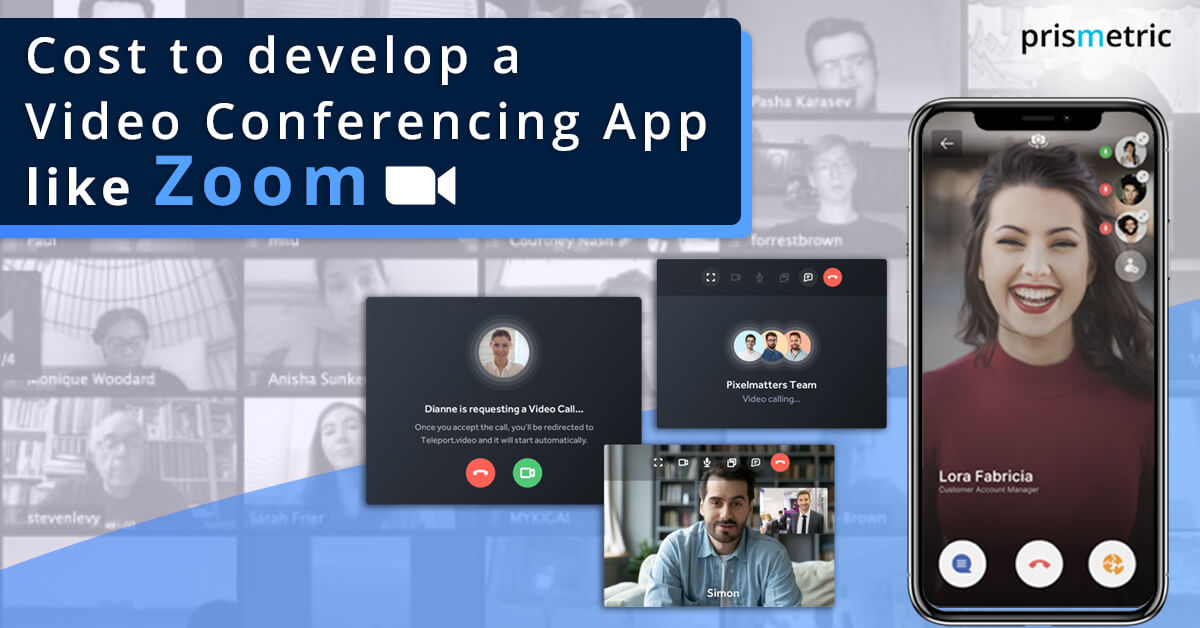 Zoom is one of the apps that have found maximum users in the pandemic fuelled digital revolution. The teleconferencing app has bagged 2.5 million users since its inception.
The immense popularity of the app also stems from the fact that there was no easy to use and credible option to Zoom when the need arose. Now, there is a mad rush to build the next "Zoom" which has been expected to becoming the most popular video conferencing application. Nevertheless, many entrepreneurs are confused regarding the cost of building an app like Zoom. Many of them want to avoid the hidden costs of app development. Prismetric, a top mobile app development service provider, gets a lot of inquiries on how to build Zoom like application and what is the cost of it.
In this article, we shall shed some light on the topic and attempt to answer your queries.
About Zoom App
Zoom is a cloud-based video conferencing app founded by ex-Cisco engineer Eric Yuan. The idea is to facilitate virtual meetings between people either in audio or video format. Zoom is compatible with various platforms like Mac, iOS, Windows, and Android.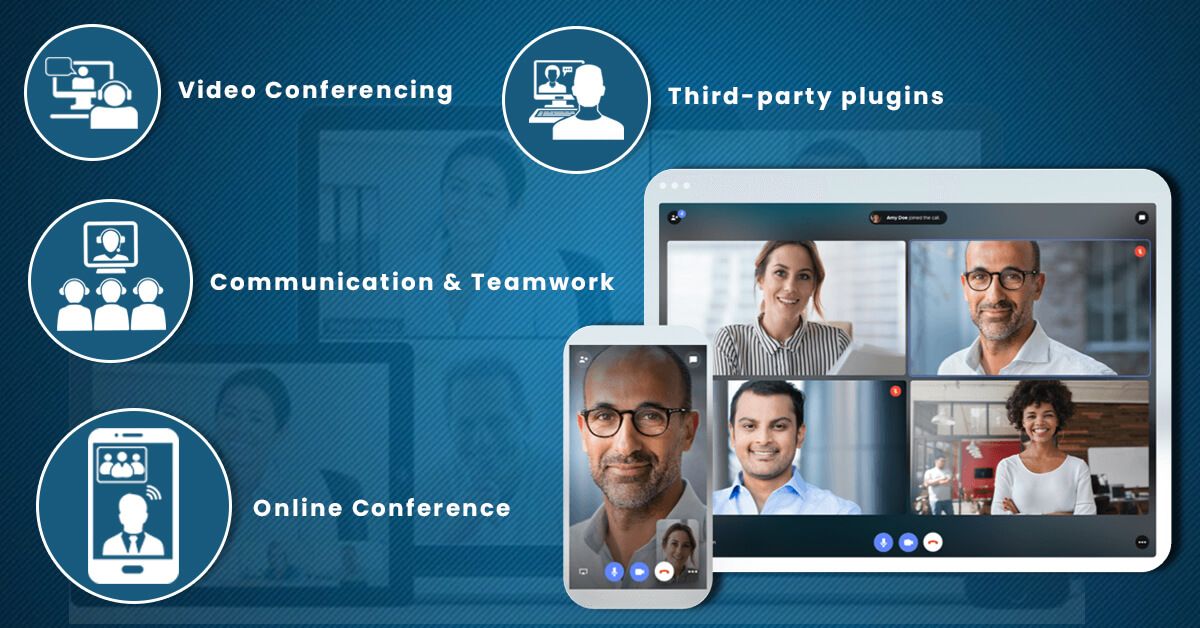 Let's look at some of the major reasons that has led to a steep rise in the video conferencing apps users
According to the stats, in 2019, the video conferencing global market size values nearly USD 4 billion
The video conferencing platform Zoom observed nearly 190 million daily meeting participants a day in the first quarter of 2020; this was compared to a 10 million participants average in December 2019
By 2022, it is anticipated that internet video calls traffic would shoot by 4 times from 2017
The number of remote users for telecommuting has shot by 115% in the last decade and continues to go high
Compared to the last 2 years, nearly 90% people choose using video calling today
Nearly 80% of corporate businesses prefer video calling using a video conferencing software for facilitating team meetings
Cost of developing an app like Zoom
The cost of building a video chatting app depends upon a few important factors such as
Features in the app
Design complexity of the app
Hourly rate of the developers
The hourly rate of the developers fluctuates according to the location of your developers. We have given below a rough estimate of the average per hour rate in US dollars for various locations.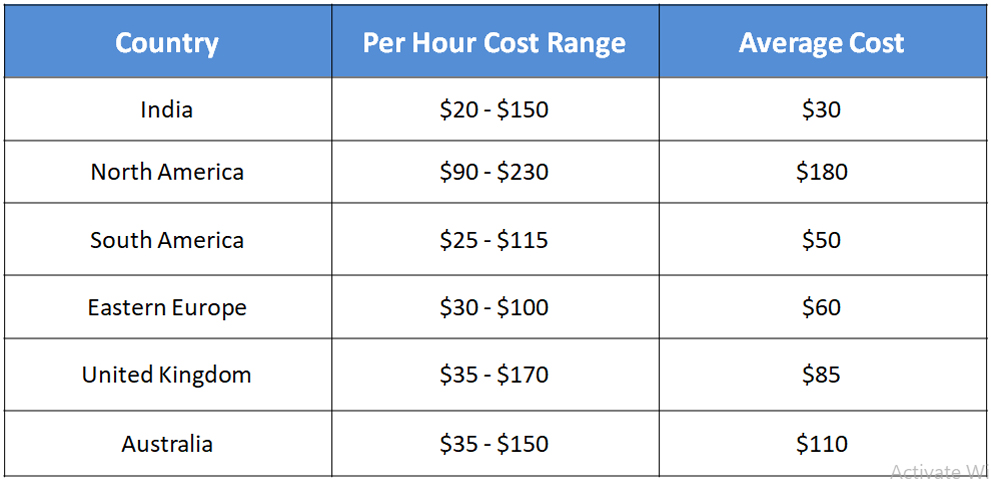 If you are planning to build a video conferencing app like Zoom, then expect the budget to be around $45,000 to $70,000 in a developing nation like India. Also, note that Cross-platform app development can reduce costs as compared to native app development. We suggest you read our blog on how to narrow down your choice of platform for mobile app development in case you are facing a dilemma in choosing the correct platform.
Now that you are clear on the cost part, let's have a look at the revenue part.
How does an app like Zoom make money?
Do you wonder how Zoom makes money? It has a foolproof money-minting revenue model.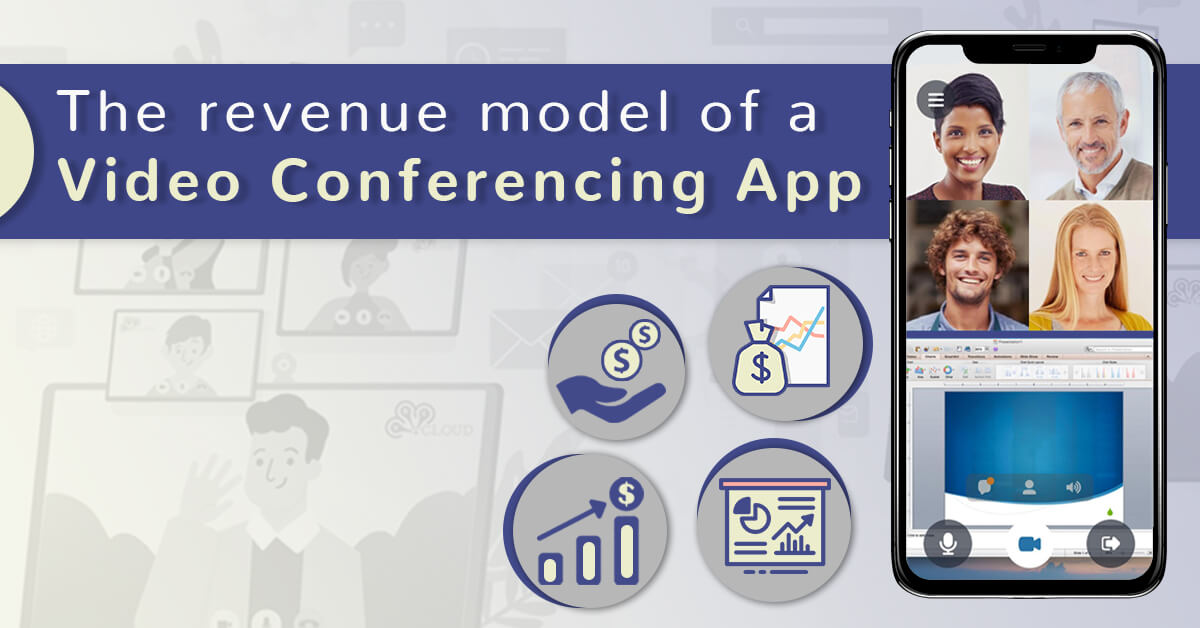 The revenue model of Zoom app
🔹 Zoom Meeting
Zoom Meeting is the main feature of the app wherein it allows people to have remote video calls.
The app does not charge its users as long as the calls or meetings are conducted below 40 minutes. If the users want un-interrupted meetings that last beyond 40 minutes, then they will need to shell out $14.99/ month or $12.49 a month if they take the annual plan.
You can also build Zoom like application and derive similar revenue models. Such a type of revenue model is called the Freemium model.
🔹 Zoom Rooms and Workspaces
Zoom also facilitates physical conference room systems that enable organizations to run video meetings in these conference rooms. The idea is to provide the customers with hardware and the physical space required to conduct a conference without the hassle of managing them. Furthermore, the company also has a professional service unit that ensures the smooth functioning of these conference rooms.
Zoom charges a monthly fee (or an annual one depending upon the plan you choose) to the users. It also partners with hardware manufacturers to provide the required hardware support for these conference rooms.
🔹 Zoom Phone
Zoom phone is a feature designed for those users who do not want to have video calling; instead, they prefer a voice call. The tools for using the zoom phone feature are already available in the main product.
Zoom phones comes with a host of features like
Automated call management and routing using AI
Voicemail and call recording feature
Secure HD conversations for audio
Auto attendants and IVR tools to make the process smoother
Zoom has a monthly subscription model for this product.
For your group video calling app, you could consider including one of the above-mentioned revenue models. While thinking about revenue models, do not forget to control the hidden costs of app development. As they say, a penny saved is a penny earned.
Now that you have a basic idea about the business model of a teleconferencing app like Zoom, you should consider some basic features for such apps.
Features for a Video conferencing Application
Basic features for a Group Video Chatting app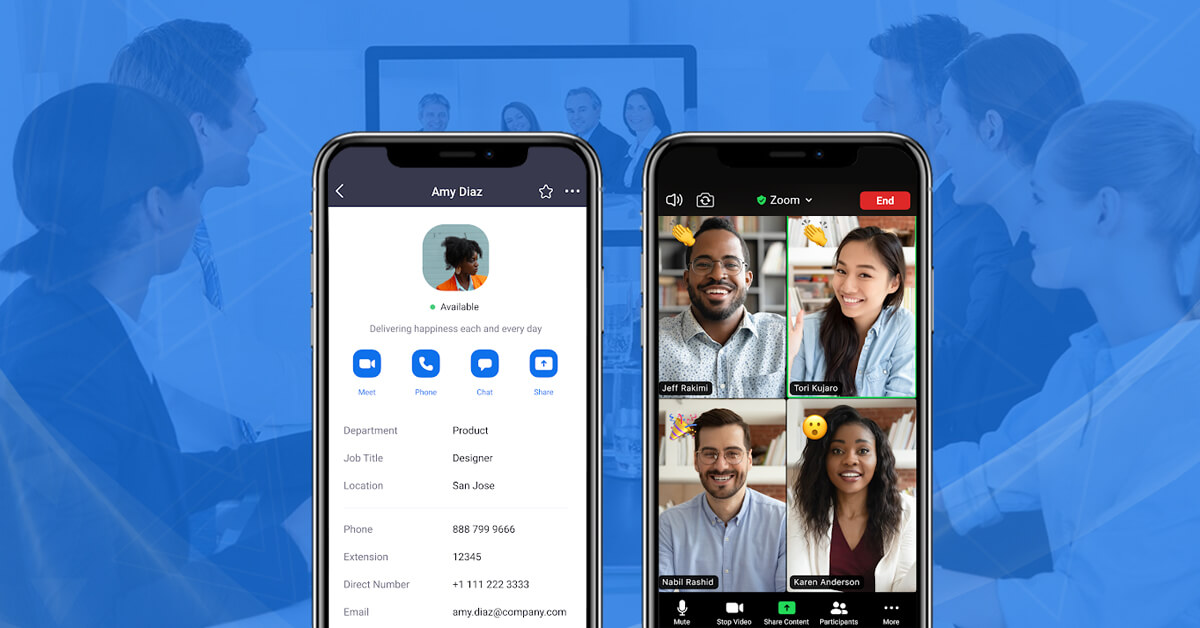 High-quality audio and video calls
Options for screen sharing
Mute audio and video of participants
Chatting either in team or one-on-one
Feature to record the video
Multi-device compatibility
Advanced scheduling of meetings
Encryption
Virtual-hand raising feature
Once you are done with the basic features, you then need to have a look at the advanced features
Advanced features for a Video conferencing App like Zoom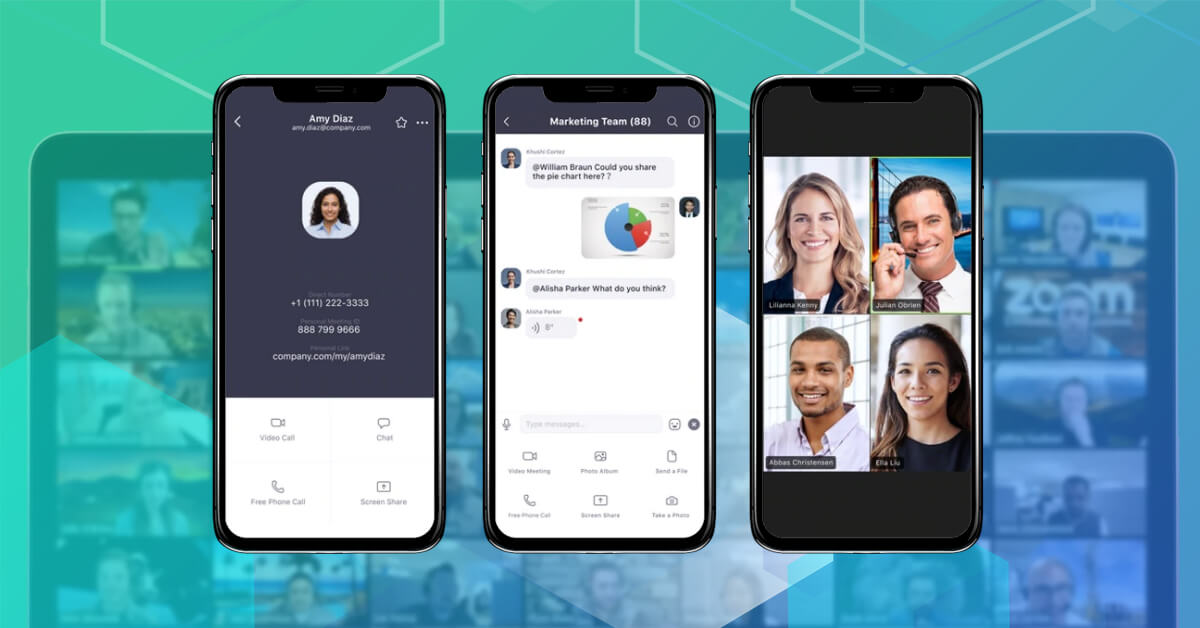 🔹 Auto framing
Auto-framing is a feature that eliminates the need for manual framing. If this feature isn't present in a video conferencing application, then it would waste the time of the moderator in zooming in and out the video. The camera automatically adjusts the view to fit everyone in the group.
🔹 Host Tracking
In a physical meeting, the focus is always on the host, lecturer, or speaker. You should be able to see and feel the body language or emotions to be in sync with the speaker. You can add this experience in your video conferencing app through a feature known as Speaker Tracking.
The VC systems can zoom in on the host actively tracking their body movements. This ensures that the focus is always on the speaker, engaging the audience.
🔹 Noiseblock
Meetings and learning through video conferencing or tele calling requires the utmost attention. Noises such as people talking in the background, vehicular traffic, keyboard typing, kids crying disturb the environment. Noise reduction feature can help you keep all those distracting noises at bay when a meeting is underway. The unique quality of noise blocking technology identifies whether a real person is talking; if it does not find a real person, then it automatically mutes the microphone.
You can also use the acoustic fence technology to block unwanted noise.
The acoustic fence technology builds a virtual boundary around the meeting area through the use of microphones. This ensures that the sounds that are not within the "fence" are blocked.
🔹 Remote management
In a case where the user is a large enterprise having multiple VC units, then this feature would come handy. The main idea about remote management is that it helps the user to change the settings without needing to walk physically from room to room.
🔹 High camera resolution
The camera resolution matters a lot in a videoconferencing app as nobody wants a hazy distorted face. You should consider adding 4K support as most of the OEMs have launched products that support such an ultra-resolution for video conferencing.
🔹 Optical zoom
We have seen it umpteen times that the users are unable to see a particular thing clearly because the video conferencing app does not have a zoom-in feature. You could provide optical and digital zoom features to your users to solve this issue.
We suggest you to imbibe the optical zoom feature in your video conferencing app as it provides a much clearer image and video quality.
🔹 Whiteboard camera system
Many teachers need to show their whiteboard drawings to their attendees. The whiteboard camera system is an advanced camera system that allows you to attach the whiteboard that you already own. The system allows the speaker to stream the whiteboard content over the browser or video conference. Using this system the users could also download the whiteboard contents so that they have all the important highlights of the discussion.
🔹 Live video editing
You could save a lot of effort and hours of the speaker in video post-production by providing them a live video editing feature. You could provide special camera effects and quirks to make the video interesting.
🔹 Virtual background and green screen
This feature will allow the video conference host to display an image or a green screen in the background. By using captivating virtual background images, the speakers could make the experience more engaging.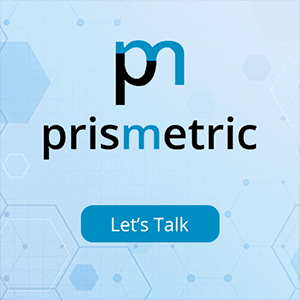 Technology Stack for developing a group video calling application
Building a group video calling app like Zoom will require the following technology stack to make it scalable and rich in user experience.
🔹 UI/UX: Use tools like Google sketch and Photoshop to build that perfect UI/UX for your video conferencing app.
🔹 Coding:  Objective C, Kotlin, Java, and Swift are the languages that you can use to code a native app, while Flutter and React Native are the ones that you should use to build a hybrid app.
🔹 Data Analytics: Use data analytics solutions from Amazon, Google and Microsoft to gain actionable insights from the data of your customers
🔹 Push Notifications: Integrate push notifications into your app using services like Apple push notifications, firebase, and Twillo.
🔹 WebRTC: use third-party APIs like RTCPeer connection, RTCDatachannel and Mediastream to facilitate real-time communication via web as well as mobile devices
🔹 Frameworks: Laravel, Symphony, Laminas and Angular
Team required to build a Video conferencing Software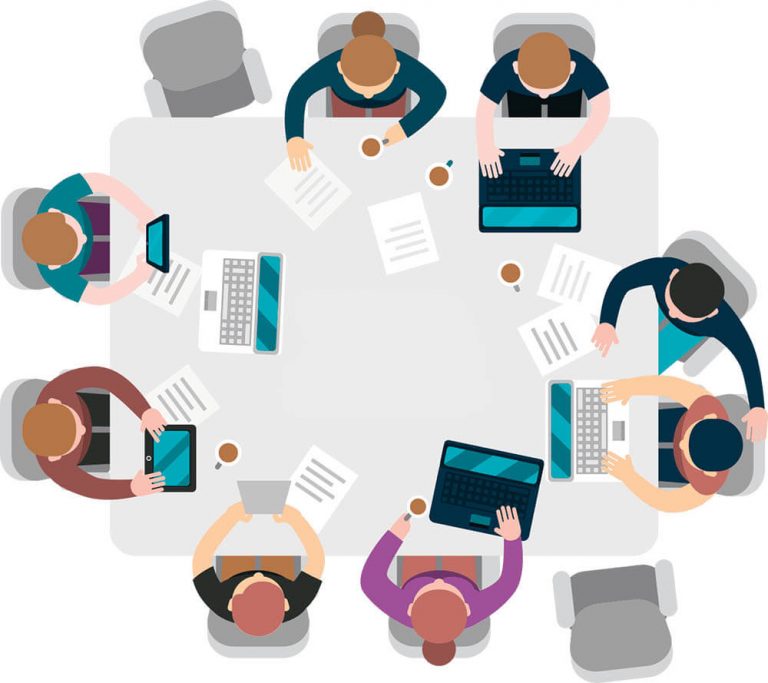 Building Zoom like video conferencing software or mobile applications requires a lot of efforts and strategies. It is indeed teamwork and not a freelancer's job. Hence, most of the entrepreneurs who want to build the best video conferencing app choose a professional Zoom app development company that has the following in-house resources for video conference application development
Project Manager
Android/ iOS app developers
Back-end developers
UI/UX Designers
Q&A Specialists
Why choose Prismetric for Video Conferencing App Development?
Video conferencing is here to stay. Businesses will continue to use it even after the pandemic is over. The market is lucrative and big enough for other video conferencing apps. One should understand that video conferencing app development requires skillful integration of various APIs. Moreover, it also requires rigorous testing to ensure that the app works on all hardware devices flawlessly.
At Prismetric, we have been developing complex apps for 10 years now. We have a team known for taking up complex projects and meeting tight deadlines. We are a trusted expert mobile app service provider to a huge global clientele base from various industry verticals.

Wrapping up
Zoom definitely has the first-mover advantage when it comes to video conferencing apps. It was at the right place at the right time; however, it does not shut down enormous opportunities for other teleconferencing apps.
Video conferencing could be the next big thing in communications as people have understood the fact that it is way easier and cheaper to have a video conference over the internet than organize it in a conference hall at the office. The market size is big enough for Zoom's competitors.
Hire proficient mobile app developers and the next unicorn in the space of video conferencing could be your app.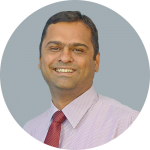 With a deep interest in new technologies, analyzing mobile application trends and impressive technical concoctions keep him inquisitive. He likes to read and write a lot. New app technologies, gadget fascinations, and big technology announcements kindle the writer in him spontaneously. His articles are his passion for innovative technologies.