The Internet of Medical Things- a new hope for the healthcare sector
Internet of Things has helped immensely to transform the healthcare industry. Today, we can witness the presence of IoT in many processes and operations of the healthcare sector. With hundreds of medical and healthcare apps already on the Google Play Store and Apple App Store, the first question that comes to the mind is that why do we need the Internet of Medical Things (IoMT)? What does IoMT exactly bring to the table? How will it change the healthcare industry, and what can we expect from it?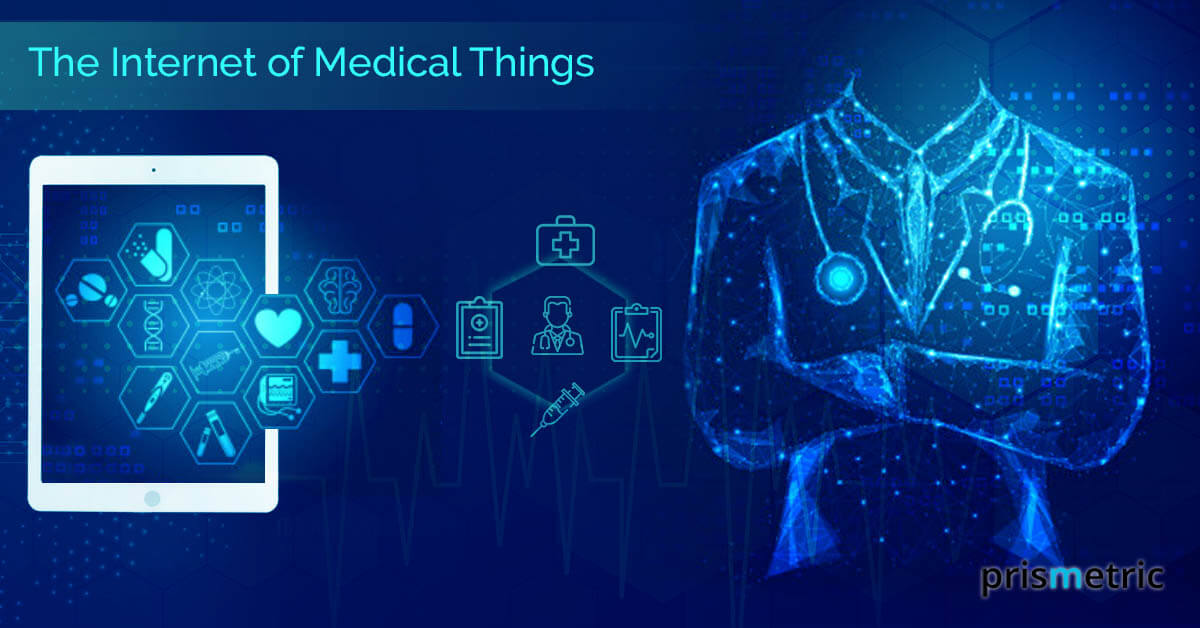 Let's look into these questions one after the other, but first, we need to understand about the Internet of Medical Things.
What is the Internet of Medical Things (IoMT)?
The Internet of Medical Things is a technology that enables a machine to machine communication amongst healthcare devices and instruments. It can monitor and notify real-time health issues, not just to patients, but healthcare providers too. Experts believe that IoMT has the potential to radically transform the medical industry.
With the Internet of Medical Things technology, doctors and other medical staff will be able to collect critical health data from patients directly via the devices which are attached to the patients. They can analyze, monitor, and even store data in cloud-based applications for future records.
IoMT will bring more transparency, affordability, reliability, and accuracy to the healthcare industry. These devices range from wearables, home medical devices, healthcare applications, and point-of-care kits. IoMT also will help in the quick and accurate diagnosis of diseases based on symptoms and data gathered from such devices.
These smart devices can also communicate with other devices and can relay data between them, which enables medical professionals in taking correct decisions on time.
What would be the role of IoMT technology in the healthcare industry?
The application of IoMT has found some initial takers, but has a lot of widespread potential areas where the technology can be applied constructively. Some of them are discussed in this piece:
The rise of IoMT Devices
It is a good sign that the number of IoMT devices is rapidly increasing with each passing day. As a result, the cost of sensor technology is gradually decreasing, and Near Field Communication and Radio Frequency Identification technologies can be found in all the smartphones now. These technologies can be incorporated with the IT systems to monitor and gather data. Internet accessibility is increasing even in remote areas and all these things have contributed immensely to the growth of IoMT ecosystem.
A research on the forecasted business of IoMT was conducted by Deloitte, which projected that by 2022, the market size of IoMT devices would be in excess of 150 billion U.S. dollars.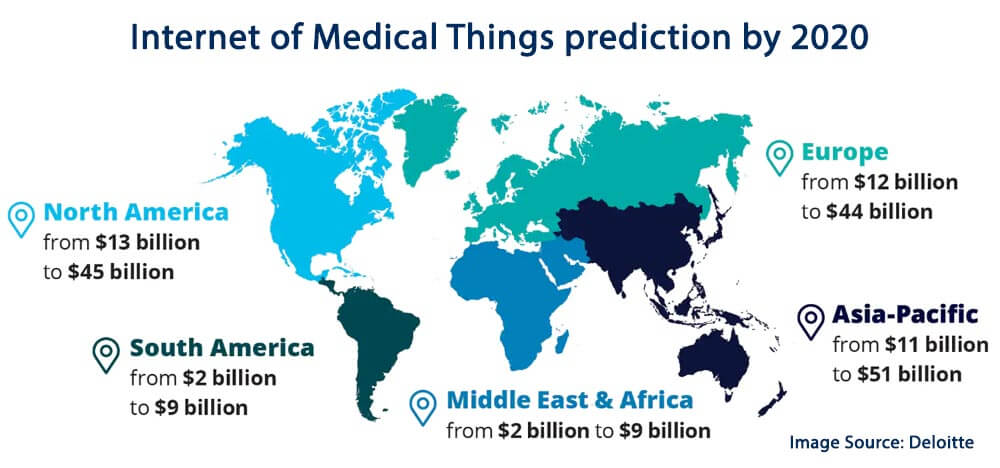 (Image courtesy:-Delloite)
Better Management of the Resources
Resource management is also crucial to ensure that everything is streamlined and organized. IoMT can help in this direction. Hospital administration would be empowered with IoMT as it would get accurately analyzed data for inventories and other resources. Also, they would be able to check the quality of drugs and other medical devices before placing an order. It would improve supply management too.
The medical staff would be able to track the stock of medicines at patients' houses and supply a new stock as and when necessary. Furthermore, RFID technology will help doctors and medical professionals to track the progress of a patient's health. They would have in-hand, real-time data about the case, including methods of treatment, prescribed drugs, previous surgeries, lab reports, and consultation records. Imagine how it will improve medical procedures and processes. Discrepancies and errors would have no place in the whole process.
Patients and their families would have access to crucial details such as past records; possible symptoms patients might develop, possible medicinal side effects, surgery dates, and recovery symptoms. Patients won't need to visit hospitals frequently, as medical records can be shared online without any physical consultations.
Related: IoT- The Sensing Technology that makes Sense for the Logistics and Supply Chain Management
Online direct consultation
Medical devices and other wearables directly transfer data to the doctors so as to quickly set the next treatments and medication changes in cases where physically checking the patients is not feasible. Sometimes, in critical situations, it might even prevent casualties as the data collected by these devices will help doctors to quickly diagnose the problem and begin treatment accordingly.
Even for medical staff too, IoMT helps to implement doctors' instructions precisely as they have real-time data in their hands. Juniors not present in the hospital can be contacted immediately when an emergency arises.
Also Know: How to helpful An online doctor appointment booking app for the patient?
ISFWs Integration
The security of available data is also crucial preventing any thirds parties to access it. With IoMT, the Internal Segmentation Firewall (ISFW) can be integrated with IoMT devices easily to strengthen the security network.
ISFW performs multiple duties to secure the data. It can monitor and identify medical devices and prioritize situations based on emergency.
Bliss for elderly people
Elderly people frequently get sick, and they also require more attention and treatment than young and middle-aged population. A report by the United Nations predicts that there will be approximately 2.1 billion elderly people across the world by 2050. IoMT will help to cut down the cost of treatments in elderly people by reducing frequent visits, prompt diagnosis, and preventive care facilities.
With IoMT, doctors can constantly monitor the health and progress of health conditions in elderly people, which will result in excellent and effective treatments and better recovery rates. Vital body functions such as blood pressure, heartbeats, blood sugar, sleep patterns, and past medical history would help to prevent diseases by diagnosing potential diseases in advance.
In addition to that, there is a tendency among older people to forget medicines and precautions and scheduled health checkups. IoMT will efficient in reminding them about the medicines will also be effective in reminding and getting some simple tests such as blood sugar tests, blood pressure checkup, heartbeats, and other tests conducted timely. It won't be an exaggeration if we say that IoMT is bliss for elderly people.
Challenges for IoMT
More research
We need to admit that IoMT is in its earlier stages where more theories are involved than practical examinations to identify the possibilities lying there. Investors, researchers, and medical professionals need to put more efforts in research and analysis to check the advanced operation models and efficiency of IoMT in-depth.
Open Data Accessibility among Players
When it comes to developing effective interoperability, open data access among players is needed. Open data platforms would give more access to data to different stakeholders to work on it to develop processes and operations.
Cyber Security:
Interconnected devices and instruments also make data security more vulnerable. A data breach is a threat that needs to be addressed efficiently.
Regulatory change
Regulatory compliance is imperative in the healthcare industry. Managing those regulatory changes is a challenge for IoMT as well as for the development of medical devices. It is an issue that requires a permanent solution to succeed.
Acquiring and managing the trust
People are becoming more aware and particular about the data they share with companies. Companies need to explain patients, healthcare professionals, and other stakeholders about data usage and security measures. Convincing them to share data with other entities would be a big challenge for companies.
Conclusion:
IoMT has indeed a potential to be a game-changer in the healthcare industry. The technology is new and still requires world-wide adoption by different stakeholders such as doctors, professionals, and most importantly, patients. In addition to that, some key challenges need to be addressed in order to use technology more efficiently. Proper use of the IoMT technology can bring a new dawn in the healthcare sector where diagnosis, treatments, processes, and operations are quick, efficient, and streamlined.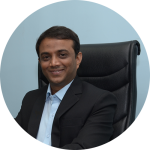 An enthusiastic entrepreneur, interested to discuss new app ideas, rich gadget tricks and trends, and admires signature tech business styles to readily embrace. He enjoys learning most modern app crafting methods, exploring smart technologies and passionate about writing his thoughts too. Inventions related to mobile and software technology inspire Ashish and he likes to inspire the like-minded community through the finesse of his work.