How much does it cost to develop a car parking finder mobile app?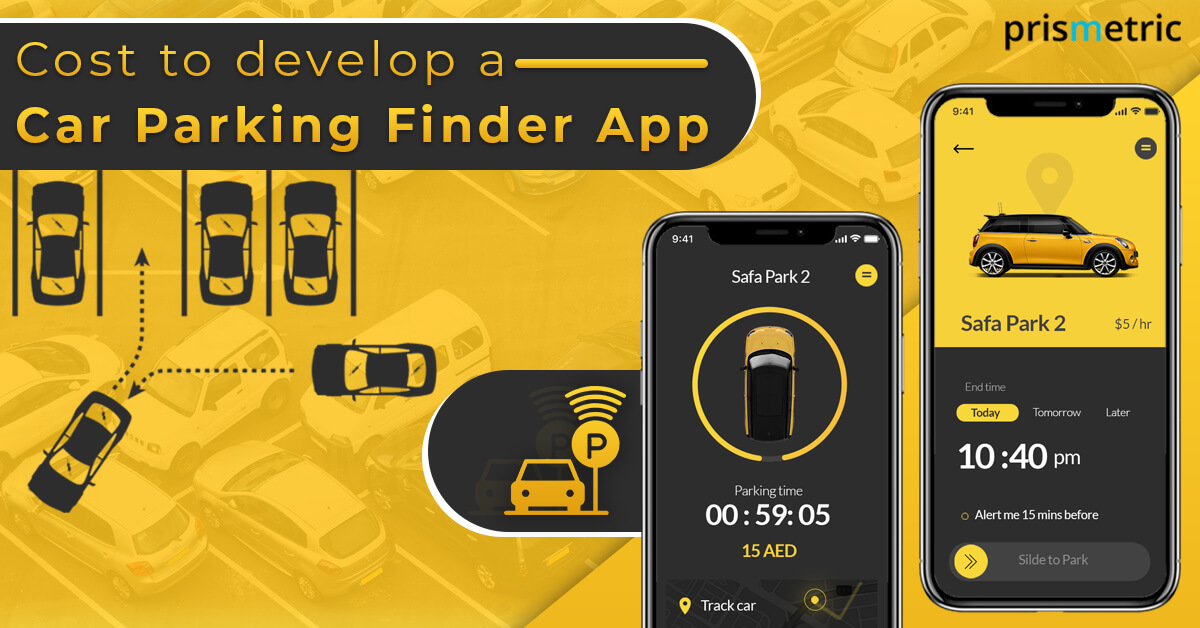 Since the new millennium, the quality of roads and cars worldwide has increased at a rate of knots. The new-age cars are far ahead of their time, providing excellent comfort and efficiency to the owners. Amidst all the hunky-dory going on in the automobile market, one thing that has become painfully troublesome is finding a car parking lot.
Due to the relentless expansion of vehicles' usage, finding a parking space has become a significant issue. Moreover, it is not uncommon for drivers to take several parking lot rounds to find a parking space.
Mobile apps here, just like they have done for the other concerns, come as a troubleshooter. There are a plethora of car parking finder apps that help users to find a vacant spot that can be used to park their cars.
Need for a car parking mobile app
While you are out with your family, friends, or even with colleagues for a business meeting, the last thing you want is to drive an extra mile searching for space to park your car. With the number of cars increasing, the problem has come to the fore.
It seems like this problem has struck a dead end, and there is no permanent solution coming shortly. Thus, there is a need to have a profound smart parking management system that can address this issue and provide its services to the user at reasonable prices.
There is no secret that developing a smart parking solutions app can be the 'cash cow' for your business organization. According to the latest research, companies will be spending a whopping $3.8 billion on parking app technology by 2023.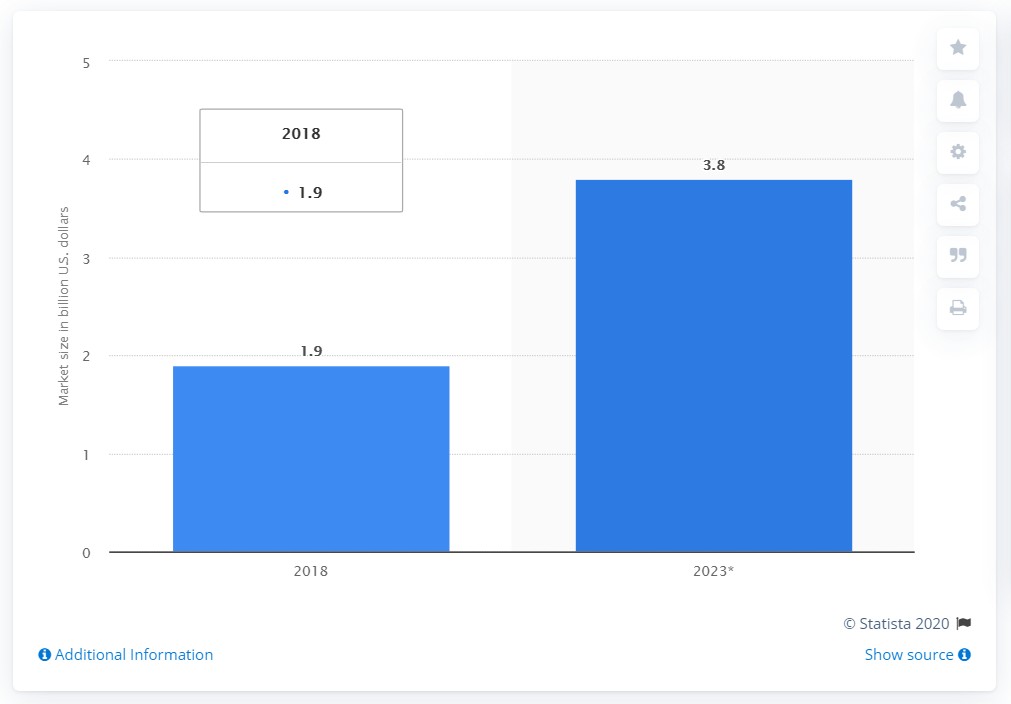 Despite being an ocean full of parking management app in the market these days, there is still room for a new business. Stats show that close to 1/3rd of the city's average traffic is people searching for vacant parking areas nearby. And if you are thinking that the problem is arising as every parking spot is occupied, the answer is "No". The cities are full of parking lots, which especially remain vacant during the day time.
Therefore, if you are considering developing a smart parking management application, this is the most optimal time to do it. While doing so, make sure to use the latest technologies and render the best possible service to your customers.
Best Car parking space finder apps in the market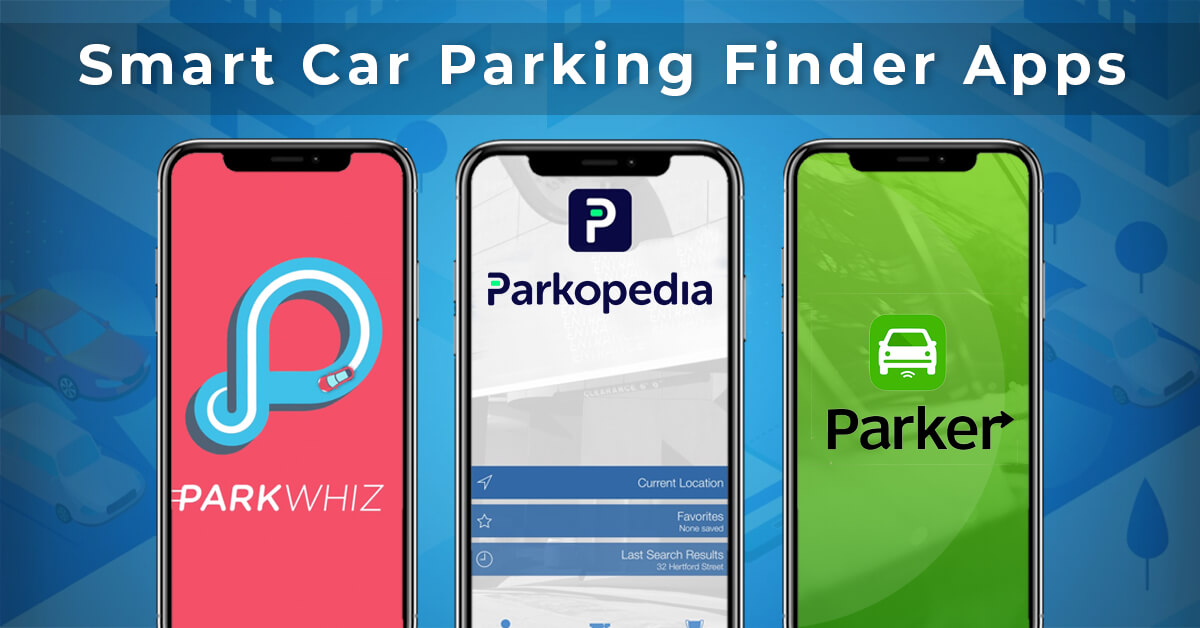 Several front-running top parking spot finder apps in the market give state-of-the-art services to ensure that the users get fewer headaches when they find a parking location. We have listed some of the popular parking finder apps.
ParkWhiz – #1 Parking app
ParkWhiz provides hefty discounts to the users if they book a parking space for a month or the entire season in advance. It allows the user to sort their parking spot according to a specific venue, parking lot, etc. and is available in over 300 cities.
Parkopedia Parking
Parkopedia is heaven for parking nerds. Yes, the app is available in over 89 countries worldwide and features over 70 million parking spots for the users to choose from. Moreover, apart from rendering international services, the users can find the parking space near their location.
BestParking – Find Parking
The perks of using BestParking are that the user can see all the available nearby parking spots after entering the destination. They can compare the rates of the parking lot and choose the cheaper one to save their money. BestParking, which began as an airport finding app, has expanded by leaps and bounds and is now available in over 100 US cities.
Parker – Find available parking
Both users and top publications like Mashable and Forbes have spoken positively about Parker. The app can help users seamlessly find a parking lot amidst crowded places thanks to their in-app GPS technology. Moreover, the app also provides several payment options to the users, from cash payment to using gift cards and various others.


Benefits of a car parking management app
A smart parking finder app uses low-cost sensors and real-time data to enable the users to find available parking spots near their location. We are listing some of the top benefits of the parking management system below.
Improved parking condition
The users can save their time and efforts as the parking finder app will help them find the best parking space available. Moreover, it can also help the corporate to manage their commercial entities properly.
Better user experience
With a parking spot finder app payment, location finding, spot identification, and receiving important notifications, all these things can be done seamlessly, thus enhancing the user experience.
Boon for air quality index
We know that too much vehicle oil is burnt in the quest to find a parking space. Thus, with parking finder applications rendering optimal solutions, air pollution can be kept under check as it helps lower the waste discharge by the vehicles daily.
Lower management cost
Parking finder and management apps can reap rich benefits for the corporate as well. With lesser manual and more automated activity, the corporate houses can save a fortune on labor costs.
Mechanism of a top-notch car parking mobile app

The smart car parking management app has made life easier for its users as it helps them in finding the best parking space. There are six basic steps that are used in the working process of a parking finder app solution. We'll understand them below.
Finding: The GPS in the app will help the users to search and find the parking spots available near to their area. Through this, the user can book it according to their liking.
Weighing up options: Next, users can compare between two parking spots in order to choose the best one according to the price and distance.
Booking: The car driver will get a unique code through which they can book the place for parking their car.
Payment: All the payments would be done online through the various payment gateways present in the best car parking apps.
Navigation: The app then navigates the user through GPS and helps them reach the parking location without any hassle.
Parking: The final step is to park the car at the reserved parking slot.
Types of Car Parking associated services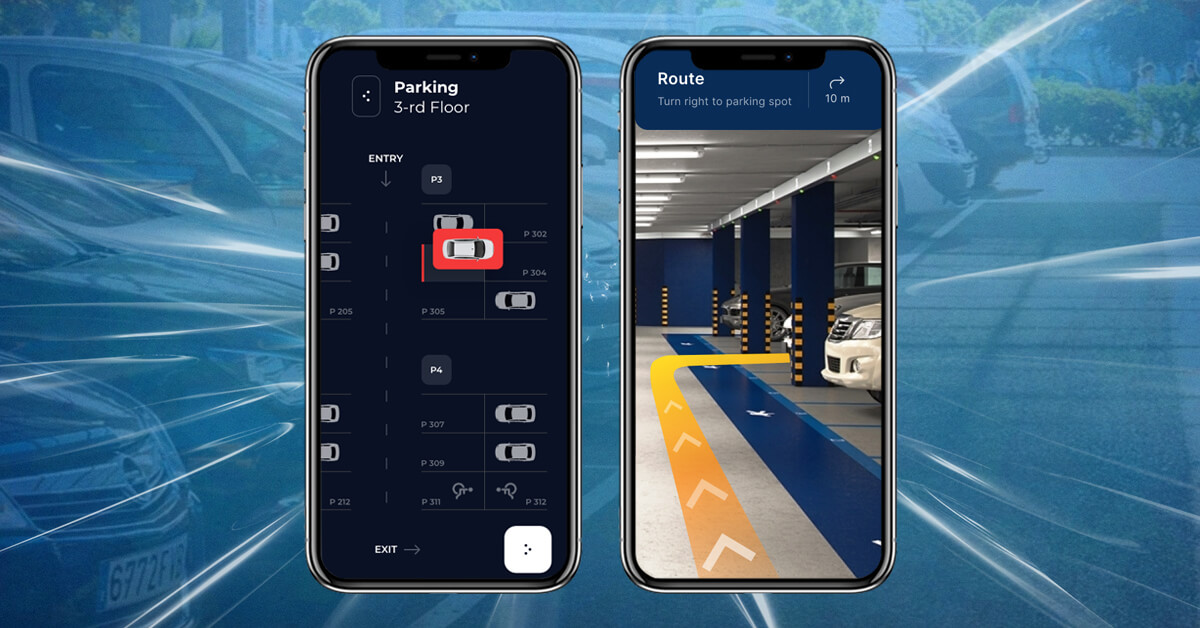 While smart parking solution can help commuters find the space for parking their vehicles and hence indirectly help to keep the city's roads organized and solve traffic quagmire. For the parking space owners, the parking space finder apps could prove to be a decent revenue source. There are different types of parking apps through which a business plan can be implemented.
Offering basic features by car parking apps
This is the most general business plan for parking finding service providers. In this type, the features offered in the application are quite basic. For instance, the users can find a space or parking spot which is nearest to their vehicles. They can park their cars there but cannot make any booking for the same parking spot in advance.
Including bookings in Vehicle parking finder app
A bit advanced than a basic business plan is a vehicle parking place finder application with a booking facility wherein not only the vehicle owner find a parking location but also book the same in advance. An online payment gateway can be integrated so that the parking spot can be reserved well in advance and thus can avoid any last-minute hassle.
Making a comprehensive parking management system
A fully functional and feature-loaded car parking finder app development could include everything from the above two business models plus house some advanced features. Apart from online booking and reserving the parking spot, the comprehensive business model for parking finding mobile app can include valet parking or door-to-door service. Even further, the valets can upload their identifications to assure genuineness and more.

Cost to develop a car parking spot finder app
The entire cost of developing a parking finder app depends on various factors. The parking space service providing businesses needs to look at the quality of mobile app development company they are approaching, operating systems they are looking to have their app on, the overall app's designs, and many more.
A parking finder app with only the basic features will cost you anything between $15,000 and $30,000, depending on the app developers or company's charges in various countries. Moreover, for a car parking app with extended and advanced features, the app development services cost can soar up to $50,000 to $70,000.
Factors affecting the cost of car parking app development
As mentioned earlier, the cost of developing a car parking finder app depends on a myriad of factors. We have made a list of some of the important ones that might play a significant role in developing smart parking solutions. Here we go!
Third-party integrations
If the numbers of third-party integration in your app are more, it can significantly impact app development's total cost. Since third-party integration requires more finesse, the app developers can increase their per-hour rates.
Location of the developers
The physical location of the mobile app development company you are approaching is also crucial in deciding the total cost of app development. Either you hire full-time app developers or work with freelancers, the per hour rate may differ according to the region they are working in.
For instance, the per hour rate of app developers from various regions of the world are:
US: $120-$250
India: $20-$80
UK: $80-$140
Number of features
It is a no-brainer that if the numbers of features included in the parking finder app are more, the cost to develop an app will increase. On the contrary, if you are okay with the basic set of features, the price will be less.
Check out: Tips to avoid hidden app development costs
How to make money? – Monetization model with a Car Parking spot finder app
Like other mobile apps in the market, business organizations have plenty of opportunities to earn handsome revenue through a parking space finder app. As these apps have made it easier for users to find parking spaces, they have become the 'darling' app market in recent times. Let us look at the methods that will help your business earn money through a parking finder app.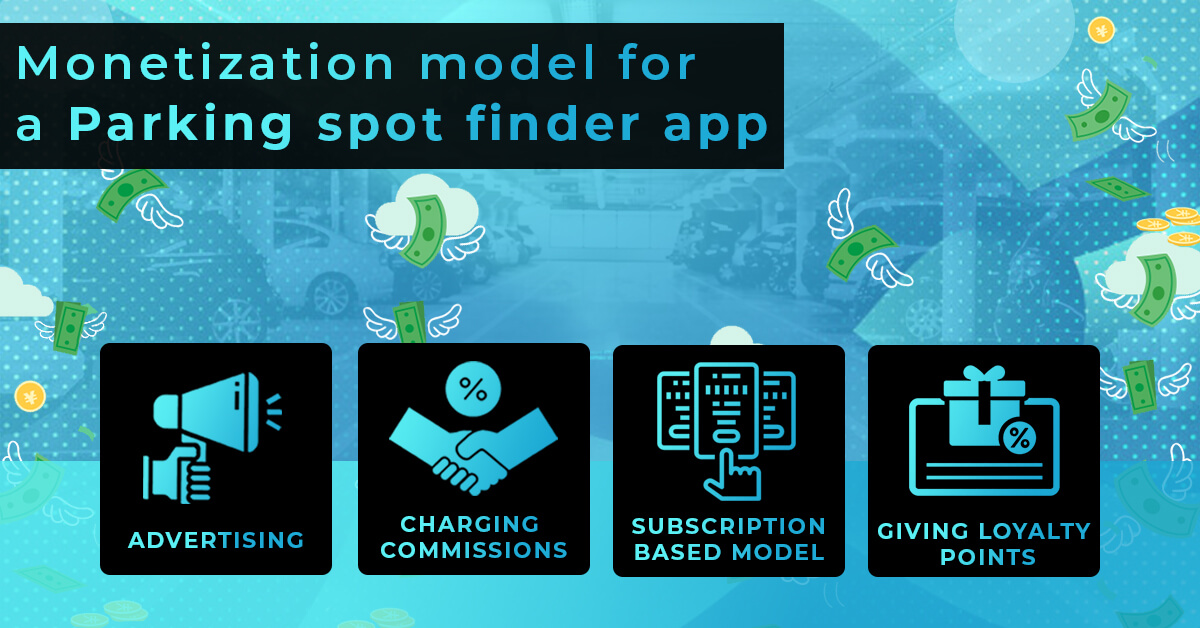 Advertisements
One of the most common revenue generation methods is in-app advertisements. It helps you earn good money through the car parking app. You can lend space for the brands, service centers, etc., to generate good revenue through the app.
Charging commissions
Charging commissions can be a significant revenue generator as it is straightforward to understand and apply. The basic formula here is that the user would be charged a certain amount of money every time they book or request a parking space through the app. Out of the money set, a large share goes to the pocket of the parking companies, but a certain amount goes to the pockets of the parking management software owner as well.
Subscription-based model
The parking finder app should give monthly/annual subscriptions to the users to pay a certain amount either at the beginning of the month or the year. Moreover, with the subscription model, the users can also enjoy the membership benefits and avoid mundane problems faced in the parking area.
Giving loyalty points
This revenue model can work manifolds for the business organization as apart from earning money, giving away loyalty points ensures that you have a higher user retention rate. When you provide benefits to the user, it will lure them to use your parking finder app regularly and not drift their liking towards your competitors.
Also Check: An Overview on Taxi Booking App Development from Cost to Features
Top Features to include in Smart Parking Management System
Here the most important features are bifurcated based on different types of panels that can be productive in providing an end-to-end smart parking management system.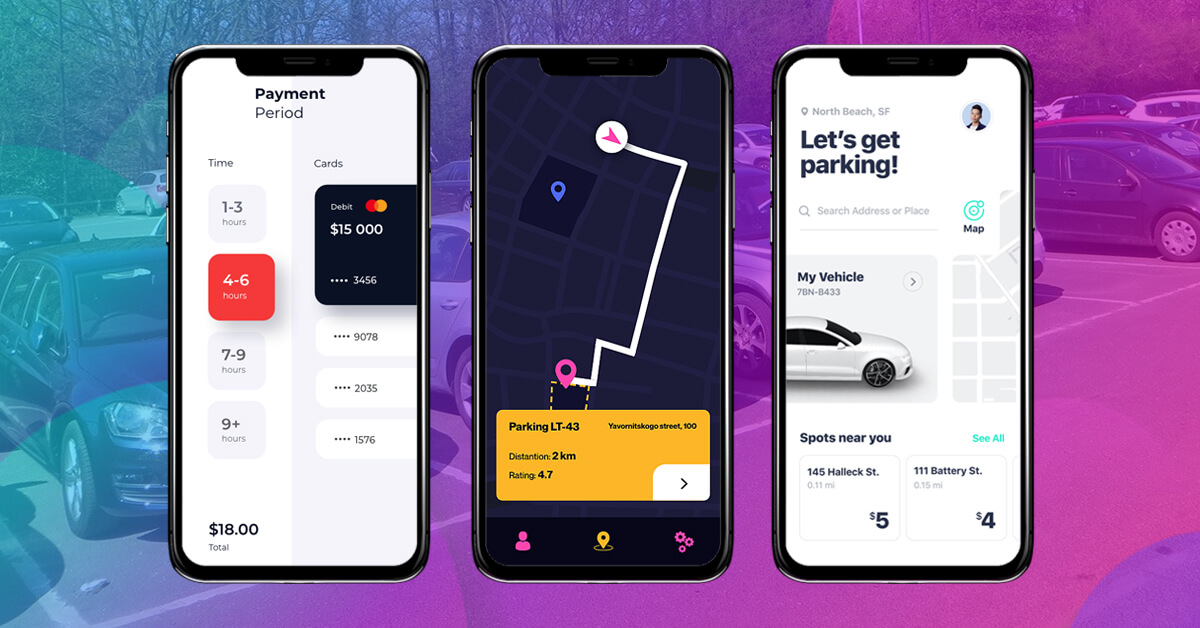 User Panel
Registration / Login
GPS tracking to track location and find a parking spot
Navigation
Price display and Cost Calculator
Scheduled booking/Instant booking
Payment gateways
Arrival and Departure timings
Rating and Review for Parking Spots
View parking and payment history
Parking Space Owner Panel
Login/Signup
Contact customers
ID proof for document
Receive and make payments
Check reviews and ratings received
Accept or Decline requests for parking
Admin Panel
User and parking space owner management
Manage/control earnings
Manage offers for users and parking space owners
Manage locations and parking spots
Add new locations
Reports

Additional features of parking mobile app to edge past competitors
Adding other features will give your parking slot finder app an edge over your peers and help it become an instant hit in the parking management market.
Push notifications
Push notifications will be vital if there is any new offer or discount you want the user to be aware of. Moreover, push notifications are the easiest ways to provide personalized service to users. For example, you can notify your consumer about the availability of the parking slot on a real-time basis. In addition, it will send alerts to the user when the parking time is about to get expired, thus saving your user from extra expenses, making your parking finder app cost-effective and user-friendly.
Tag location
It is not uncommon that an owner forgets where the vehicle was parked. Hence, this feature can help users to tag the location where their car is parked. This will provide the users a better way to navigate to the location where they have parked the car in cases when the parking spaces are quite big and spread in a huge area such as plain ground or those that have multi-story parking or when the user has parked it for more than a couple of days.
In-app communication
Staying connected with your app users is very important in order to stay relevant in today's business. You can use SMS, emails, etc. to update your app users with the latest offers. In addition, the admin, users, parking space owners, and drivers can also communicate through this medium and understand the services the user wishes to avail.
Technology stack to develop top car parking spot finder app
Push Notifications: Twilio, Bandwidth
Payments: PayPal, Braintree
SMS and phone verification: Nexmo
Real-time analytics: Flink, Spark, Apache
Debian: Operating system
Cloud: AWS
Database management: Datastax
Database: MongoDB, Cassandra
The team required to develop the best car parking solutions
Having a perfect app development team is vital if you want to build an app that will do wonders in the parking management market. While selecting the tech partner for your car parking finder app development solution, make sure that they have ample experience and the ability to work in a team environment.
To develop a parking space finder app, you will need:
Project Manager
App developers for specific platform and frameworks
Graphic designers
UI/UX designers
Backend developers
QA experts
Also Read: A detailed guide on developing on-demand car rental app like Zoomcar
What Prismetric brings to the table?
To ensure that your parking finder app idea is executed to its true potential, you must be cautious while selecting the project's app development company. At Prismetric, we bring in our wealth of experience in developing mobile apps for business organizations worldwide.
If you opt for us, we will ensure that you receive quality apps at pocket-friendly rates. We are more than just a mobile app development company, and we will be your one-stop tech partner for all your business requirements related to mobile apps, web design & development, software development, and big data services that ensure your business's growth.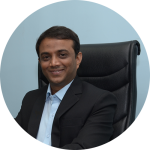 An enthusiastic entrepreneur, interested to discuss new app ideas, rich gadget tricks and trends, and admires signature tech business styles to readily embrace. He enjoys learning most modern app crafting methods, exploring smart technologies and passionate about writing his thoughts too. Inventions related to mobile and software technology inspire Ashish and he likes to inspire the like-minded community through the finesse of his work.