How to Develop an App Like Zoomcar?
Do you want to develop a mobile app like Zoomcar? Many efficient mobile app development companies will help you in the process, but first, you need to know what are the things that you need to keep in mind while developing an app like Zoomcar.
According to research, the car-rental market size will reach approximately $124 billion by 2022. With car sales reaching saturation, and people preferring to use cabs and rented cars, the prospects of the industry seem brighter than ever. There is no surprise that a lot of entrepreneurs are looking at this as a business opportunity.
The cost to develop a car rental app will range from $22000 to $27000, but will further vary based on the app developers you select and the technologies and features you opt to integrate. An advanced app like Zoomcar with some extended and luxury user-oriented features will cost about $35000 to $45000. Having a better insight into what it takes to develop a car rental app like Zoomcar, which is a premier car rental company in India, will provide a clear understanding about the niche aspects. Let's have a look at those in detail.
The business model of a Car Rental app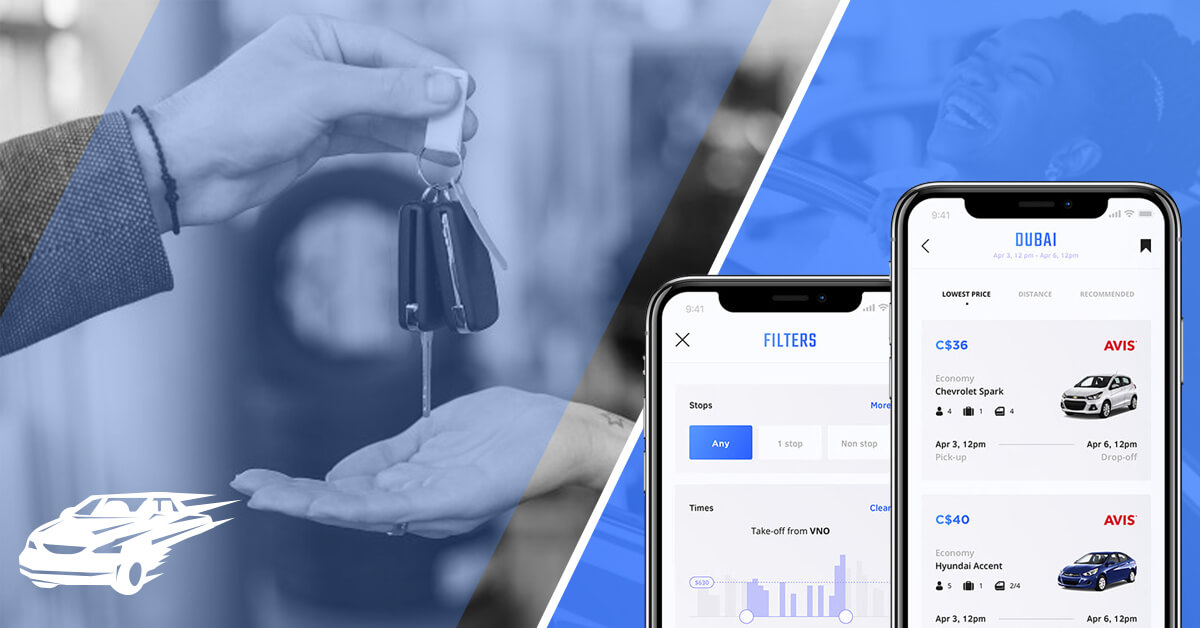 Zoomcar purchases its own fleet of cars, and along with it, Zoomcar also allows car owners to give their cars on rent to the users of Zoomcar. The users can book their preferred car through the Zoom app, which will enable them to search the car according to the user's preferences. The user can rent the car for a few hours to a few days and give the car back once the purpose is solved. Zoomcar earns money by charging a fee for renting the car.
There are many car rental companies that are successfully plying their trade with slight changes in the business model. Getaround is a car rental app working on the principle of peer-peer car renting much like Zoomcar. Turo (earlier RelayRides) is another peer-to-peer car-sharing platform. The concept was inspired by similar online marketplaces such as Airbnb.
Another startup, ZipCar has a slightly different business model. To use the service of ZipCar, its members need to purchase a monthly or an annual subscription service of ZipCar. Then the customers can access the ZipCar vehicles that are parked around the city for an additional charge.
Features to develop for a Car Rental App like Zoomcar🚗
User panel features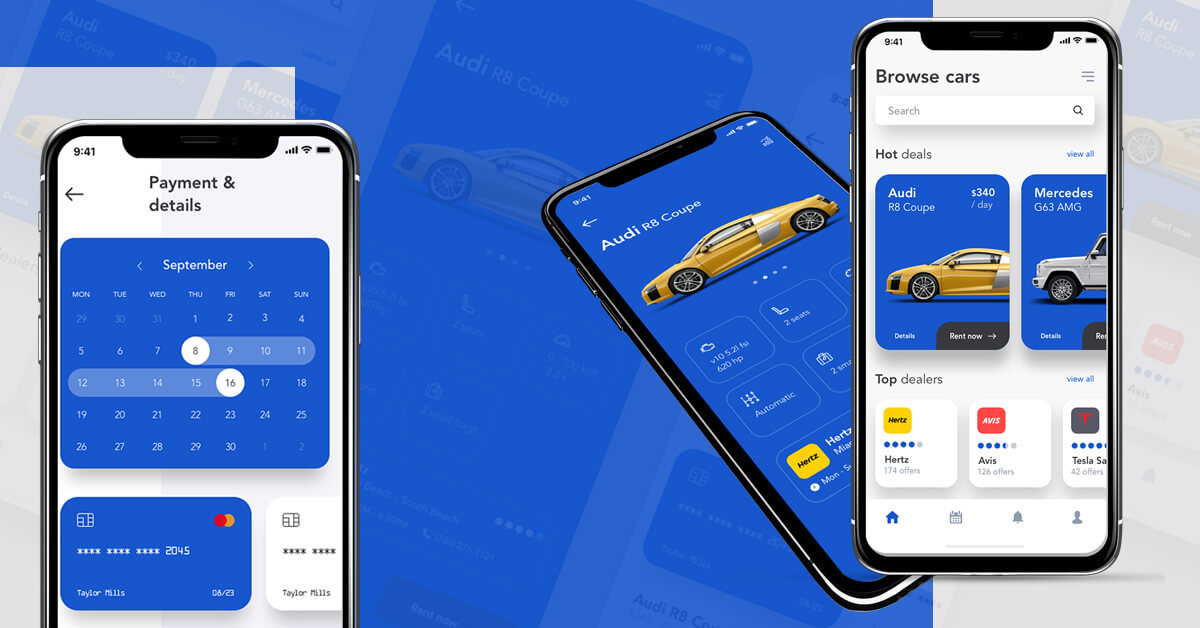 ☑️Sign up/sign in:
The signup process should be short. The user should not feel overwhelmed with the amount of information that he/she needs to enter to sign up. The best way is to integrate social media accounts to sign up. In this way, you will enable one-click login and also eliminate the need for entering too many details.
☑️Choosing cars:
There should be an option to select cars where the user can choose cars based on various parameters like size, type, and model. For instance, a person planning to visit a place with a family of 4 people on a long tour should be able to select an SUV, while a person planning to travel alone should be able to choose a small car.
☑️Fare estimate:
The users should be able to get an estimate of fare so that they can make an informed decision about the ride. You can integrate maps to help the users in understanding the estimated time and distance.
☑️Complete booking:
Once the user has selected the appropriate car, then there should be an option to book the car.
☑️GPS:
Integrating GPS with IoT technology with your app will help in monitoring the location of the car. This will reduce the possibility of the car being stolen, and help can be provided quickly in case of a breakdown.
☑️Payment:
There should be an option to pay for the service from the app. Net banking, phone banking, PayPal, payment through credit or debit card, and online payment wallets are among the essential payment methods that should be integrated into your app to make the payment process easy for the user.
☑️Manage booking:
This feature will help the user to manage the bookings. Here the user can cancel or reschedule a booking or even pre-plan a booking and book in advance.
☑️Setting the car pickup point:
The users should be able to select the pickup and drop-point for the car. The selection of the pickup and drop point can be facilitated by integrating maps with your app.
☑️Notifications:
Your app should give the users notifications regarding their ride like the pickup location, drop location, time remaining, and payment notifications.
Car owner panel features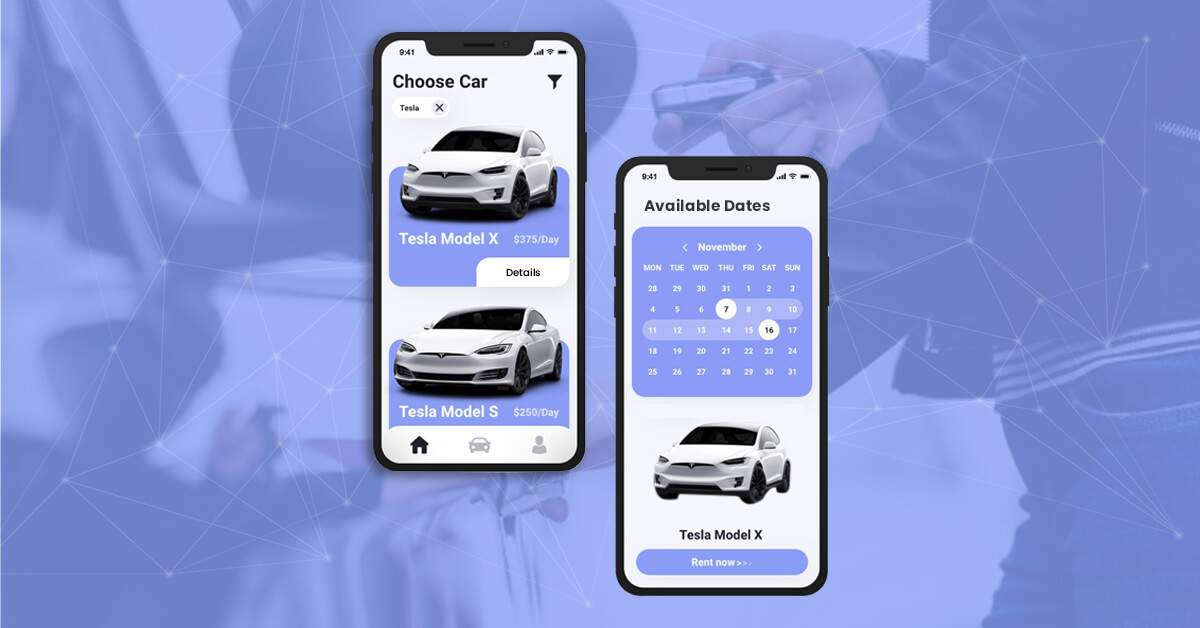 ☑️Login and Registration:
The car owner should be able to create an account on the app via email, phone number or social networks.
☑️Car owner dashboard:
The car owner should be able to put up pictures of the car, enter all the required details along with any additional information the car owner would like to provide. And also, let the users know about the availability of the car and see the statistical data related to his/her car.
☑️Payment details:
This section will provide information about the payments received on completion of the ride by the user.
Admin panel features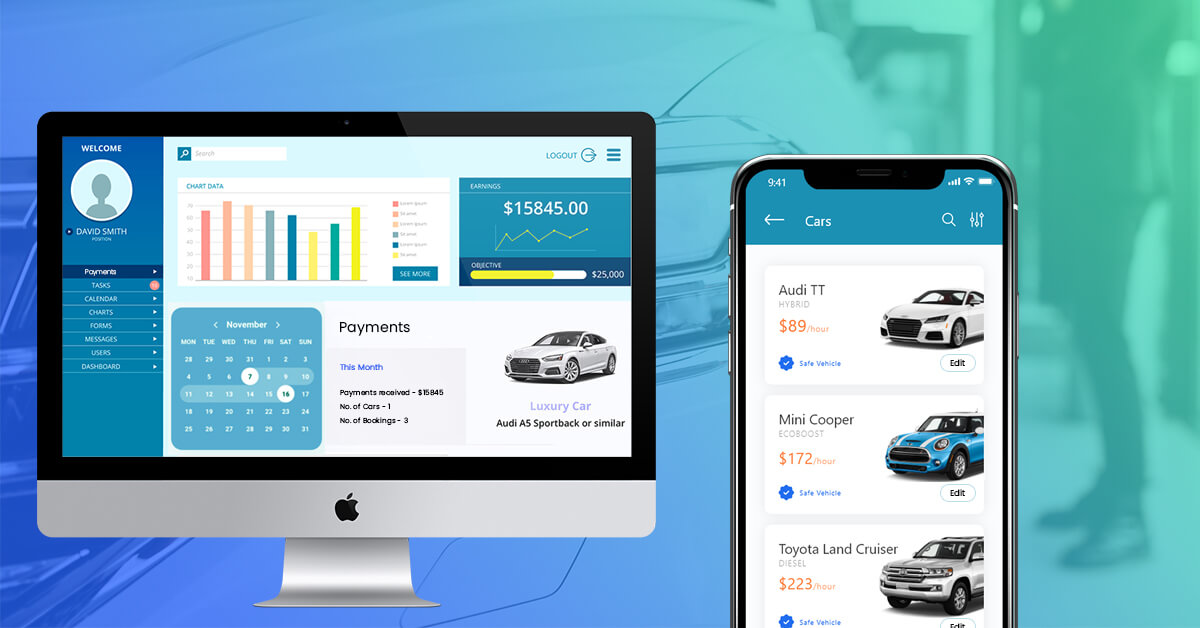 ☑️Car management:
This feature will allow the admin to manage all the cars. From this panel, the admin will be able to assign, update the status of the order, and also the location of the pickup and drop points.
☑️Payment management:
In this section, the payment details of the customers are stored. And based on the decided percentage, the payments are released on completion of the ride user.
☑️Customer profile management:
This is the area where all the details related to the customer will be stored.
☑️Car owner management:
This is the area where all the details related to the car owner will be stored.
☑️Fare management:
This section will allow the admin to manage fares based on the distance, the type of cars and other additional services if any offered.
Car Rental App Advance Features
◾️ Analytics and report:
For any business to be successful, it is vital that there is an efficient use of available data. Data such as the number of cars running currently, which route is the busiest, which are the bottlenecks hogging up profits, can be obtained using this feature. This feature will provide all the business intelligence required to operate the business efficiently.
◾️ Breakdown service:
You could provide a value-added breakdown service to your customers, in case the car meets an accident or gets punctured and the passengers require road-side assistance.
◾️ Availing a driver:
Sometimes, users require the services of a driver. Especially when they are planning a long trip, it will add to the level of convenience if your app could provide a driver. Adding this feature will also help in increasing your revenue.
◾️ Providing information to the user:
Your app can go a step further by providing essential updates like weather and traffic updates to the user. Also, your app could find out a nearby parking spot as the user approaches the destination.
◾️ In-app chat assistant:
Customer service of your app is of prime importance.  There are many goof-ups in a ride like a customer getting stranded on a wrong location or a breakdown of the car.
These kinds of goof-ups, if not sorted out in time, have the potential of damaging your brand image. Hence, you need to have a robust customer service department functioning to solve the problems of the users instantly.
An in-app AI chatbot can help you in sorting out the issues of customers faster by answering basic queries of customers. The chatbot can assign the case to the customer service executive if it is an urgent case or a case that the chatbot cannot resolve itself.
Monetization options
◾️ Advertisement revenue
Advertisements can be placed in your app, which will act as a source of income for you. Keeping advertisements as a source of revenue will help in reducing the operating costs of the app.
◾️ Revenue from car rentals
This source will form a significant chunk of your revenues. Users will pay for renting the cars, you can rent according to the number of kilometers traveled or according to the number of days for which the car is rented.
◾️ Tie-ups with other service providers
You can tie up with other service providers like mechanics, tour operators, and hotels to provide value-added services to your users, generating an additional source of revenue in the process.
Technology Stack for Car Rental App
◾️ UI/UX
Designing a beautiful UI/UX is essential for crafting a pleasant experience. You can utilize platforms like Photoshop, Google sketch, HTML5, or CSS to create an enchanting UI for your app.
◾️ Payment Gateways
Solutions such as Braintree and stripe will help you in integrating various payment gateways like Paypal, visa and master card.
◾️ Data Storage
Microsoft Azure and Amazon Web Services (AWS) will be the ideal choices for storing the data on the cloud. With the use of cloud technology, the operational costs of your app can be brought down substantially.
Also, the reliability of cloud services of the above-mentioned service providers is pretty good, hence you can save yourself those hefty costs involved in keeping an on-site server.
◾️ Coding
You could choose to develop your app from one of the many available coding languages like Objective C, Java, React Native, Flutter, Python, and Swift depending upon the fact whether you want to develop a native or a hybrid app.
◾️ Document verification
You can integrate your app with the database of local transport regulators. This will help you in verifying the authenticity of documents like Driving license, provided by the user.
◾️ Data Analytics
Conducting thorough Big data analytics is a sure-shot way of keeping ahead of the curve. You will get invaluable insights into your business, which will eventually help you in growing the business.
Cloud service providers like Amazon, Microsoft, and Google give you an analytics package along with their cloud service.
◾️ Geolocation
You will need to integrate the location services into your app to monitor the location of your managed cars. For Android, the Google location services package is ideal. While for the iPhone, it is advisable to use Apple's Mapkit and core-location services to inculcate the feature of location tracking.
◾️ Push notifications
Push notifications are absolutely essential for a car rental service app. You would need to notify the users regarding various touchpoints in the customer journey like confirmation of booking, location sharing of the pickup, and drop points. You could integrate various push notification services like Firebase, Twillo, and Apple push notification service.
Related: Advantages of Push Notifications
◾️ Signup feature with social media
Signing up with a social media account will facilitate the signup process. To integrate the Facebook signup feature, you will have to integrate a Facebook SDK with your app.
The team required to develop a Car Rental App

◾️ For developing a basic app, you will require
1-UI and UX designer
1-Quality Assurance Engineer
1 – 2 developers
◾️ To develop an advanced app you will need a team of
1-2 Team Managers
2 UI/UX designer
2-3 Quality Analysts
6-8 developers
1-Project Manager
💰Cost of building a Car rental app
The cost of developing any mobile app depends upon the level of complexity of the app. The more functions you need to provide into your app, the higher is the cost. Along with this, the cost of building an app depends upon where you are planning to develop your app.
For instance:- In North America, the cost of developing an app might vary from $ 115-180 per hour, while the same app can be built in India at $25-$65 per hour.
As in most cases, you will be paying in terms of hours, it is good to have an estimate of the number of days that will be required to build your app.
For instance, in North America, the cost of developing an app might vary from $ 115-180 per hour, while the same app can be built in India at $25-$65 per hour.
It is good to have an estimate of the number of days that will be required to build your app.
◾️ User signup/sign in:
Integrating the signup and sign-in functions can take 1-2 days.
◾️ Payment gateway integration:
7-8 days usually are required to integrate different payment gateways like Visa and Mastercard cards, Internet banking, and various payment wallets.
◾️ Geolocation:
Integrating the Geolocation functionality will take around 6-7 days.
◾️ Push notification management:
Push notifications will take anywhere between 5-6 days to integrate.
◾️ User dashboard & service integration:
It will take 22-27 days to integrate an option for car booking, booking status, car listing, search for car, cancel a booking and reviewing car owner into the user's panel.
◾️ Car Owner dashboard & backend:
22-27 days is required to integrate the option to list a car, select available dates, cancel the booking, track user location and payment received with an option to view payment history as well.
◾️ Basic Analytics & Reports Integration:
It will take about 12-15 days to integrate some of the basic analytics and reporting formats.
◾️ Admin Panel for user management:
5-6 days is required to integrate the user management panel for Admin.
◾️ Admin panel for Car owner management:
5-6 days is required to integrate the car owner management panel for Admin.
◾️ Admin panel dashboard and other basic requirements:
To integrate payment transaction views, car listing management and other basic requirements will take about 12-15 days.
◾️ Admin panel for car & other service management:
It will take 12-15 days to integrate features like booking status, track locations and manage review & ratings in the admin panel
◾️ Chat & other help and support integration:
If you wish to integrate the function of in-app chat into your app, then it can take up to 15-20 days. Integrating chatbot is an advanced feature and will take more time, depending upon the complexity of the chatbot required.

Why should you choose a good app development company?
The quality of your app will have an overbearing effect on the success of your app. To ensure that your app is successful, you should take the help of a professional app development company. The experience that a good app development firm brings to the table proves invaluable in building a great app.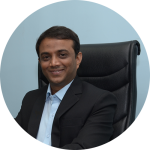 An enthusiastic entrepreneur, interested to discuss new app ideas, rich gadget tricks and trends, and admires signature tech business styles to readily embrace. He enjoys learning most modern app crafting methods, exploring smart technologies and passionate about writing his thoughts too. Inventions related to mobile and software technology inspire Ashish and he likes to inspire the like-minded community through the finesse of his work.