Digital Virtual Assistants Put to Real Tests – What You Need to Know?
Virtual assistants are fast taking the digital form. Powered by artificial intelligence; equipped with capabilities like natural language processing and speech recognition; having access to colossal databases of information and retaining the personalized touch, virtual digital assistants (VDAs) are what the future promises. Err! They are the present with the names like Apple's Siri, Amazon's Alexa, Microsoft's Cortana and Google Now, already creating a buzz.
As a probable beneficiary of one of these virtual assistants sooner or later, you must be eager to know about their applications. Here is an interesting insight into your future association with digital personal assistants based on their reported potential so far.
How Do They Exist?
VDAs exist in the form of applications that can be installed on PCs and well as in tablets and smartphones (for enhanced mobility). Wearable tech like smart watches and earphones and smart automobiles and the future components of Internet of Things too are capable of hosting them. In short, they would accompany you everywhere and all the time, in a much better way than a personal assistant does.
Achievements till Date
Experts, critics as well as end-users from around the world are continuously testing the likes of Siri, Cortana and Alexa and here are some conclusion drawn from their experiences:
Search: Whether you wish to search a restaurant or a gymnasium or a shopping store nearby, a VDA would manage it without requiring you to scroll through yellow pages or online directories
Book: Booking anything, from a hotel room to an air ticket, to an appointment with a dentist
On-road Assistance: Finding venues in a new city, opening up maps and guiding directions
Entertainment: VDAs would play your favorite music on a simple command
Others: From composing and reading emails to managing appointments to creating calendar events, the current crop of VDAs are turning truly useful
What More to Expect?
Digital assistants in the future would be engineered to touch every industrial sphere and all important aspects of a convenient living. Here are few specimen examples:
Healthcare: Patients recently discharged from the hospitals would use these assistants to monitor their recovery progress by creating instant charts.
Fitness: Recording and tracking workout schedules, setting up reminders for exercising and creating progress charts. They may also guide you to pay attention on specific areas of your body. You won't need to remember or refer to your fitness records as your VDA would work as a mentor.
Retail: Seeking assistance from an application to search for a product at various retail stores, compare the available deals and recommend the best one.
Enterprises: How about assigning a VDA with the task to track the activities of your employees? It would also help you to distribute roles and tasks according to the profiles and capabilities of different team members. Expect to target enhanced employee productivity with it.
Customer Service: Call centers play an important role in this customer-centric world, Sector like banking, insurance, retail and others must have an infallible customer support system in place. VDAs would improve the approach by replacing humans to better understand the customer queries and get back with solutions at the lightning speed. The cognitive digital assistants would provide customers with information, recommendations and reviews about products and services while keeping it simple for each kind of customer.
It is just the beginning of a transformation into a better world empowered by the virtual digital assistants. It would rely on how the developers make the best out of the absolutely fascinating technological advancements and come up with unique and robust solutions.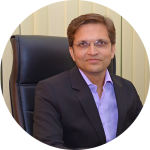 With in-depth knowledge in International Business Management and Information Technology, he can effectively craft business enhancement strategies and can skillfully untangle technical complexities. Writing about the new age technology and sharing his thoughts on the continuously evolving business trends keep him content.