A Perfect Guide For Game Development On iPhone
With the amount of popularity and liking towards the iPhone increasing with time, the need for companies to engage in iPhone game development is also accentuating. Companies involved in such development are getting loads of requests related to developing apps for the iPhone or iPad. All this means that these companies along with the businesses who intend to get the games developed need to follow some procedures that will lead to a successful app and reach more targeted audiences. The information provided below will act as a guide for those intending to jump the iPhone game development bandwagon. So here goes…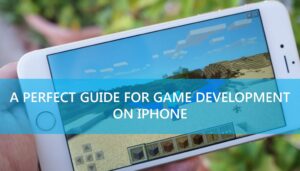 To begin with one tip
The foremost tip; especially if you intend to launch or develop more than one game is to keep your scope small for the first few games. Avoid trying too much. Aim for something basic and ensure that it is done perfectly. Remember, if you get into complex things initially, finishing them according to plans might be troublesome. However, if you are damn sure about your development team or your outsourcing company, then please go ahead with complex games with super features.
Moving on
The next aspect to understand are the languages that are related to programming of mobile games. Understanding the environment for development required for the iPhone platform is important. For this, ensure that you go through tutorials. However, opting for a professional company involved in the trade is your best bet.
Planning is crucial
When it comes to writing the code, your plan needs to be in place. Gather all information possible to ensure that your plan is in place. Find inspiration, look around, draft ideas and then decide your scope. When all these aspects are in place, you can begin with the actual coding. Remember here that your intention regarding the iPhone game development venture is also crucial. This will form the base for your plan. Aspects such as marketing the app once done; both locally as well as globally, needs to be decided. If you fail to plan, chances of a failed app are very high.
Management
Project management is vital. There are various aspects that are involved in the iPhone app development stage. Everything needs to move according to set plans. Plenty of tools are present. Need to align these with the work procedures according to the talent of your team is important. Again, if all this sounds too complex and a headache of sorts, choose a professional company to work for you.
Graphical representation
This is quite straightforward. If your app is dull, people will never get attracted to it. This means that it needs to have graphics that are attractive. However, keep in mind that these graphics should not distract the user from the actual content which is necessary for promoting your products or services.
Music and sound
This is quite exciting. Sound and music are aspects that most iPhone game users love. However, making this too loud or too distractive can backfire. So ensure that these too important elements are used in a way that attracts users, rather than distracting them. When you opt for reputed developers or companies, they understand how to utilize the right amount of sound which does not disturb users, rather it attracts them.
Don't launch without testing
There are many examples of iPhone game development which have failed in spite of being developed attractively. This is due to failure to test the app for bugs. It often happens that small things are overlooked. This causes minor errors in your game and this may lead to users shunning your iPhone app altogether.
As mentioned many times above, a professional setup is always recommended when you intend to develop a good and useful game app for iPhone or iPad. Professionals understand the minute aspects and hence handle things to perfection. The best approach is to sync your ideas and plans along with the professionalism of a good development team.
If you need to get deep into the detailing of iPhone game development, get in touch with us here and let us help you.