5 Best iPhone Apps of 2015 You Must Check Out
How about checking some of the best iPhone apps of 2015 all at once place? Well, this post has got you covered then. Amidst millions of apps in the Apple's app store, it is no surprising to get baffled on selecting the right apps for your iPhone or iPad.
To cut down on your efforts that would have required to search, download and try hundreds of iPhone apps on own, here we present you with 6 of the best iPhone apps of year 2015, according to me of course, that are worth having in your iPhone.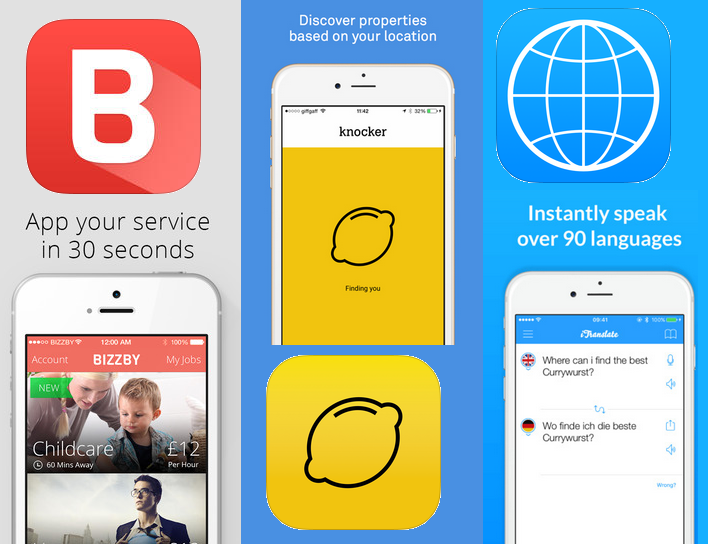 Please note, I haven't covered the default top famous apps in the app store including Facebook, Instagram, Twitter and Google Mail, which almost every kid and man out there is aware of. Instead my keen emphasize is on bringing to you, my valued readers and avid iPhone enthusiasts, with some really useful iPhone apps that may have went unnoticed by you.
Without further ado, let's check out 5 best iPhone apps I strongly recommend everyone.
Bizzby
I recently heard from the Bizzby team that they have now embraced a drone delivery to their services. The app basically offers cleaning and handyman service on instant demand, meaning in only a few minutes of booking, you will see a handyman at your doorstep. If not satisfied, they have money back guarantee too. What else will you need?
And did I say, currently the app is for London locals only? But the company has a sure plan to expand their service in other parts of UK. if you need to build a similar app for targeting iOS users into your niche, resort to a best iPhone app development company in India.
Knocker 
This iPhone app helps you in property search and finalization process. The app lets you go into real-time location based property listings or show you properties located in close proximity to your favorite place. What I liked most is that the listing of properties is showcased in a Tinder-esque card view style.
You will also see Google map directions affixed to find your way to the shortlisted property. If you any similar app idea and want to build an app that make your idea actually work, resort to the best iPhone app development India team.
Spider: Rite of the Shrouded Moon 
This is a sequel game to 'Spider'. As the name suggests, the game lets you play as a spider – spinning webs around the uninhibited mansions and eating bugs. But in the beginning of the game, you will get to see the history of the mansions.
What really makes this game stand out is, it works in real time and weather. Didn't get it? Say if the climate is dark around you, the game will show off dark environment. And if it is raining around you, you will notice raining in the game-play too. Sounds cool, right? If you want to build a truly fun and addictive iPhone game, choose from the leading iPhone application development India outsourcing firms.
iTranslate
if dealing with people speaking foreign languages is a common affair for you, this app can be of great help. Whether you prefer to type or speak, this app gets the phrases translated. A recent update to this app offers its users a new iOS keyboard extension, which can be used in any other app to translate phrases in real time. For example, you can type in English and use this app to translate your text into German to speak to a German-native. This works absolutely fine in real-time.
Pennies 
Yeah, it's true there are many finance related apps out there, but this one truly tops the chart. Unlike those complex apps with charts and tags, this particular app sticks to the basic goal why users would like to use it – to trace income and expense. This app lets you set a fixed budget and then you can keep entering all expense related transactions with no need of categorizing or tagging each entry. It seems to be useful for iOS users who want to trace their finance in the simplest possible way.
If you are a business or an individual who want to build an iPhone app that can make into the favorite or best iPhone apps' list of many, get in touch with Prismetric, an experienced and specialist iPhone app development company in India.