Both Google Play Store and Google Plus Got a Facelift – What You Need to Know
When Larry Page was appointed as CEO of Google in the year 2011, he started executing a concept of re-engineering all Google products like Google Plus, Google Play Store, Gmail, Google Maps and YouTube for a cohesive and more user-friendly design.
"Larry mandated all of us to build better-looking products", says Jon Wiley, lead designer on Google Search. And with some recent rollouts of redesigned Google+ and Play store, there is no denying that the company has succeeded in unifying a more compelling and more engaging design for multiple products. Seems like Google is all set to give a real tough competition the design dominance of rival company Apple in the marketplace!
The Google Play Store Has Got a Brand New Look
The latest roll out to the new design of Google Android Play store has hit the market. A sneak peek into the latest developments is provided by Kirill Grouchnikov, a Google engineer, in his recent post on Google Plus, the revamped look of Google Play Store is now available for all Android devices including Smartphones, tablets and Android TVs as well.

The fresh Google Play Storefront design has mainly two tabs: 1) Apps & Games 2) Entertainment. You will find sub-categories including Music, Movies, TV Shows and Newsstand in 'Entertainment' Tab. And similarly, 'Apps & Games" tab to features sub-categories, and a lot more.
The redesign play store layout undoubtedly looks more organized, visually stunning and more intuitive. The new design also features some nice scrolling and animation effects to jazz page elements up a bit. To all Android enthusiasts, please note that this design update hasn't yet made available to all Android device users; instead it is made available to some specific users only.
Thus, if you find your play store having a same old design, worry not. Have patience as the company will roll out the update to all users very soon. There is no manual update installation alternative offered here. The refurbished Play store, which has more simplified tab-based User Interface, categorizes content more effectively and has got a more contemporary look. The company has also emphasized on building better 'Search' ability within the Play store app.
The new digital storefront of Google Play will feature a small watch-like icon quite similar to 'Android Wear' icon for apps. This icon symbolizes 'Enhanced for Android Wear'. Meaning, most play store apps will support Android Wear; Hangout and Keep are exceptions though.
It is anticipated that all android devices will receive this new design update in a few weeks. If you have an Android TV and have already bestowed by this latest update, you will find that search for apps and other content has become faster. However, if your Android smart TV is yet to receive the update, wait till it shows up!
Google Plus is Sleeker and More Responsive Now
Though until now Google Plus couldn't grab the market share anywhere near Facebook and Twitter, the company hasn't put an end to their efforts. Recently, the company has recently launched a fresh look to their Google Plus website for both desktop and mobile devices. It can be a game changer!
At a quick glance, the new Google+ design looks visually engaging with bold colors. It offers enhanced access to collections and communities. The new website is completely responsive and is much faster in loading. Overall, the whole website has got a groovy facelift. The site looks more contemporary now. Visit introduction of a new Google Plus for more information.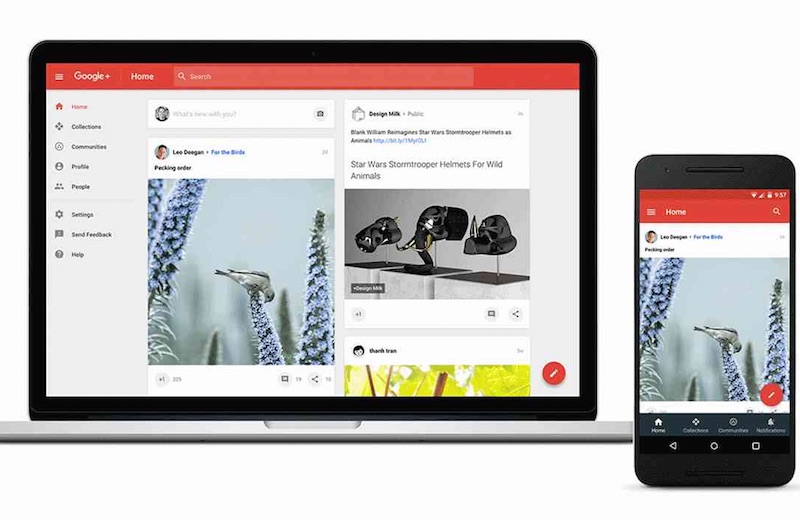 Having said that, if you access the Google Plus website on a desktop browser, it will auto-adjust to the best viewing experience. And likewise, if you open the site from a Smartphone or a tablet, the responsive site layout will shrink itself to ensure superior readability. Want to learn about the technical modifications in Google+ in detail? Click here to read a recent case study published by Google Developers' site discussing the design principals they have followed in redesigning the Google Plus website.
How to manually update Google Plus
Go to the home page screen of your Google Plus; go to the drop down menu on the top left section of your screen
Scroll down to the 'Settings' option and click on it
Click on 'Manage Google+ activity' tab
Click on the Search bar and you got a new design updated!
With the revamped look, Google Play Store and Google+ have triggered the next-generation UI design revolution!