Role of Mobile Apps in revolutionizing the world of IoT
Mobile apps are as ubtiqouis as oxygen in today's technology-driven world. The statement is not an over exaggeration, but, completely defines the Omnipresence of the mobile apps. From redefining marketing strategies to organizing the future tech like IoT, AR, etc. mobile apps have immensely contributed in revolutionizing the technology world.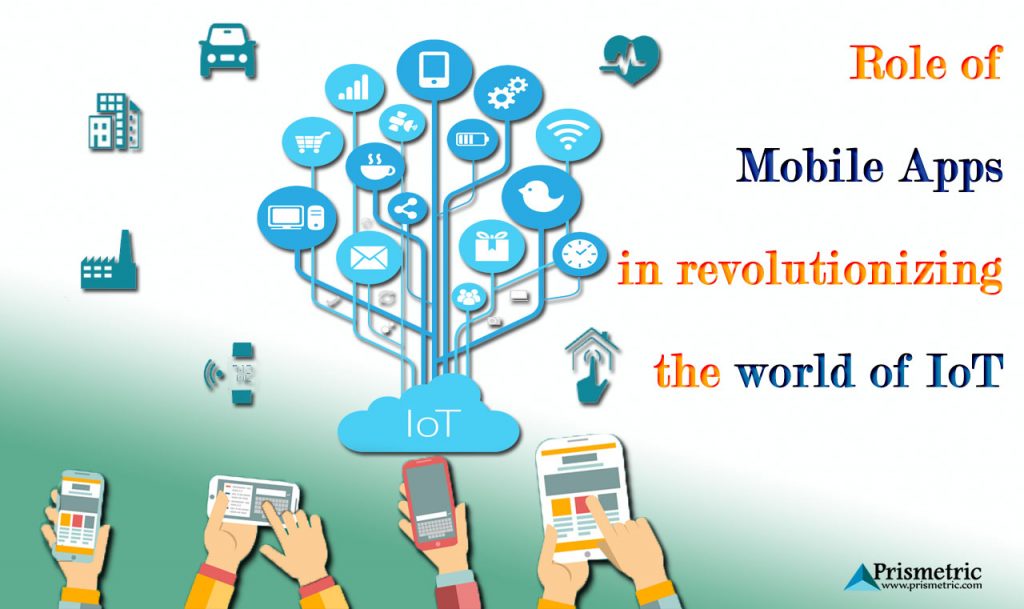 The idea of IoT, an abbreviated term used for 'Internet of Things', where all machines (this can literally mean everything in the near future including your TV, AC, car, refrigerator, and heater to name a few) has a sensor affixed to them which can send/receive data to the Internet as first coined by Kevin Ashton, a British inventor, in the year 1999.
However, it is the revolution in mobile technology, cloud computing and wireless technology over last decade that has made IoT a mainstream technology today. The incredible popularity and growth of mobile apps' market have dramatically changed the way people interact with business and the way they live.
Mobile apps are at the center of IoT world
As IoT will continue to evolve at a sky-rocketing pace, the concept of smart cities, smart homes, connected cars, and connected machines will flourish. In such environment, mobile devices, including Smartphones, tablets and wearables like Smartwatches will function as the main interface through which we will be able to interact with an Internet of Things enabled devices.
Mobile devices are already empowered with apps and sensors that can reveal the great detail of information about its users. In addition to geolocation information, Smartphones and tablets can even trace light condition, the orientation of the device and a lot more information.
The mobile devices come with multiple connectivity options including Wi-Fi, Bluetooth, cellular and NFC that enable them to communicate to other devices or sensors. It is these default qualities of mobile devices that put them at the core of the IoT ecosystem.
Today, a Smartphone can interact with a Smartwatches and a fitness band to further ease and enhance user experience. Some hotel businesses have already started replacing key and card based access into their rooms with Smartphone; if you want to enter the room, you will just need to open the hotel app in your mobile phone and proceed.
Internet of Things will also enable you to remotely operate your office access system and even monitor your garage door from anywhere. The mobile connectivity and inbuilt sensors strengthen IoT ecosystem creating a new world of opportunities and development in education, travel, healthcare, retail and many other industries.
IoT will make a huge impact on our environment and economy in the future. Importance of Smartphones will further increase in the near future when these mobile devices will be used as a primary interface to connect to virtually anything and everything. According to a forecast, there will be more than 50 billion connected devices by 2020.
All the innovation and developments in IoT world will make our lives better.
Uber has set a great example how rental car industry can leverage mobile app technology and IoT to succeed in the market and transform the way people travel. Not only is the travel, mobile apps with IoT plays a huge role in strategizing the marketing methods in many companies. There are many on-demand grocery apps that have ease shopping for everyday kitchen needs for consumers.
Also Read: Mobile Apps: Boosting Productivity for Food Businesses
The days are here when you can operate your home's safety system (aka alarm system) and other home appliances with their respective mobile app. Smartphone will help you monitor and control a wide range of sensors for IoT app or IoT systems with an app.
Building future-ready mobile apps
It's high time for businesses and app development companies come together to build IoT-friendly mobile applications. Mobile apps can help build a mechanism where information transmitted by objects through their integrated sensors will be received by the app in real-time.
When mobile apps and interactive physical objects are synced well, IoT can add great value to our lives. In addition to mobile devices, wearable devices and clothes are also witnessing a massive impact of IoT trend.
Currently, open source platforms including Samsung and Thread are offering useful tools to develop IoT-friendly apps, contributing to the growth of IoT ecosystem. Yet, there is no denying that IoT is an amateur industry and thus many app developers are in a wait-and-see mode right now.
However, app developers are slowly embracing the trend in IoT app development. According to a recent survey conducted by Developer Media, there is 24% increase in the number of app developers working on IoT apps in 2015 compared to 2014.
Conclusion:
To sum up, with constant development in IoT, mobile apps are leading to a better-connected world. We are yet to see how the IoT ecosystem will evolve in five years from now.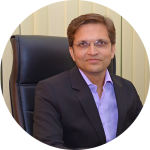 With in-depth knowledge in International Business Management and Information Technology, he can effectively craft business enhancement strategies and can skillfully untangle technical complexities. Writing about the new age technology and sharing his thoughts on the continuously evolving business trends keep him content.