How iOS 10 will completely redefine the mobile User's Experience: A quick Look
Apple released iOS 10, an incremental version of iOS 9.3.2, during its event Worldwide Developer's Conference in June 2016 at San Francisco and recently a couple of days ago released the beta version for the users, after the developer's version was released. The new version brought iPhone and iPad users with immaculate features that evolve the company as a strong contender in the mobile platform.
Wake app that shows all notifications, faster ram (3GB) and quality A10 processor, Superior text messages with own handwriting, Invisible ink that makes photos hidden and is revealed only when swiped, etc, are some of the most eminent features iOS 10 has for its users, adding a touch of personalization in its approach. Moreover, revamped news, smarter Wi-Fi sensor, 3D touch shortcuts, new Apple maps and music features in Car Play and multiple user support for educational apps are the other important features introduced by Apple in iOS 10.
This update will be available for all iOS devices with iOS 9, iPad Pro 9.7 and iPhone SE, which was unveiled on June 13.
iOS 10 and 9.3.2 – Comparing the features
The newest iOS 10 is the successor to its famous previous version 9.3.2. As iOS 9.3.2 was a very successful, it is inevitable to make the comparison between the two. Also, the gradual update would be given a close look so as to know how much the improved version is really improved.
Here are some distinct features of iOS 10 that will increase the User Experience by leaps and bounds as compared to iOS 9.3.2:
Attractive news feature: With more distinct sections and easy to find stories, iOS 10 gives its user the news reading experience in the most comprehensive manner. Moreover, the app has been redesigned with a new "For You" option for supporting breaking news notifications being added.
Smarter Siri: By opening it to the third party developers in iOS 10, Siri has become more interactive. Now, the things said to Siri can be done in varied ways and the smarter Siri can understand it and act accordingly. With over two million requests go through Siri, it was inevitable to make this change. Moreover, Siri would be ready for third-party chat apps like Whatsapp and Wechat. VoIP can be sent via Skype, Vonage and Cisco Spark.
Smarter Wi-Fi: With a smarter Wi-Fi, the phone will automatically switch on its sensors once it senses Wi-Fi connections. And when you leave the Wi-Fi area, the phone's Wi-Fi will automatically turn off, thus saving battery and extending phone's battery life.
Graphical 3D shortcuts: By making the lock screen richer and user-friendly, you can use the 3D touches for activities, messages and accepting or rejecting notifications. Moreover in iPhone 6s and 6s plus, the 3D touch has deeper integrations with apps like weather, calendar and stocks.
Music Features: Making the music section simpler, now you'll be directed to the library as and when you open the app, Along with listening to music, you'll be reading the lyrics also. Well, this is something very new and amazing! It provides Airplay and Airdrop options while toggles for Wi-Fi, Bluetooth and Airplane mode.
Other cool features of iOS 10:
With iOS 10 completely revolutionizing mobile user experience, it's obvious to know its innovative features. The enhancements and new updates will be available on iPhone 6 and the phones above it
With superior text messaging facility, you can write the messages in your own handwriting.
The 3D touch, besides making the home screen trendy gives you quick access to Wi-Fi and Bluetooth options on your phone.
Maps are way better in iOS 10 as compared to the previous versions. They are redesigned with "proactive assistance" which will help to find out routes based on daily routines and appointments. They can be integrated with third-party apps also. Once the map is en route, it can show restaurants, coffee shops, etc. and estimate the length of the trip.
Memories made merrier!! The photo app in iOS 10 gets an upgradation and will now be able to find photos from forgotten occasions. Moreover, it will also scan photos and videos and will find forgotten events to put them in one collection.
This might be the best change to iOS 10 as the ability to clear all notifications with a single click. Apart from notifications, it is super easy with iOS 10 to clear away all the expired alerts.
Using deep learning locally, iOS 10 understands wider backdrop of what you are typing and takes into account the whole sentence. Moreover, with an added feature of quick type, you can easily send your current location easily whenever needed,
"Home" will be a new native app in iOS 10 that will be a one-stop destination for all your connected home gear and also feature a control center, so you can access it from the home screen.
With "Apple Pay" in iOS 10, Apple is making inroads into the field of web purchases. A new "Buy with Apple" button will appear on the lock screen enabling the user to make authorized payments. Moreover, it also has a 3D touch fingerprint sensor.
What more to look forward in iOS 10
With iOS 10 having deep learning capabilities, Apple says it'll keep a silicon device that would protect the privacy of your data.
On iPad, split window support has been added for two Safari windows. Moreover, it also mentions notes with multiple users editing a document and editing live photos.
With all these amazing features and some add-ons, iOS 10 has certainly lived up to the expectation and the hype which was created before its launch. Standing true to all the rumors, Apple's iOS 10 seems to be certainly a revolutionary step in the field of mobile networking.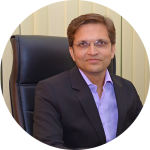 With in-depth knowledge in International Business Management and Information Technology, he can effectively craft business enhancement strategies and can skillfully untangle technical complexities. Writing about the new age technology and sharing his thoughts on the continuously evolving business trends keep him content.