Google answers Facebook's Instant Articles with AMP
You can now bid adieu to slow loading pages on your smart phones. Google has announced the release of its much anticipated AMP (Accelerated Mobile Pages). With a big boost to Google and tough competition for Facebook's Instant Articles, this technology is set to provide a better experience to users.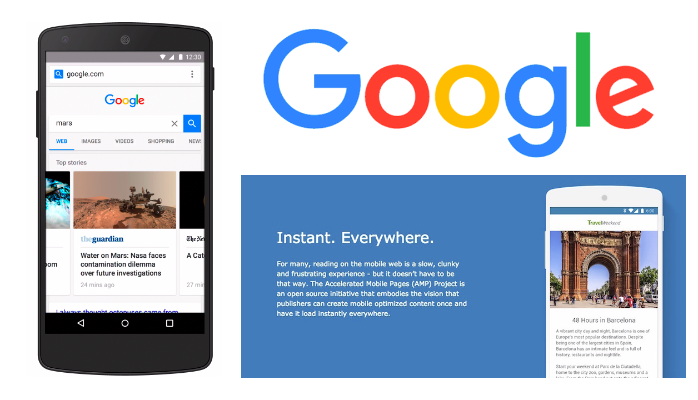 The new initiative by the search giant, which is scheduled for launch in 2016 will boost the speed of news articles and provide users with quick access. So, web pages will load quickly on your mobile phones with this technology spearheaded by the search giant.
The rivalry getting stronger
The rivalry between Facebook and Google is not hidden. If one comes out with a new technology, the other seems to be ready to launch something to counter it. With AMP, Google is seen as providing users with an answer to Instant Articles from Facebook. The latter has already been adopted by some publishers such as The Atlantic and New York Times with an aim to enhance loading speed.
With AMP set for launch, Google will aim to lure publishers and the battle for advertisement space is sure to heat up between the two giants. With Instant Articles, publishers are allowed the liberty to post their content directly on Facebook. However, Google aims to get content from publishers to the web. Moreover, content on Facebook is not accessible to the search engine of Google. This is all the more reason for Google to come out with a counter attack.
What does AMP have in store?
According to Google, AMP is sure to dramatically enhance the way mobile web performs for users. Moreover, this technology will render website owners the ability of building web pages that are light in weight and rely less of clunky technology like JavaScript. Additionally, with AMP, publishers will employ techniques of caching that will aid in pre-fetching pages and load them on the devices; even before users click on them.
The announcements do not stop here. Google has also claimed that AOL, DoubleClick, OpenX, AdSense and Outbrain are all working on this framework in order to improve experience in terms of advertising for publishers, advertisers and users on mobile web.
Getting into more details regarding AMP progress, Google claims that till now, more than 4500 developers follow engineering discussions about this project on GitHub. Contributions to new code, documentations and samples have been provided via 250 request pulls
With advanced projects like Accelerated Mobile Pages, Google intends to address the primary headache that troubles users; slow loading of pages. Pages can now be optimized in a better manner to provide users with rich content that will also load quickly on their devices.
Slow loading has also been problematic for advertisers along with Google. With Facebook already launching its Instant Articles, it needs to be seen how Google's AMP will counter it to lure publishers.
To ensure that AMP becomes commercially viable, the search giant has collaborated with Adobe Analytics, ComScore, Chartbeat and Parse.ly. Additionally, publishers will now be able to get measurement and analytics in real time with use of this technology.
The year 2016 is almost there and it needs to be seen whether AMP will be able to successfully counter Instant Articles. Wait and watch!