Facebook M: A Few Fundamental Things You Must Know
On August 24, the social media giant, Facebook has launched its first virtual digital assistance, known as 'M'. As reported by David Marcus, Vice President of Messaging Products at Facebook, the new virtual assistance will reside in its digital home – Facebook messenger app.
M is currently a beta version. It has been made available to some random users of bay area for testing purpose and eventually the company plans to make it available to all 700 million Facebook users.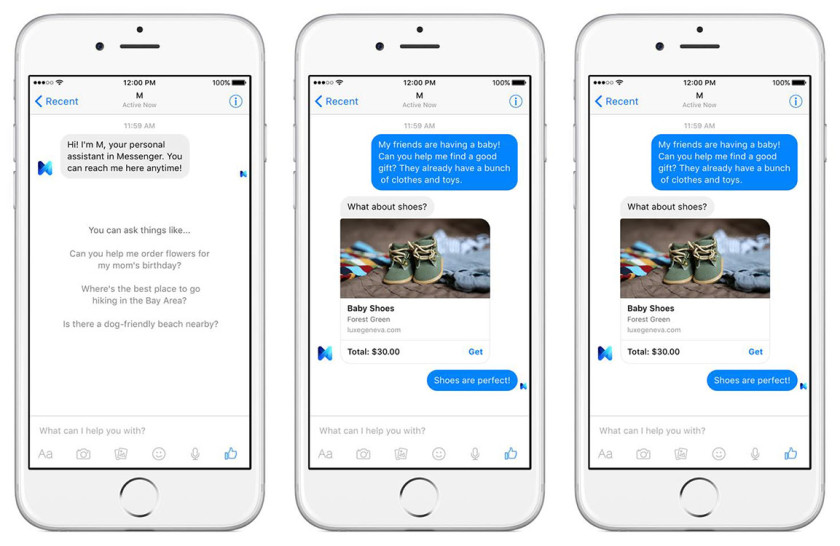 'M' Is A Hybrid Digital Assistance service– Uses the best of both worlds
Much like its market competitors including Apple's Siri, Google Now and Microsoft's Cortona, Facebook M aims to be your personalized digital assistance service. However, unlike its market rivals, the personal assistance unveiled by Facebook has something that truly stands it apart.
M is powered by both AI and human beings, making it a first of its kind hybrid personal virtual assistance. Whether you want to buy a gift for your beloved one, book a reservation, buy movie tickets or learn about some best restaurants or hotels while on travel, M can do it all for you!
Unlike any conventional digital helper, M is backed by some real humans designated as 'M trainers' who thrive background in customer service and know how to use complex AI tools to serve everything users intend to get done.
With the launch of this new virtual assistance service, Facebook primarily wants to assist all its users in their daily lives. For example, it can help you book an Uber cab, plan a birthday surprise for your date, get food parceled to your party destination before you reach and there are numerous things or tasks that M can help you accomplish in the easiest and fastest manner.
And did I say M can also do travel arrangement for your long weekend or shop items for you? On a broader view, Facebook M can eventually replace our, users', needs to browse different applications like Uber, Google Maps, Yelp and OpenTable to accomplish their tasks. Instead M will emerge as your ultimate mobile source – probably a one tap access to everything!
How Facebook 'M' works
Before we see how M works for your needs, it is worth noting that the service is absolutely free for all Facebook users. To get started with M, you will simply need to tap a small button spotted on the bottom of the messenger app. You can chat with M the same way as you do with other messenger contacts. And with M, surprisingly you will never come to know whether it is a human (M trainer) or a algorithm answering your queries. And remember, M is gender neutral.
To wrap up, with the launch of M, Facebook wants to assist its users to accomplish the real tasks, instead of just fetching some useful information from the web. Later, the company will use the data produced during M interactions to input to some complex AI systems, which will eventually cut down the efforts of M trainers.
M can also be integrated directly with services providers, which will make it more efficient and powerful than other digital assistance services. So, let's get ready to see how Facebook's virtual personal assistance will win users' engagement and help create new channels for businesses.