Apple Pay: The iOS Solution for better Shopping Experience
Within a span of a year, Apple pay has gone up with leaps and bounces in enhancing the shopping experience of the customers. It has been the one stop solution to glorify the shopping experience of the retailers as well as the customers. Therefore, looking at its success as a Mobile app, Apple at WWDC summit 2016 announced Apple Pay check out option for web sites as well, so as to give its retailers an optimum second chance to boost their sales.
Apple Pay was announced on July last year for iPhone 6 and the versions above that, but coming to the mobile web other than the mobile apps would be a great step for mobile commerce.
As we all know that mobile commerce has an anemic conversion rate and that could be translated positively on the conversion rate of the mobile website.
Thus it's the optimum time for the retailers to seize the moment and cash on this new technology. Read on the blog and get the necessary analysis related to Apple Pay and its usefulness.. Therefore fasten your seatbelts and get set for a whole new experience.
What is Apple Pay?
Apple Pay is an NFC (Near Field Communication) payment system that enables the user to make purchases using an iOS device. The purchasing can be done at any major retailers or through in-app purchase. You can hold it to make a purchase upto a credit card terminal and then use the touch ID i.e. Apple's fingerprint tech to make the purchase. Moreover, it pulls all your sensitive data from the wallet app enabling the user to use an iPhone or wearable as a wallet at checkout stores.
After knowing the basics of Apple Pay, let us now see how it is making cashless shopping a better experience for the customers.
Transforming shopping with mobile wallets
Since its launch in July 2015, Apple Pay is dedicated to provide benefits to the users and survive in this ever improving and cut-throat competition. Apple Pay works on a contact less payment terminal therefore, instead of swiping the card one has to wave or tap it over the reader, so that the devices can exchange the required information over a short distance.
The Tech brainies feel that as the London transport system went paperless at the Underground; Apple Pay is going to be the same influential move in the field of cashless mobile payment.
Also Read: Android Pay: The revamped Mobile payment solution by Google
Assembling More Check out Options
With e-commerce becoming more and more intense, it is almost unavoidable to neglect its growth. Looking at the necessity, Apple Pay offers diverse payment options for retailers to boost up their performance and enable themselves to gain merchants for the business.
The same thing applies for the consumers as well. Growing from the traditional debit and credit card mode of payment, Apple Pay facilitates QR code scan, keeping all the major credit card under one wallet, etc. so that it becomes convenient and straightforward for the users at the time of payment.
The diverse options here can play a major role in customer retention, enhancing online shopping experience and major surge in sales.
For all those who are wondering how they can install it in their devices, let me ensure you Folks, installing Apple Pay is a "Child's Play", you don't have to make extraordinary changes in your device, just have to follow these steps.
Go to your phone's or wearable's wallet app
Tag to a plus sign at the upper right hand corner that will display the options for you
Scan your card using the camera, or in case of wearables, enter the details manually
After you have agreed to follow the terms and condition, enter a four digit code on the front of your card.
Set your most used card as the default card and you will receive a notification confirming the new default card setting.
Enhancing Security
For tighter security, Apple has introduced two part hardware based solution for Apple Pay. The first part is finger print recognition that is required for each transaction. But, the second hardware element is the key to keep your financial information secured and locked.
Built as a chip, then secure element is placed where the financial information is stored. It can be accessed only through a unique 16 digit number that is generated during the transaction as Apple pay does not save your previous transaction or purchase details. The data is stored in the secured element and can never be included in the phone's or wearable's software, so even if your device is stolen or hacked, there is no way to extract the financial information.
Moreover, even if your device is dismantled, the secure element would sense it and will automatically shut down. In addition to this, Apple Pay is preciously designed to protect the user's personal information as it doesn't contain any transaction information held between the user and the merchant. Actual credit card numbers are not stored, instead it provides a unique device account number which is encrypted and stored in the secured element of the device. Moreover, the device number doesn't have a backup in the iClouds as well.
Future of Apple Pay
With its growing popularity, the mobile wallet is destined to reach greater heights and explore new horizons in the future. Statically, Apple Pay is adding 1 million users per week while the contactless payment mode is going to reach about 148 million users by the end of this year.
Retailers having this mobile wallet will have a bright future ahead of them. According to Forrester survey, more than half of the adult smart phone users in the US are interested in online wallets schemers as they provide them loyalty, rewards and in app payment options.
Finally, Apple Pay may work with Artificial Intelligence as well. This amalgamation would enable the mobile wallet to learn about the user's habits and proactively suggest things related to the previous information.
Final Words
Apple Pay just like iPhone is going to be a major milestone in the world of online payment methods and mobile wallets. Moreover, with dignified security and easier payment methods both on app as well as websites, Apple Pay is set to rule the world of cashless payment and explore new horizons.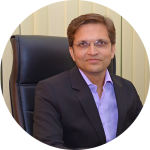 With in-depth knowledge in International Business Management and Information Technology, he can effectively craft business enhancement strategies and can skillfully untangle technical complexities. Writing about the new age technology and sharing his thoughts on the continuously evolving business trends keep him content.