Why your travel agency needs an app?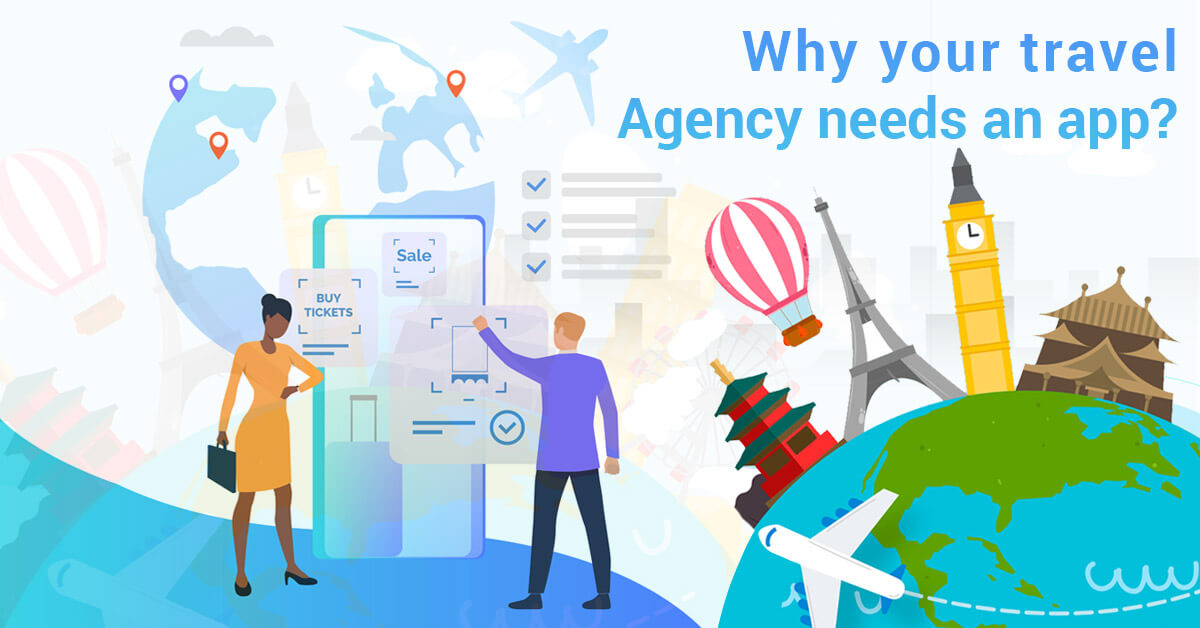 An App for your travel agency business can do wonders…

'To travel is to live,
The travel and tourism industry has emerged as a sunshine sector in the glooming world economy. It was the second-fastest-growing sector in the world, just after manufacturing beating the bigwigs like healthcare and IT.
The travel industry contributed 319 million jobs and $8.8 trillion in the world economy. These stats indicate to one thing, travel has quickly climbed the priority ladder in the customer's expense list.
The most interesting group among these prolific travelers are the millennials. According to a report by BCG(Boston Consulting Group), the millennials are 23% more interested in traveling than their older counterparts. This shift in mentality regarding travel has resulted into enormous positive result for the travel industry.
Add to the fact that the millennial population is huge and will constitute 1/4th of the workforce by 2025.
An inherent characteristic of the millennials is that they are tech-savvy they have grown up in the internet age and love the convenience of booking their tour package online.
Why should you build a mobile app?
You might be tempted to think that as you already have a website there is no need to develop a mobile app. Research suggests otherwise, take a look at the comparison between user preferences between an app and a website for booking travel activities.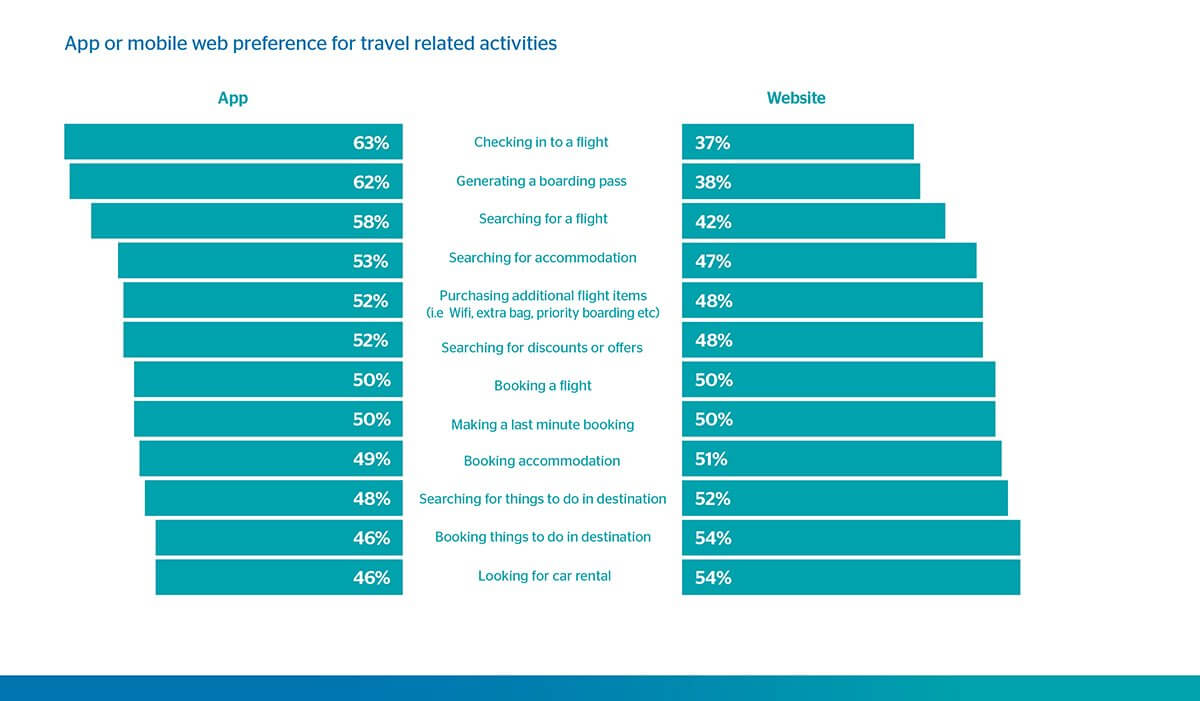 Whether you have a well-established travel agency or are just starting out in the business, a customized mobile app for your travel business will help your business in staying ahead of the competition.
Here is how your user panel and travel agency panel should look like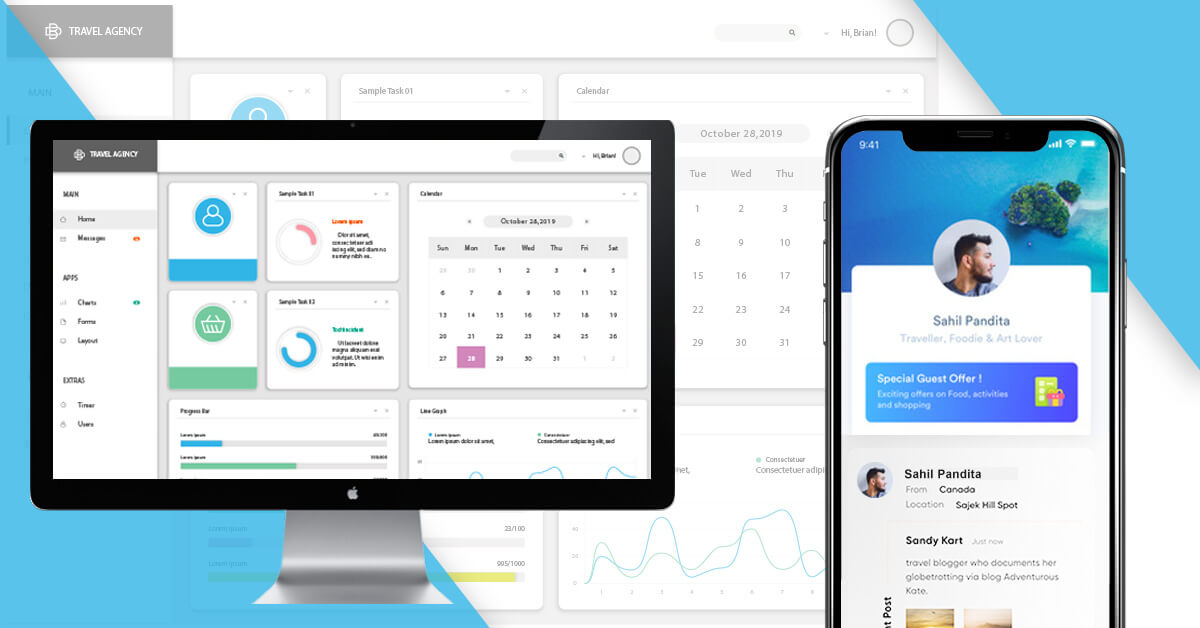 Travel Agency Panel
Edit packages and itineraries
 Send out and edit promotions and special offers
Manage payments
Edit content regarding destinations
 Manage hotel, flight & taxi bookings for the itinerary
User statistics
User Panel
 Sign up and login
Social sharing of photos and posts
Search a particular location according to date
 Connect with customer and sales support teams
Add reviews regarding the holiday
Let's look at some basic features every travel app should have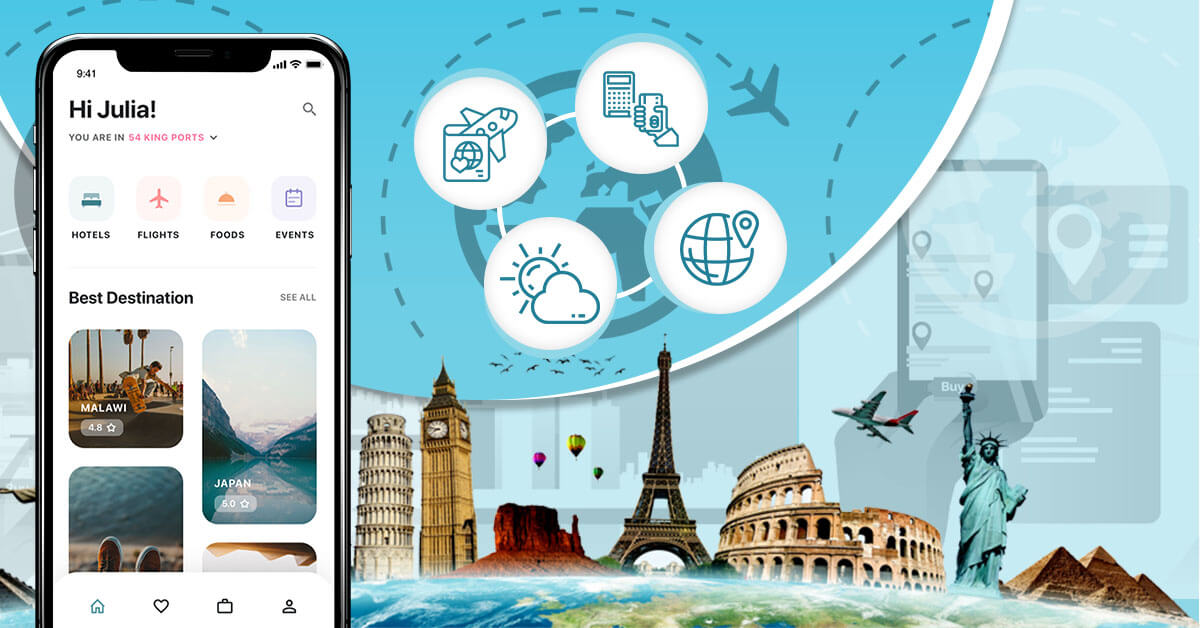 Display your tour packages
Your travel app should be able to show the tour packages which you offer. Use high definition images and videos of the locations the client would be traveling. Your mobile app should have the feature where the tourist gets all the necessary information regarding a location. For example:- If your itinerary includes the Taj Mahal then your app should have beautiful images along with some brief history about the place, what to wear and how to maintain the sanctity of the place(particularly useful when the itinerary contains religious places), what to eat and other important things.
Geolocation
You can integrate the geo-location feature in your mobile app. This feature can be used to provide support to your customers, suppose your Chinese guests are visiting Europe and they have installed your app. Now your app can serve location-based push notifications to your customers, giving details about their itinerary, hotel bookings, and details about the place they are traveling to. Integrating these features would make the customers feel that you are taking good care of them and also improve customer mobile app engagement. You can add additional details like emergency numbers, help regarding local transport modes like bus and subway trains for each location they travel to.
Weather forecasting
A good travel mobile app should provide the users with information regarding weather in the location they are traveling. This will help them in altering their plans and also in equipping themselves according to the expected weather. For e.g.:- Your app should tell travelers that if they are traveling to Singapore then it is better to carry an umbrella with them as it rains in Singapore on a daily basis. Although the information is trivial it will help in boosting customer engagement as users will feel that they're every little need has been taken care of.
In-app customer support
You can integrate an in-app customer support feature via which your customers would be able to contact your help desk. You can also provide a Chatbot to answer the questions of your customers. Remember customers would be less angry if they feel that your company is listening to them.
Social media sharing
Allow your users to post their pictures and thoughts directly through your mobile app by integrating social media buttons with the app. The integration with the social media sharing function would help your brand in gaining traction, as people would post their happy holiday photos and their social circles would come to know about your brand. This feature would also boost user engagement.
Reviews
A study conducted by New York University states that 95% of travelers read reviews posted by other travelers before booking. If your travel app provides neutral reviews of past customers about a place, then this will significantly improve the credibility of your app.
You can differentiate your app by offering some exciting features. Some ideas are listed below.
Push notifications
You should include push notifications in the app to disseminate important information, announcements regarding the tour and also to send promotional materials like discounted offers.
Payment integration
Payments are getting digital and your app will need to integrate different payment systems so that users can pay you without any hassle. Integrate payment systems like PayPal, Credit and Debit cards, Net banking and Digital wallets into your mobile app.
Advanced features for a travel booking app that makes it Global
In-app translation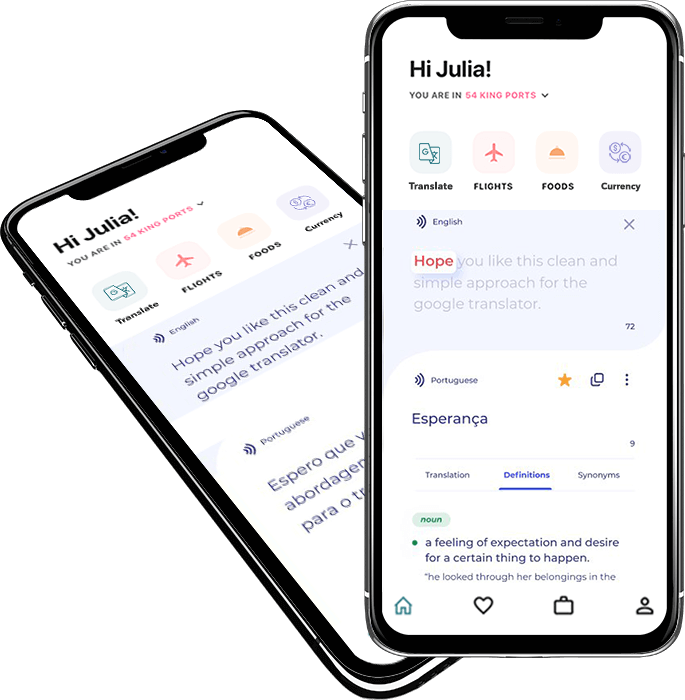 It has happened to all international travelers, language is the biggest barrier they tend to face while traveling. It even ruins a good experience sometimes; you can make your app stand out from the rest by integrating an in-app language translator. Your app can use third-party services like Google Translate for this purpose. Your users will love it when they say "get me back to the hotel" and your app effortlessly translates that to "ramène-moi à l'hôtel" in French. User engagement is going to skyrocket with this feature.
In-app currency converter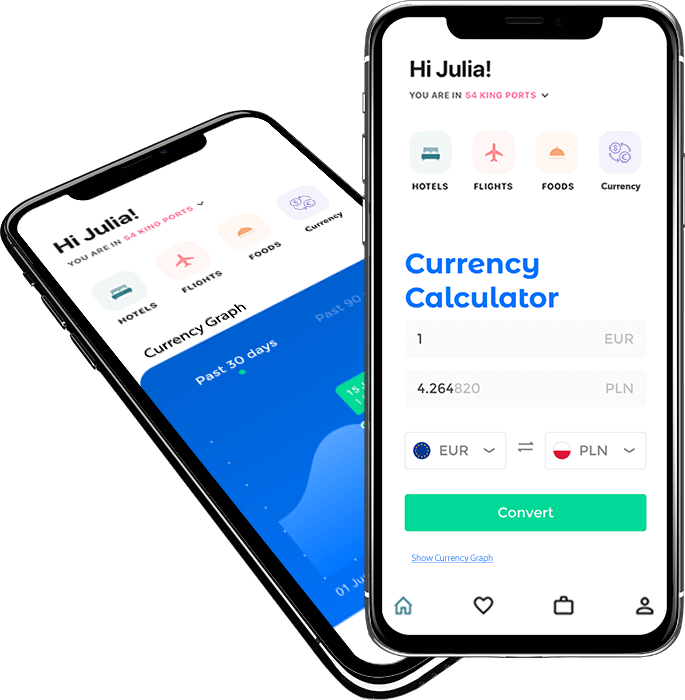 International travelers are always counting in their head, constantly converting the price of a product or service in the holiday location into the currency of their homeland. You can remove this cognitive load by installing a simple currency converter which takes its data from third-party websites which display the real-time currency rates.
Interactive experience
Imagine that your mobile app could provide a feature which serves as an audio guide when a tourist reaches a monument. The app can also provide video links to popular YouTube videos regarding the place. This would improve the user experience and is bound to help the user by providing valuable and authentic information regarding the place.
Itinerary generator
Your travel app can contain a feature wherein the users could generate a customized itinerary according to the number of days and places they want to visit. This will make the decision easier for them if they wish to deviate from the standard tour packages offered by your company.
Data-analytics
With a dedicated app for your travel agency, you would be able to gather invaluable data of your customers. Which destinations they travel to, do they book business class or economy class flights, do they have a special inclination towards hill stations, and do they travel solo or with family? All this data can prove to be a goldmine and help you in personalizing the experience according to the user's preferences. You can offer discounted packages to high spending customers, to avoid losing them to your competitors.
Look at the graphics below to understand the insights gained through data analytics.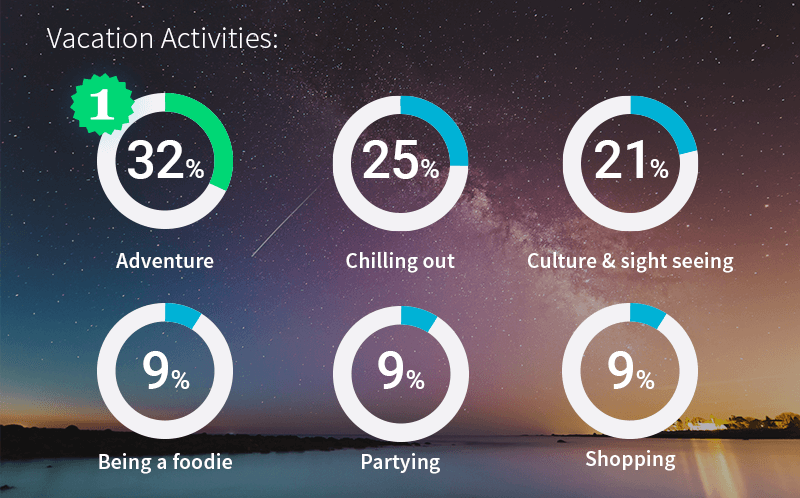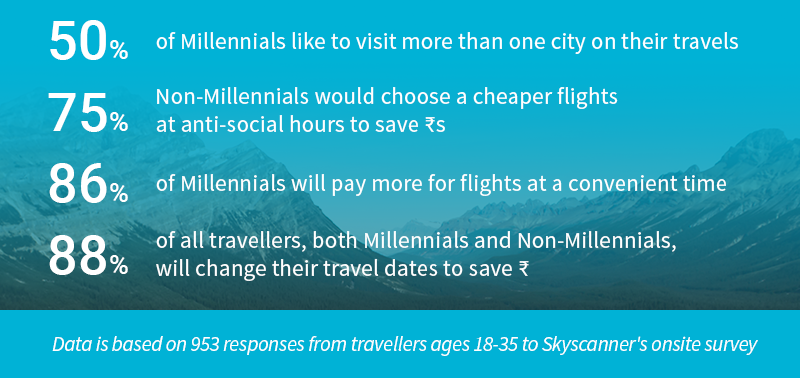 Clearly, millennials want more adventure travel and half of them visit more than one city while traveling.
Hence if you want to target a millennial you could offer curated adventure packages which include multiple cities.
You are losing all this valuable data when you don't have your own mobile app.
Now let's look at what goes under the hood
Technology stack for building a good travel app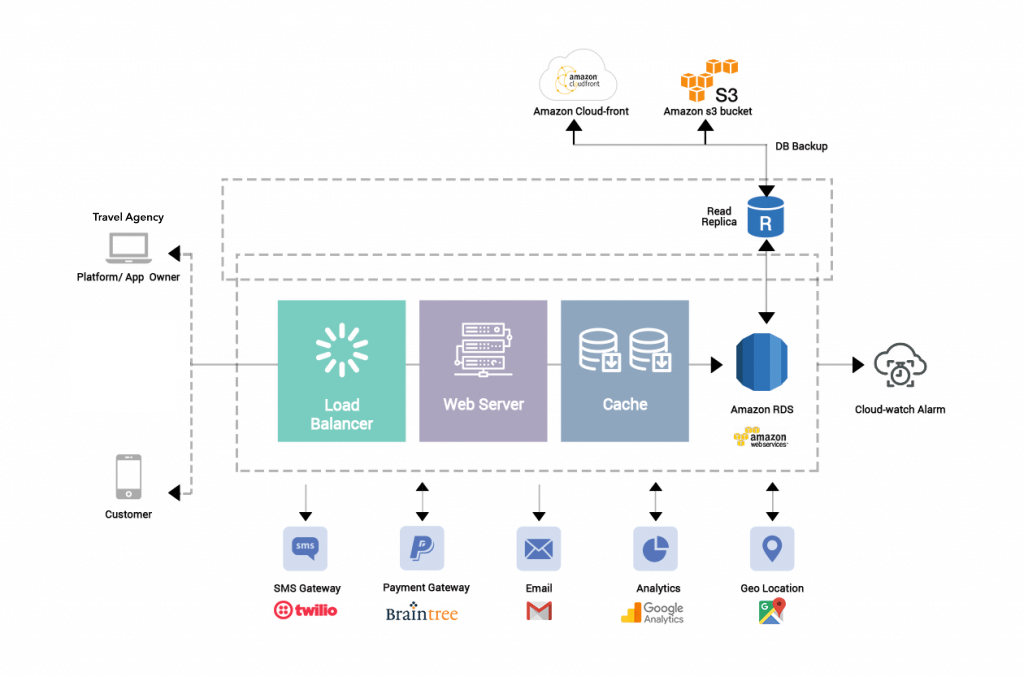 UI/UX: The layout of the app can be made using CSS, Google sketch and Adobe Photoshop.
Analytics: – tools such as Microsoft Analytics, firebase, app see and fabric can be integrated.
Location Tracking: – You can integrate location tracking into your mobile app by using services like Google maps and core-location framework for iOS.
Cloud Data Storage: To store the tons of data that your app will generate, you will require cloud platforms like AWS(Amazon cloud service), Google Cloud and Microsoft Azure.
Payment Gateways: You can integrate multiple payment options like credit/debit cards, PayPal, Braintree, net-banking, and e-wallets.
Coding: The front-end can be developed using CSS3 and Bootstrap and back-end can be developed using JavaScript, AngularJS, Ruby, Python or Django.
For the Android version, you can build the app using Java or Kotlin and Swift can be used for iOS mobile app development.
React Native or Flutter can be used in case you want to develop a cross-platform app.
For a basic app, you will require
1- UI/UX designer
2-developers
 1-QA engineer
For a more advanced app, you shall require
2-UI/UX designers
 4-5 developers
 2-QA engineers
1-Project manager
Cost to develop a Travel Agency App
Here is a break up of estimated hours it would require for integrating certain functions
As a thumb rule, you can estimate that the cost of development increases according to the complexity of the app. Along with this, the country from which your app development company operates also is a major determinant in deciding the cost of your mobile app.
For example
A U.S. company might charge you $100-$250 per hour while in Eastern Europe you could develop the app in $80-$180 while an Indian firm might do the job in $25-50.
Here is a rough estimate of the time taken to integrate various features.
Signup and log in:-You can integrate social sign-in via Facebook or Instagram to make the process simpler. It can take 20-25 hours.
Payment integration:– Normally integrating different payment gateways like credit/debit cards, pay pal, net banking and wallets takes 50+ hours.
Push notification:– Depending on whether you want to integrate simple text messages or interactive push notifications, integrating push notifications into your app will take around 30-50 hours.
Integrating media content:-Your mobile app will need media like images and videos to be integrated into the app. It will take 20+ hours to integrate media into the app.
Search function: – Integrating search function into your app would require 10+ hours of development time.
Cost of not developing the app
According to a study by Tripadvisor 42% of people are booking their trips through apps. You are losing around 4 out of 10 customers because you do not have an app. Hence you can see that the cost of not developing an app for your travel agency far outweighs the cost of developing it. Think of it as an investment which shall pay you rich dividends if properly managed.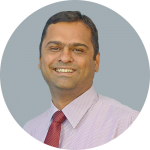 With a deep interest in new technologies, analyzing mobile application trends and impressive technical concoctions keep him inquisitive. He likes to read and write a lot. New app technologies, gadget fascinations, and big technology announcements kindle the writer in him spontaneously. His articles are his passion for innovative technologies.