4 Pillars For International Success Of Your Mobile Gaming App
Thinking of developing a mobile game app? Or have you already developed one? Well, if you already have, or even if you are thinking of developing one, tidal waves full of questions will be running through your brain and also in your team's brains. You may be thinking about how to acquire users? What tools from analytics are you going to use? How will you manage customers? and should you or should you not integrate ads? Such questions will be storming you and making you go weak in your knees. However, there are loads of other aspects that go into mobile game development that lead to its success locally as well as internationally. Let us now check these aspects step by step.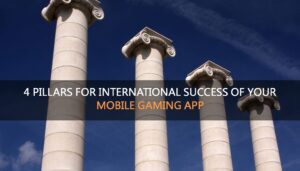 The gruesome development process
At the root of game development process are developers. All through the process, these dedicated developers work in a team and stay connected. They divide each other into different positions based on mutual obligations.
The work beings and the developers get engrossed in the laborious process which is complicated. All heads working in the process need to face different complexities. It needs to be understood here that primitive games are easy to write; however, when it comes to mobile game development, the process is undoubtedly gruesome. With months of toiling, the final version of the game is ready for testing and bug detection. Once this is done, the game is ready for launch.
Don't skip localization
There are many developers and development companies that forget, or maybe postpone aspects related to localization till the entire development process is complete. However, this can backfire if ignored right at the beginning. This will lead to rework, later on, thus eventually hiking the cost required for adding localization needs. Hence, to avoid such additional costs, it is better to consider localization right at the start.
Absence of culturalization
Cultural aspects are significantly important if you expect to make your app globally famous. If done properly, you can break odds in international markets and taste success for your app. The least you can do is to consider language translation. However, the ideal scenario is to adapt your game to local cultures. Understanding local cultures for every region you wish to promote your game is necessary for targeting audience there.
Importance of distribution channels
Don't think that every country has similar channels of distribution. So it is advocated that you avoid rushing into an overseas launch. For example, Google Play is not available in China. Further, every store has its own requirements from apps. Checking these along with cultural behaviors is a necessity. This is exactly why some businesses opt for different app versions to suit varied needs and requirements. However, this can lead to high costs. Hence, working with local partners can be beneficial and save money. This also helps when localization and cultural sync is concerned.
Every one is aware that the mobile game development industry is rising with time. The current boom is such that ignoring minute details can lead to failure for your game app. Further, these apps are usually developed for promotion of businesses and their products by engaging target customers via appealing games. Moreover, mobile is undoubtedly the way forward if you intend to lead the race in this market. Hence, embracing mobile technology is a must for businesses; irrespective of their industry vertical. This is a sure shot method for getting high revenue via converted leads.
Additionally, expansion on the global front is also a necessity; irrespective of whether it is easy or tough. This is only possible if you follow the above-mentioned options along with good marketing strategies, clear ownership and perfect execution of plans. All this will ensure that your gaming app attains a good position across continents and you gain an international edge over the competition.
So if you intend to execute a killer plan regarding mobile gaming and wish to work with a reputed company, connect with us here and allow us the privilege of guiding your for the same.