Weekly Analytics: Top Stories from the Mobile World (Oct 11 – Oct 17)
We are here with Prismetric's 14th edition of Weekly Analytics in the second week of October trying to bring you the perks and gems of news from the world of mobile technology. The past week has seen noticeable advancements in the field of social media, google codes, virtual reality, smarter apps, FB at work and news verification by Google.
Moreover, PokemonGo had some advancement that caught everyone's eye and the company believes that it would be beneficial in accelerating the user retention rate significantly. Also, mobile OS giant is considering AI (Artificial Intelligence) as a competent technology to turbo charge the battery of the new set of iPhones.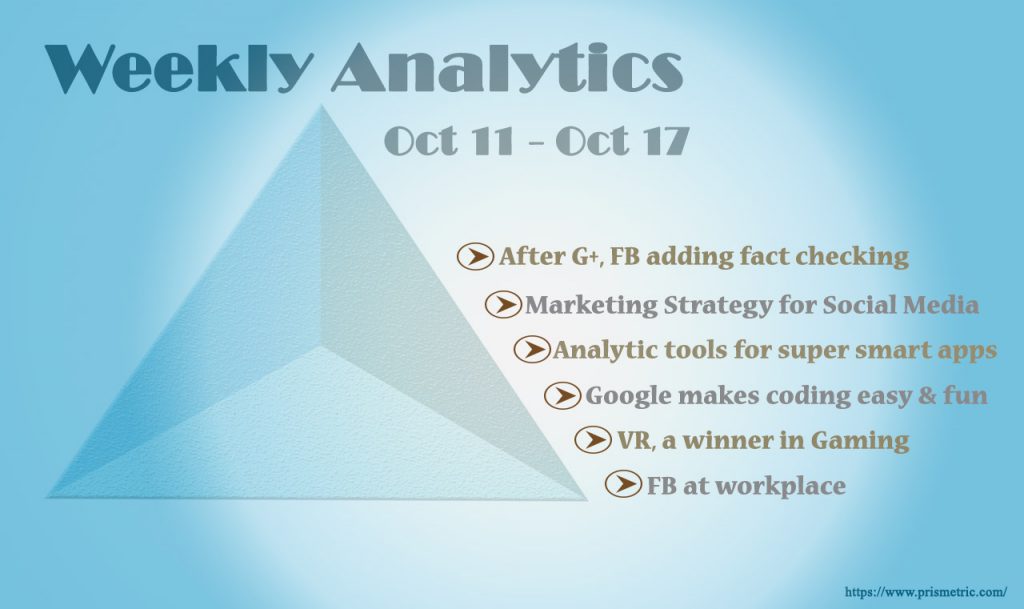 With such frenzy and eye captivating advancements, it becomes more than inevitable to look into the top news that made their presence felt most significantly.
So let us hit straight to the point.
News Verification: After Google, its FB's turn to add fact checking
On 13th October 2016, Google announced that it will add fact checking to give the news feeds more impetus with verification. The day after this, Facebook stepped into Google's shoes, and added fact checking to a large section of news articles on its site. Amidst all the photos and videos uploaded, FB will responsively do better when it comes to give factually checked news to its audience. This will ultimately reduce the amount of hoax or confusion that is created.
Story in Vogue
Other Stories:
Social Media: Working of social media in trenches
To build a good and solid foundation to prevail in the social media market, you will eventually need a marketing strategy. Building your account on Social Media platforms will help you and your business reach new heights and increase in the number of organic searches and followers. A competent marketing strategy will help you to add specific "Call-to-Action" so that the visitors will be encourage to complete the process on your app, thus increasing the user engagement.
Smarter Apps: FB indenting to make your apps Super Smart
We all know that Facebook is more than just a social media platform and now with its app analytics tools, is helping developers to make super smart apps. It recently added a web measurement and cross platform analytic service so that the developers can leverage rich insights and make apps that are more streamlined. Also with this knowledge, they can optimize the customer experience upto a great extent.
Google Codes: Look at the ways how Google is making coding easy
It is a proven fact that programming is an art and if it is done tactfully can do wonders for the app. So, as the importance of coding and programming increases by the time, researchers are finding innovative ways to make the process of coding fun and more approachable. Thus, search engine giant Google has directed its group of researchers in an attempt to make coding to be a more hands-on experience.
Groovy Story of the Week
Virtual Reality: VR technology ruling Playstation gaming
Virtual Reality is the buzz word nowadays and its inclusion in the just launched playstation has taken the world of gaming by storm. The amalgamation of this technology with Playstation has provided simplicity to the game experience right from setup to actual use. The right balance between simplicity and awesome gaming experience has given even the average gamer a vow feeling and thus VR will help in expanding the business horizons.
FB at workplace: The new venture by Facebook opens to sell enterprise social networking
Facebook is finally bringing its enterprise focused social networking service to the market after 20 months of its beta version. "Workplace", as it is called, is launching on both desktops and mobiles and has advent features like direct messaging, live video creations, audio and video calling, etc.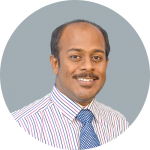 The world is now very much compact, we call it Global Village as a result of digitization and this impresses him! He likes to explore the nooks and corners of the incessantly modernizing world and marvel technologies. His passion for digital trends taught him the knack of reaching the huge digital mass to find business opportunities instantly. He writes articles about digital, technical and marketing tactics for business enhancements.