Samsung launched Galaxy Tab 3 which is an affordable priced tablet aimed at children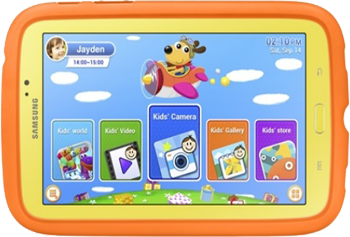 Samsung recently announced its new product in the tablet series, Samsung Galaxy Tab 3 Kids, which has been specifically built by considering kids as primary users, and thus, it is filled with educational tools, interactive games and safety features that parents look for.
Today, kids are indulging with technology than ever before and Samsung targeted this segment effectively with its new tablet. This device provides kids with a fun and intuitive user experience in a kid-friendly manner.
With a 7 inch screen, 1 GB RAM, 1.2 GHz dual processor, 3-megapixel front and 1.3-megapixel rear camera and 8 GB onboard storage, this tablet possesses the performance and power that one can expect from a Samsung Galaxy Tablet. This device has been developed with best interests of the kids at the forefront and as a result, it includes a Time Management feature which allows parents to set a particular time period in which kids can use the device. As soon as the time limit gets over, the device gets locked with a password protected screen.
It comes equipped with a brand new Kid's Store that emphasizes on driving the technology-oriented educational possibilities and along with this store, some games, educational tools, e-books etc. come pre-loaded in the device.
Prismatic is a full-service Android app development company which provides strategic designing and development services in the field of android app development for kids that include interactive learning oriented games, storybook apps and much more.
We are a leading Android app development company that possesses a team of knowledgeable and innovative programmers who bring the most amazing app designs to life. To know more about us, log on to Prismetric.