Is Facebook 'Live' Video Streaming App Going to Be Best of All? Read/Find Here
Well, you heard me right! Facebook Inc. has rolled out a new app called Live, which is a real-time video streaming app enabling you to share short videos to fans and friends directly from your Facebook profile or fan page.
But this new-in feature isn't available to all Facebook users. For now, this app is only meant to be used by celebrities and famous public figures such as Serena Williams,  Dwayne The Rock Johnson, Michael Bublé, Ashley Tisdale and the lifestyle icon Martha Stewart.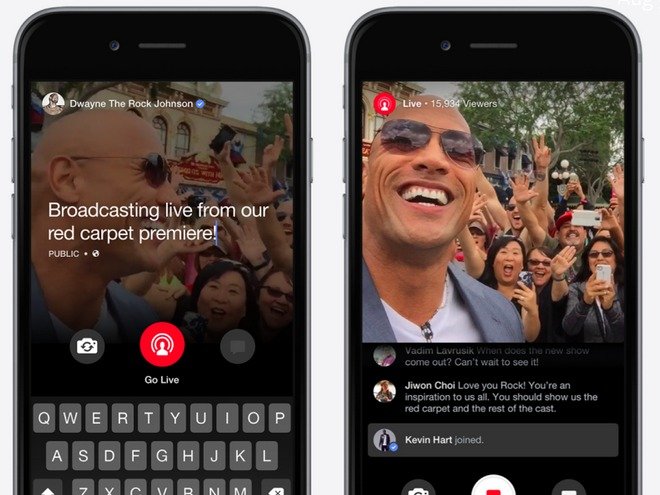 Digging up further, 'Live' is a most recent addition to the  Facebook Mentions, an app launched in July 2014 to let famous personas including actors, sports figures and musicians to engage with their fan-base in a better way.
Go 'Live' with your favorite stars!
If you are a user following a Facebook fan page of a celebrity, who have opted in for live stream or video broadcast feature, then you can like, comment and even share that video.You can also get notified, when your friends watch the live videos of their favorite celebrities. So, you can now go and connect to your idols or heartthrobs in an awesome way!
The video broadcasting app from the social networking king seems to give a real tough competition to other video streaming apps, its market rivals, including Meerkat, Twitters' Periscope and Stories from Snapchat.
"With Live, public figures can take fans behind the scenes, host a Q&A, share announcements, and more — all in real time.", says Vadim Lavrusik, Product manager at Facebook Inc. in his recent blog.
If you are a celebrity or a would-be-one who want to build a fan-base, Live is a truly amazing way to connect to your fans, friends on Facebook. And we can't just overlook the fact that there are 900 million or more connected to their inspiring public figures on Facebook.
To wrap up, Live is a new, authenticate and a deeply engaging way for famous figures to interact with their Facebook followers. And for now, there is no official update giving insight into whether the company has planned to release this feature for the remaining users of the their website or not. We better keep an eye out!
A Take Away : With so many video broadcasting apps out there, and each pulling out all the stops to give next level of user experience, live streaming apps seem to rule the future!