Demystify your App Marketing Strategies the Zomato way
Simplifying hunger through technology is the fundamental on which Zomato has been working. It has been a one stop destination for food fanatics as it is the most trusted and widely viewed Food discovery Platform. An Indian Startup which was founded by two IIT graduates in 2008 has made a steep rise and has been a benchmark for all its contemporary apps.
Have you ever thought what has made Zomato a phenomenon that it is today? Even though there are other food apps, there are a huge number of people following the listings and ratings of Zomato only. There has been a well though app marketing process behind the strategies that Zomato follows. It has taken care of every aspect of digital marketing like content marketing, image marketing, social media marketing, etc and even extended its expert marketing tactics to Word of Mouth and other core marketing techniques.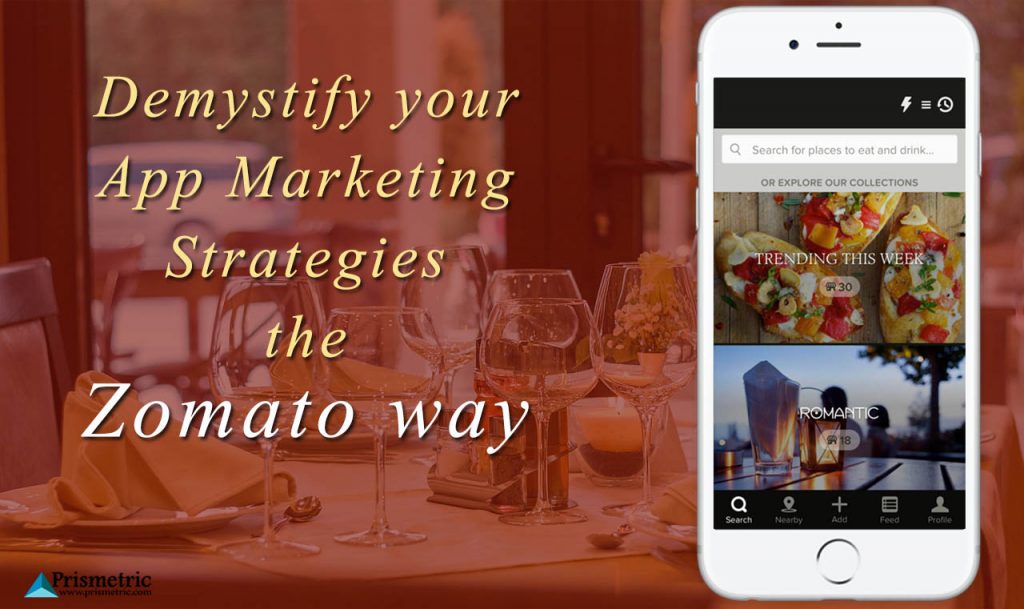 The effect of their efficient app marketing strategies were visible in their inception year itself as the company grew from proving a list of 1200 hotels and restaurants to 2000 hotels and restaurants in just 6 months. For now, Zomato is available in over 10000 cities spreaded over 23 countries and the graph is going to rise looking at their present popularity.
Therefore, it's important for companies and budding startups like Zomato to follow its footsteps in order to create their own new identity. We bring you the analyzed concepts right from the master themselves.
Here it goes!!
Content Marketing Strategy
Since the initial stages it is important for food discovery platforms to understand that, the essence of their efforts will go through the type of content and words they put in for their customers. And, it's no rocket science that an attractive and relevant content retains and engages the customer, thus becomes an important ingredient for every app marketing strategy
Therefore, you should always keep your content updated and keep it with a tinge of spice that would make it interesting. By adding spice I mean to add info-graphics, video campaigns and keep on experimenting with the different aspects.
Zomato always adds flavors to the digital presence of the food image that prompts the customer to buy it. This even helps in giving an enhanced user experience and a profound on-boarding experience. Therefore, for budding entrepreneurs it's important to keep their content intact, simple and free flowing.
Social Media is an important medium to keep in touch with the existing customers and get to know their views and suggestions. Moreover, for the food discovery platforms, it is essential to be there for the customers all the time. It is essential, because the customers will be your best critics and their inputs will tell whether your efforts are going in the correct direction or not.
Along with this, for a proper social media strategy, it is important for you to stick to your domain perfectly. As for Zomato, their posts are related to food and night life, their new product launches and updates. They don't advertise their clients on their app.
Keeping an eye on your fellow competitors also adds fuels for a competent social media marketing strategy. This will help in retaining the user base, as in food discovery platform app; there is a great chance of overlapping audience. Moreover, promote your content and the niche features through the social media sites that could bring in more traffic to your site. Social media can also prove to be an effective channel for marketing and communication of your various in app features that remain untouched otherwise.
Also Read: 7 reasons why Social Networking Apps are so in vogue nowadays
The more visually appealing you are, the more you sell. Stats also suggest that if the images are good, the response rate of the customers increase by 40%. Therefore, it's important for your app to bring in their A game and charm your audience with the visuals.
Mobile app image marketing can be even more useful for food apps as it can indulge the customer instantly by tickling their funny bone by their eye capturing and funny representation. You can include excellent graphics with high degree of creativity concentrating on the pain points of your audience or an extraordinary image on the regular activities. Along with this don't forget to cash in on the ongoing or the upcoming events, whether it's a festival, a high intensity cricket match, etc.
From monetization point of view, create an image depicting a definite call to action that encourages your customers to buy things from your app. Even if your text is simple, to tantalizing graphics or picture can increase its charm enormously and provide greater customer engagement. Also keep adequate time difference in posting your images as it will keep your audience guessing and saves image marketing from being monotonous and boring.
Food discovery apps should be wise enough to distinguish between content marketing and providing information. By information I mean that, like Zomato they must concentrate on writing effective newsletters and pamphlets and use them as an app marketing and customer engagement tool.
A well strategized newsletter in your app will ensure that your user get authentic news about the new happenings and offers.
Food discovery platforms should concentrate on investing a lot on SMO and SEO as this will help in making your app more visible on the search engine. Moreover, ASO i.e. App Store Optimization will also play a great role in up-scaling your ranking in the Appstore.
Ads also are fairly important for revenue generation and traffic roll in. By implementing hyper local marketing strategies, food apps can locate user's physical location and provide them service as per their requirement instantly. Optimum SEO generates more views as more organic searches rope in and you can efficiently cut out the spammers from your site.
The mobile app marketing used to amplify the reachwould be instrumental in providing personalized experience and dedicated features to the customers based on their previous searches thus enhancing app engagement. As mobile advertising has a whopping market in the future, competent SEO would be the key to optimally use it.
So what have we learnt from this
There is a thing called "Ethically practical" and Zomato has clearly defined it. Apart from the values, the cotemporary and upcoming food discovery platforms can learn how to be different and unique even after doing nothing flashy. Its app marketing strategies show the way to engage customers and how it can be useful for the future.
Timing, quick but well thought marketing decisions and reaching out to customers using social media are some of the main pillars that will help the newbie and veterans to evolve themselves and be enough strong to survive and flourish in this competitive world.
The app marketing strategies will help them to understand their customers better and provide clear insights of their thoughts, problems and wishes.
Also Read: Mobile Apps: Apt way to boost productivity and Brand for your Food Business
Signing Off
Focus on the matter rather than flashy things should be the mantra for any food discovery platform to implement in its app marketing strategy. This will help you win loyal customers and give you the clear idea about whom you are offering your services to.
So go out there, implement these strategies and give your app a brighter future!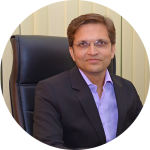 With in-depth knowledge in International Business Management and Information Technology, he can effectively craft business enhancement strategies and can skillfully untangle technical complexities. Writing about the new age technology and sharing his thoughts on the continuously evolving business trends keep him content.