All about iOS 8 and its most important features
iOS 8, the new version of Apple devices was unveiled at the Apple's Worldwide Developer Conference held on June 2, 2014. The new version is revamped with Mac integration while losing restrictions on Apple's Touch ID fingerprint sensor. Apple introduced several exciting features include continuity, extensibility, quicktype, health, iDrive and family sharing with more enhancement in Photos, Messages, Spotlight and much more.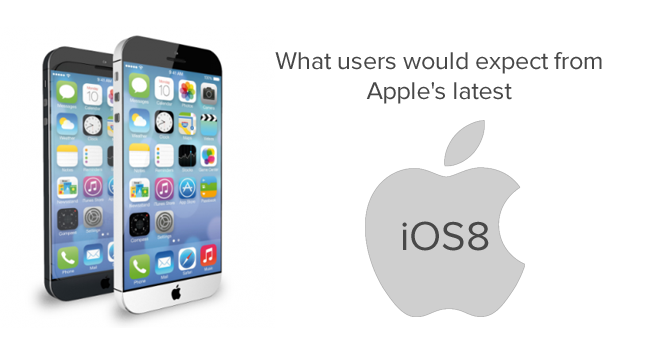 During the conference there was no mention for the release of iPhone 6 or an iWatch this year but it seems that Apple is planning the stage for a launch of new wearable gadget by the time iOS 8 is ready for the public release.
iOS 8 – Release Date:
While developers can now enjoy iOS but the rest have to stay patient for a month for its official launch. Apple has upgraded iOS with some new exciting features joined by iPhone 6 and "new product categories" like iWatch.
iOS 8 – Compatibility:
For compatibility, Apple requires iPhone 4S or iPad2 or any other latest version to update the latest software. Apple is planning to release third beta version on 8th July. It's important to note that the new enhancements include all of these iDevices using Bluetooth 4.0, a low-energy version of the antenna that will be effective for the wearables for constant synchronization.
iOS 8 – Touch ID For Everyone:
The Touch ID convenience feature is at the top of the iOS slated to scan credit cards from your iPhone or iPad camera and the details will be filled automatically for your online purchasing. The biometric security feature protects your data from any unauthorized access probably even by the trusted ones. This indicates that "Forgot Password" exist no more after the launch of this unique data protection. Apple's fingerprint detection scanner is yet limited to bypassing lock-screen and buying iTunes Store but the developers can access to the changes via five-digit login tool.
iOS 8 – Handoff Feature:
Handoff, a newly introduced feature by the Apple, works on the sharing principles optimized for Apple's peer-to-peer file sharing protocol. Users can start the task at one device and that can be accessed to continue by the other. With the launch of Handoff, iPads and Mac both can now answer phone calls, can send and receive messages through the message app that is iMessage on those platforms as a relay.
iOS 8 – Group Messages And Video Conference:
The new feature let you add and drop the people from the conversation, non-stop silence and other incoming messages to have Do Not Disturb Toggle. Location sharing, now you can get more use with iMessage app for a set period of time as the app supports group conversations, and other instant voice messages and videos.
iOS 8 – Health App:
The iOS 8 is upgraded with a new Health app intentionally designed to aggregate data after collecting it from various health and fitness apps.