7 reasons for Online Retailers to focus more on E-Commerce Mobile Apps
If we take a glance at the latest report unveiled by Sensor Tower, a top-notch app marketing intelligence firm, in order to peek into the online retail shopping trends of December 2015, it is quite interesting to learn that the total number of downloads for eCommerce mobile apps on iOS devices in the Black Friday week 2015 increased by 17%, compared to 2% growth in 2014.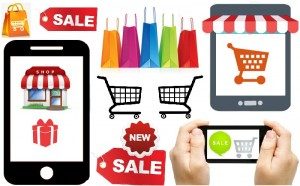 There is another report published by SimilarWeb, a leading digital analytics company which revealed 24 of U.S' top retailers noticed average 45% increase in active app usage for a week starting from Nov 25 this year.
EU, Canada and UK markets too are witnessing such explosive growth in the niche of eCommerce mobile apps in the last 12 months. And, it is anticipated that about 50% of the online retail sales will be done through mobile-based shopping apps by the end of 2018. In short, mobile apps are no less than a holy grail of online retail shopping.
A retail shopping app isn't just a 'good-to-have' element for your business anymore now. Instead, the mobile app is a potential channel to grow and survive in the competitive retail market. The shoppers buying preferences and methods are changing fast. They enjoy using mobile apps for retail shopping and get whatever they want by making a few taps on their phone screens.
Here are 7 key reasons why online retails must invest in eCommerce mobile app development.
More personalized, more enhanced user experience

If you are an online retailer or just a brick mortar store, building a mobile app will give you peerless scope to reach out straight away to your target audience and engage personally with them. You can set up multiple channels to communicate, interact and engage customers; for example, you can integrate the app with social media sites, provide in-app chat or texting option, etc. You can also send personalized discounts and vouchers to specific customers. In short, a mobile app offers numerous opportunities for personalization, which ultimately lead to more traffic, higher conversion and improved ROI.
Real time customer service

Huge developments in mobile technology niche are impacting the operational tempos in companies today; shoppers are able to contact the retailers in real time using in-app tools or features like Live chat. When integrated with AI (Artificial intelligent) systems and business analytics software, eCommerce mobile apps can leverage real-time as well as old data to trace shoppers' need ahead of time. Real-time customer service can help online retailers grow in customer relationship management.
Accelerated customer acquisition with Cross-channel targeting

Today's shoppers have a plenty of channels and platforms to shop from; there is a plethora of Smartphone and tablet devices out there. And thus adapting to cross-channel selling makes complete sense. E-commerce businesses need to allow their customers or prospects to seamlessly shift from one channel to another. There is no doubt that, the apps are not just an add-on to your cross-channel selling, but a most important element you can't ignore adding to the network.
Increased customer loyalty

An eCommerce mobile app lets you stay constantly in touch with customers; you can push them great deals using notification pop-ups or can directly send a text message to their devices. A mobile app lets you build more loyal customers, unlike those who accidentally visit your desktop sites after being redirected from ads or online searches. In short, mobile apps helps you win loyal customers instead of one time shoppers.
Increased conversion rate

Compared to email newsletter campaigns, the in-app promotion seems to offer higher conversion rates, says a recent study by Responsys. These days, eCommerce merchants offer special discounts to customers who install their apps or while customers shop from their apps instead of shopping from their desktop portals.The top-notch eCommerce businesses in the USA, including Amazon and eBay, are reportedly spending more on app promotions. A mobile app lets you embrace more engaging features like how to videos, style tips, customers' recommendations and reviews, which ultimately help you get the higher conversion and higher sales.
Augment in-store purchase experience

Imagine a customer who just steps into your brick-mortal store and at the same time he is browsing your app in his Smartphone; the customer has opted to be open to any sales message from you, the retailer. Location based personalization can be a great arsenal for retailers; the scope is tremendous.

For example, if the customer is nearby to your store, you can invite them to visit your store; even further, if they have any item added to the wish list, you can push notification to stimulate them to the purchase. You may also add an 'in-store mode' into your app with cutting-edge features like mobile payments, maps, and stock/inventory updates. The possibilities are endless!
Consumers love mobile app shopping


Unlike the web based stores, studies reveal that customers are spending more time in window shopping into their apps. And, it is not difficult to understand why desktops aren't as handy as mobile devices of course! It is the unmatched convenience and flexibility that have made app based shopping more fun!
Having an eCommerce app isn't a choice but a necessity for online retailers!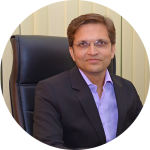 With in-depth knowledge in International Business Management and Information Technology, he can effectively craft business enhancement strategies and can skillfully untangle technical complexities. Writing about the new age technology and sharing his thoughts on the continuously evolving business trends keep him content.