5 reasons Why Mobile Apps Are A More Effective Marketing Tool Than Mobile Ads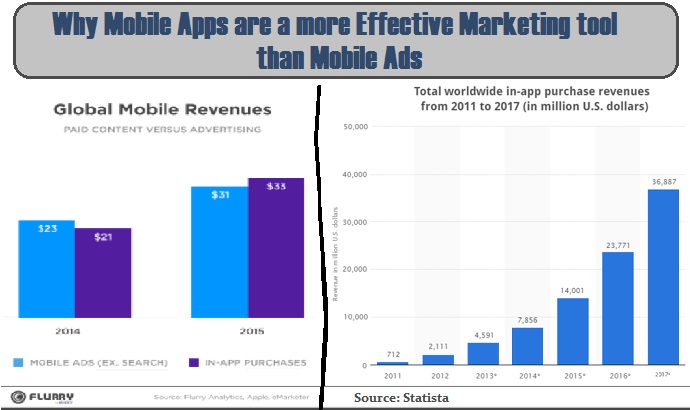 It's a biggest dilemma for many digital marketers out there in today's time: which is a more effective marketing arsenal – mobile apps or mobile ads? Here the mobile ads refer to both mobile browser ads and in-app ads. If you are a marketer or a business who want to invest in mobile marketing and reaches out to a wider audience, you got to know what seems more powerful alternative amidst these two trending marketing strategies.
Here are 5 key factors that show why mobile apps triumph the battle:
Longer Session, Higher Engagement Level
If we talk about mobile ads, it comprises of social ads (like Facebook ads), browser ads and in-app ads. The average session time of mobile ads is relatively very small. On the other hand, more than tens of thousands of mobile apps are added to the mobile ecosystem every month. And users, choose to have only a few of those apps on their mobile devices (Smartphones and tablets).
Many studies reveal that mobile users are spending more time with their downloaded apps. Meaning, apps render larger session time compared to mobile ads, plus apps have higher engagement and retention rates too. About 55% of mobile website traffic comes from apps, where session time on the sites is small as users mostly intend to return back to the app they were directed from. It is a no-brainer to learn maximum Smartphone usage hours are dominated by apps.
More Relevant Targeting, Higher Conversion
Mobile ads' clicks are mostly a result of mobile searches. And thus, marketers investing in mobile ads remain hugely dependent on search keywords in context to their target audience. But when you use an app as a marketing and branding platform, there is a wide pool of data signals that you can use for more relevant and more efficient targeting; location, user behavior, user interests and purchase history are data signals to name a few
Advanced Analytics Tools, Clear insight into Marketing Campaign
After developing mobile app integrating a mobile app analytics is more powerful than you can think! Whether you want to trace the monetary behavior pattern, location, interests and rages, frequency of usage, channels they are directed from, or experience of users on first few seconds of app usage post installation, app analytics tools can do it all and a lot more.
Not only this helps you trace the exact results of your marketing campaign but also enables you to improve your app's user experience which eventually leads to increased user retention and higher ROI. On the other hand, mobile web ads have its own set of challenges such as cookie refresh and limited post-click tracking.
Greater Scope for creativity and interactivity
If the main objective of your marketing campaign is to enhance a brand identity, apps straightway win over mobile ads. Branding experts have always been using Intuitive and Interactive channels to engage to masses in an effective manner. App developers can use hardware specific features such as camera, GPS, accelerometer, etc. to build apps that can engage more deeply with users. Mobile ads are mostly in HTML5 and have limitations on embracing audio or video elements. On the other hand, mobile app fuels the creative edge of your branding and marketing campaign.
No threat of Ad Blocking
Ad blocking is a major concern for mobile web advertisers these days. Moreover, the arrival of iOS 9 has increased the ad blocking apps in the iTune store, which primarily work for mobile sites and mobile browser ads. But mobile apps remain as the most viable advertising and marketing platform.
Hope these 5 factors will guide you invest your mobile marketing budget to right strategy and take an informed decision.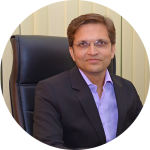 With in-depth knowledge in International Business Management and Information Technology, he can effectively craft business enhancement strategies and can skillfully untangle technical complexities. Writing about the new age technology and sharing his thoughts on the continuously evolving business trends keep him content.